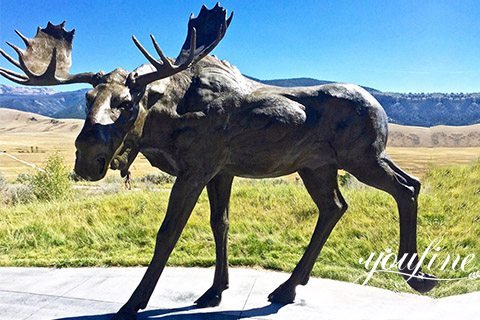 Life Size Bronze Moose Sculpture Outdoor Decor for Sale BOK1-076
The moose is the largest deer in the world, so this bronze moose sculpture is also very bulky and heavy. This moose sculpture uses high-quality bronze raw materials and has a unique patina. So it would be a great ornament for you.
Item No: BOK1-076
Material: Bronze
About Us: 39 Years Factory
Technique: Lost Wax Process
Service: Customize Acceptably
Size: Life Size or Customized Size
Get Price
Contact US
Bronze Moose Sculpture Introduction:
The moose is the largest deer in the world, and the corresponding bronze moose sculpture is also very bulky and heavy. In order to ensure that the sculpture has good performance outdoors and resists the erosion of the natural environment, YouFine would use a large number of high-quality bronze as raw materials. The bronze used in our moose statue has a copper content of more than 80%, while also ensuring a very high thickness. Therefore, the life-size moose statue you buy from YouFine would have a long life.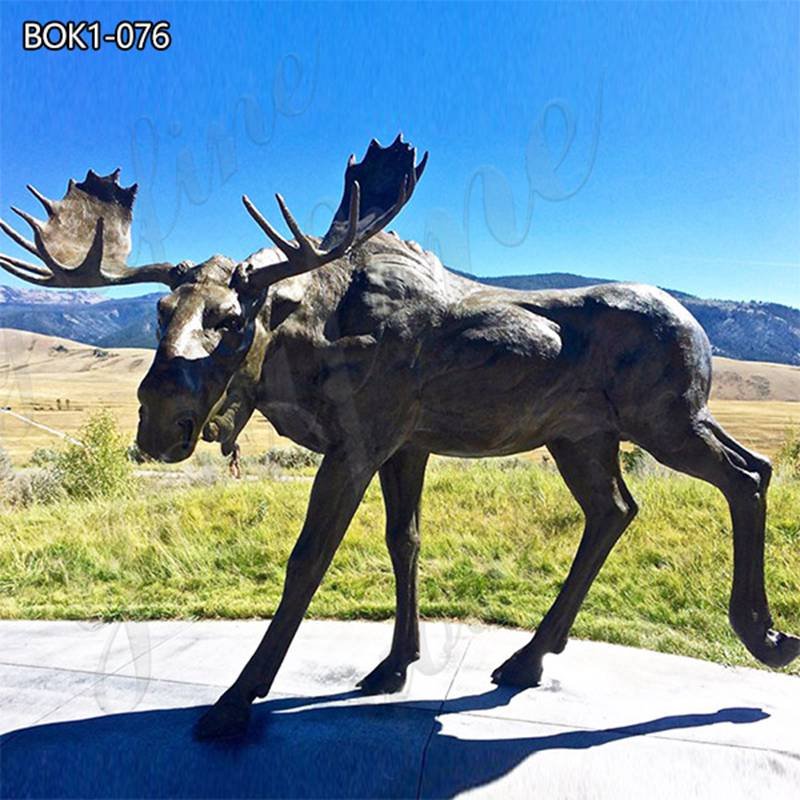 Casting Process:
The casting process of YouFine's bronze sculpture is the traditional lost wax method. The lost wax method has been passed down for thousands of years and has a unique advantage in the detailed display of bronze sculptures. Therefore, we could guarantee the perfection of every detail on the sculpture. At the same time, in order to make our bronze moose sculpture have a longer use time, we would use advanced silica sol technology to replace the ammonia process. Therefore, our life-size moose sculpture would not produce white spots. It can be say that it could become your permanent treasure.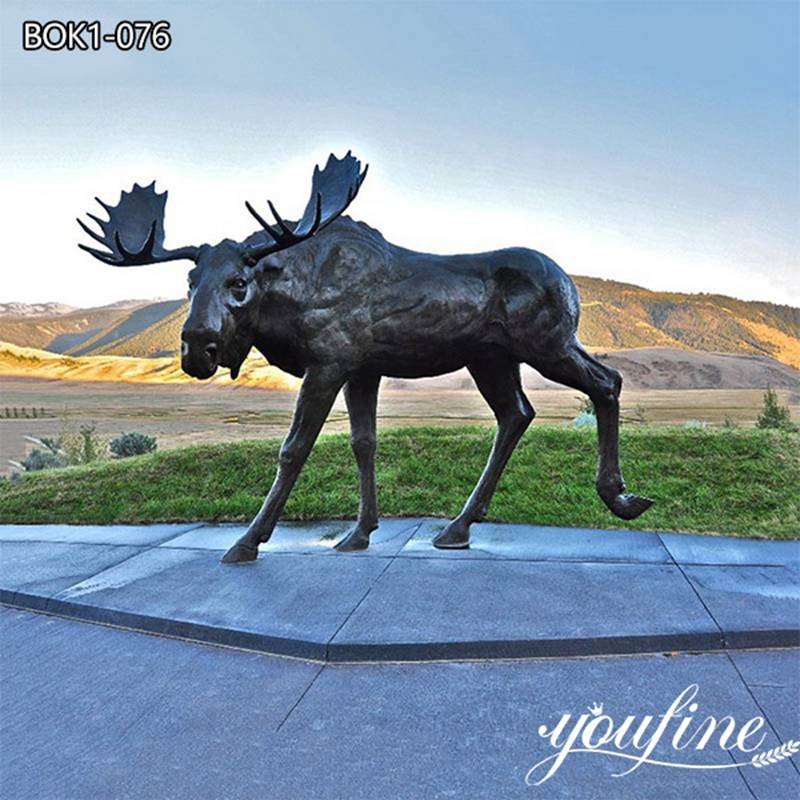 Before officially casting this bronze moose statue, we would first make a 1:1 clay model. This would be the foundation of the entire sculpture and could determine whether the subsequent details of the sculpture are perfect. We have professional clay model studios and top clay model-making artists. So we could guarantee the height reduction of our sculptures. Moreover, after the clay model is completed, we would also take a video or photo for you to check. Everything would meet your wishes and expectations.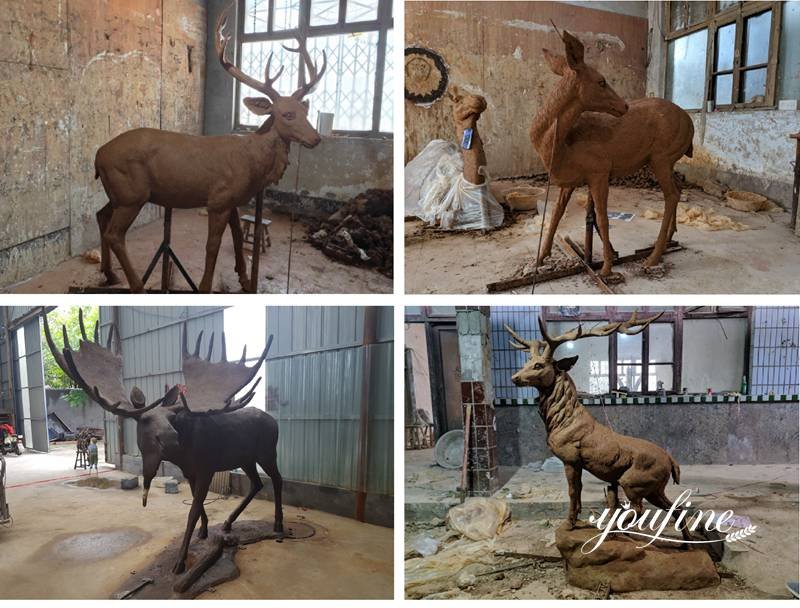 A Work of Art Worth Cherishing:
The bronze moose sculpture cast by YouFine is of high quality and good prices. Many people may wonder if it is worth investing in a bronze sculpture. As a professional bronze sculpture supplier, I could tell you very clearly. For friends who love bronze animals and have a hobby of collecting, investing in bronze sculptures is worthwhile. Because it hardly needs special care, but could be preserved for a hundred years, and basically there would be no damage after a hundred years. No matter where it is placed, it could play its due value.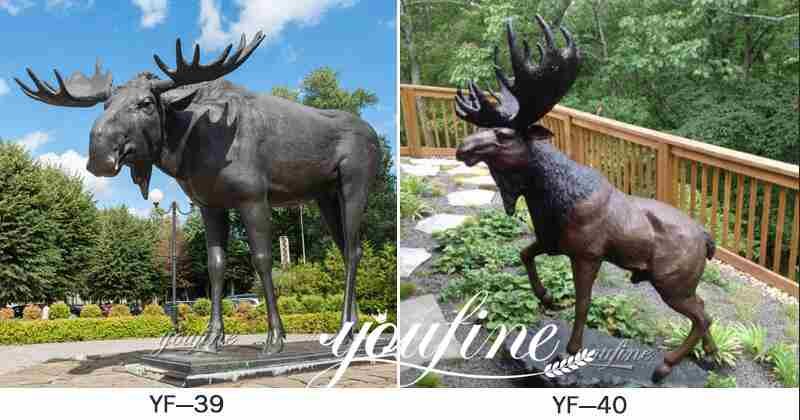 Advantages of YouFine Casting Bronze Moose:
We have a professional production workshop and staff who are specially responsible for the casting of bronze deer sculptures. Moreover, the selected artists are also leading experts in the Chinese bronze sculpture industry. They are very proficient in bronze casting and know the characteristics of all kinds of deer. The animal sculptures produced by us are lifelike and show their charm.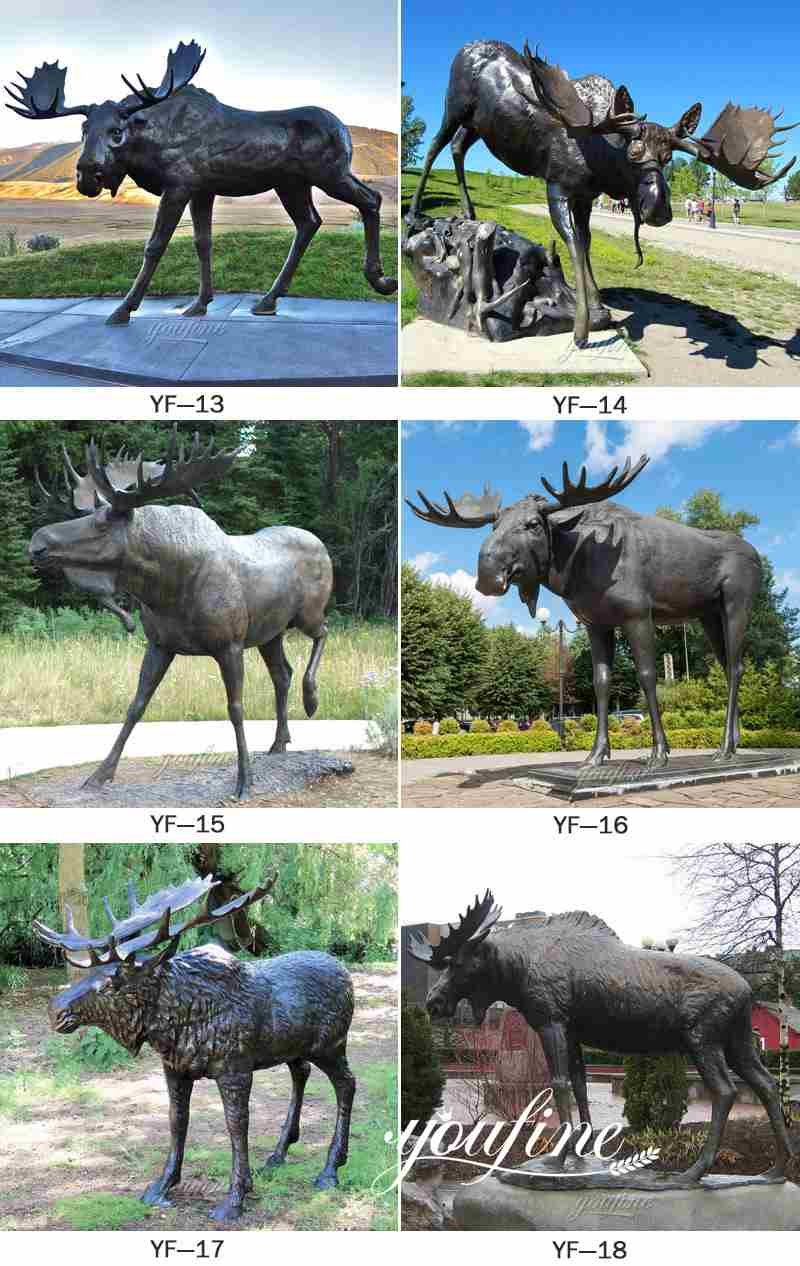 More Deer Sculptures for You to Choose from:
We have dozens of moose sculpture designs for you to choose from. In addition to moose, we also have hundreds of bronze deer designs, including bronze elk and reindeer. These deer sculptures are very suitable for commercial indoor and outdoor gardens, courtyard decoration, theme parks, school exhibitions, or outdoor garden animal-themed activities. Of course, we could also provide you with customized services. If you have ideas and designs, you could contact us. Our professional designers would design the drawings that best meet your expectations you.
If you like this bronze deer sculpture, or if you want to have a customized sculpture, you could contact us at any time. YouFine looks forward to working with you for your perfect cooperation.
FEEDBACK
Last Sculpture
:
Outdoor Decorative Bronze Deer Statue Garden Decor for Sale BOKK-698
Next Sculpture: