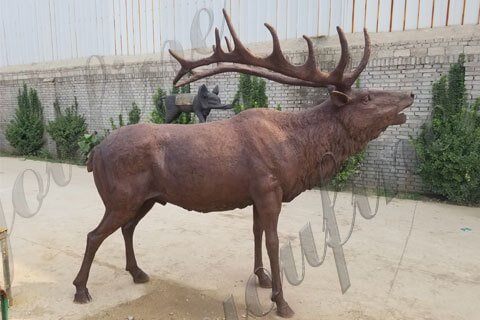 outdoor bronze life size elk statue sculpture for sale
Size: 67″L x 27″D x 47″H
Made of Bronze (Lost Wax Casting Method)
Suitable for Indoor or Outdoor/Garden Use
Get Price
Contact US
This life size elk statue sculpture is for our client Mr Li from Canada, he bought the life size elk sculpture for his big Hunting club.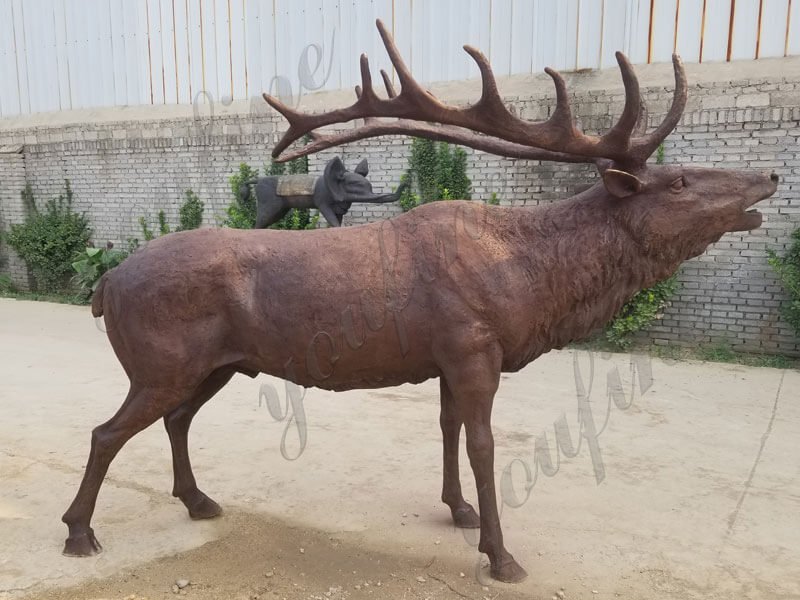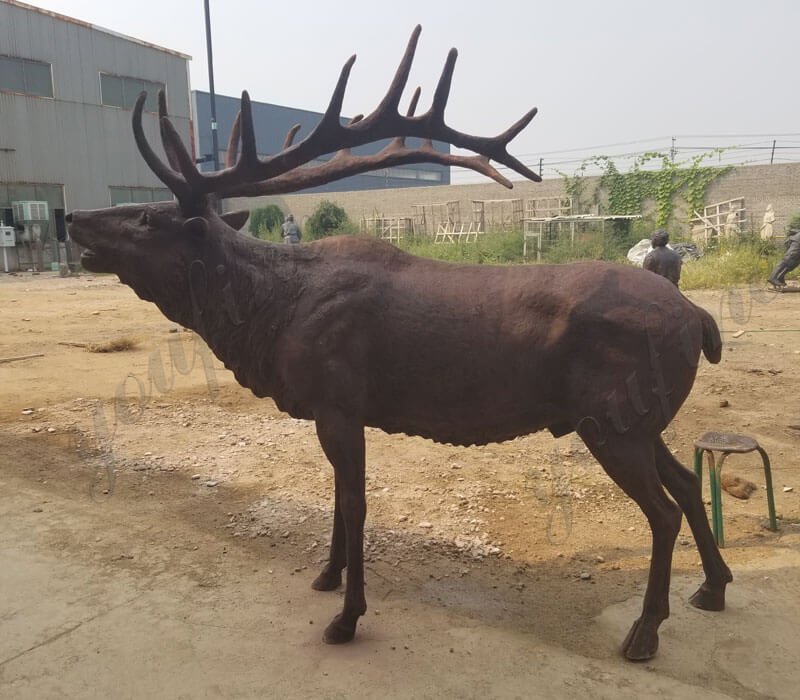 elk statue sculpture
It is a rare animal in the world and belongs to the deer family. Because it has a head like a horse, a horn like a deer, a neck like a camel, and a tail like a cockroach, it is named after four. The body length is 170-217 cm and the tail length is 60-75 cm. The male shoulder height is 122-137 cm, and the female is 70-75 m cm. The body shape is slightly smaller than the male. Generally, the elk weighs 120-180 kg, the adult male elk can weigh up to 250 kg, and the newborn baby has about 12 kg. The angle is longer and the angle is removed once a year in December. The female elk has no horns and is small in size. The male horns are like a deer, the neck is long like a camel, and the tail has black hair. The stag antler has a special shape and no eyebrows. The head is large, the snout is narrow, the exposed part of the nose is wide, the eyes are small, and the infraorbital glands are prominent. The limbs are thick and strong, the main hoof is wide and fleshy, and there are well-developed hooves. The walking age has a loud squeaking sound.
Lost-Wax Casting
What is lost wax copper? The lost wax casting method is a labor intensive process and is considered to be the best way to capture the finest details of an Artist's original Sculpture. typically, a wax copy of the original is made and then immersed in a liquid ceramic to form a ceramic mold. Once cured, the ceramic casing will burn, and when the shell is baked, the internal wax melts and disappears from the enclosure (hence the loss of wax).
When the ceramic shell is removed from the heating, the molten bronze is poured into it to form the final casting. After the casting cools, the outer layer of ceramic is broken, exposing the interior of the bronze Sculpture. You can apply the patina to get the shading you Want.
finally, wax is used to increase the protection of glossy PATINA. There are other techniques and changes in the lost wax casting process, but they all involve loss of wax mode implied in the term "lost wax".
YouFine Art Foundry accept any custom made deer, elk, stag, moose sculpture in bronze. if you are interested or want a custom elk sculpture,deer statue , pls contact us.
FEEDBACK
Last Sculpture
:
Custom Bust Statue 3 feet Bronze Abraham Lincoln bust for Sale
Next Sculpture:
Bokk-651 bronze greyhound sculpture garden ornament for sale