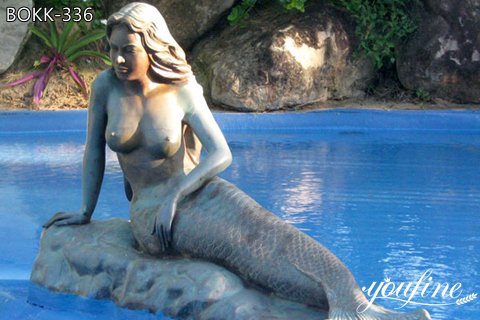 Antique Bronze Mermaid Sculpture Outdoor Decor Supplier BOKK 336
This bronze mermaid sculpture s a classic style of mermaid statues. Many clients buy these kinds of bronze sculptures as outdoor decorations. If you are interested in this sculpture, please contact us for more details.
Item No: BOKK-336
Size: Life Size
Type: Bronze Animal
Material: Bronze
Service: Customized Service
Insurance: Cover All the Risk
Package: Strong Wooden Case
Applications:Park, Pool, Zoo, etc
Get Price
Contact US
Bronze Mermaid Sculpture Introduction
This exquisite bronze mermaid sculpture is a common type of outdoor decoration. Typically, it is placed as a beautiful landscape in a pond for people to enjoy. The color of the mermaid sculpture is copper green, which adds a sense of storytelling and artistry to the sculpture. The top of the mermaid is a beautiful naked woman with her long curly hair falling on her back, looking very sexy. The lower part of the sculpture is a long fishtail, and we could see the scales shining in the sun.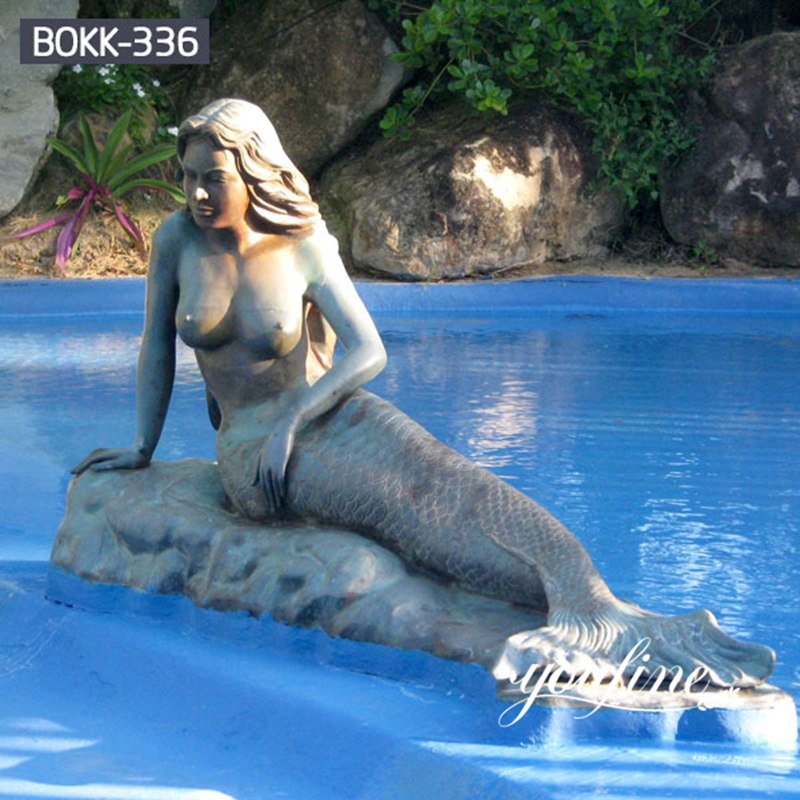 Professional Bronze Casting Technology
Our factory has decades of experience in making sculptures, and our bronze sculptures use advanced bronze casting techniques. In the process of bronze casting, we use the lost wax method. This method is a traditional Chinese casting technique that preserves the maximum amount of detail in metal sculptures. This method is extremely complex and many modern sculptures making have abandoned the use of this traditional process. Our factory masters, however, are proficient in the lost wax method, and they maintain the traditional Chinese artisan spirit by incorporating the lost wax method process into the production of our bronze sculptures.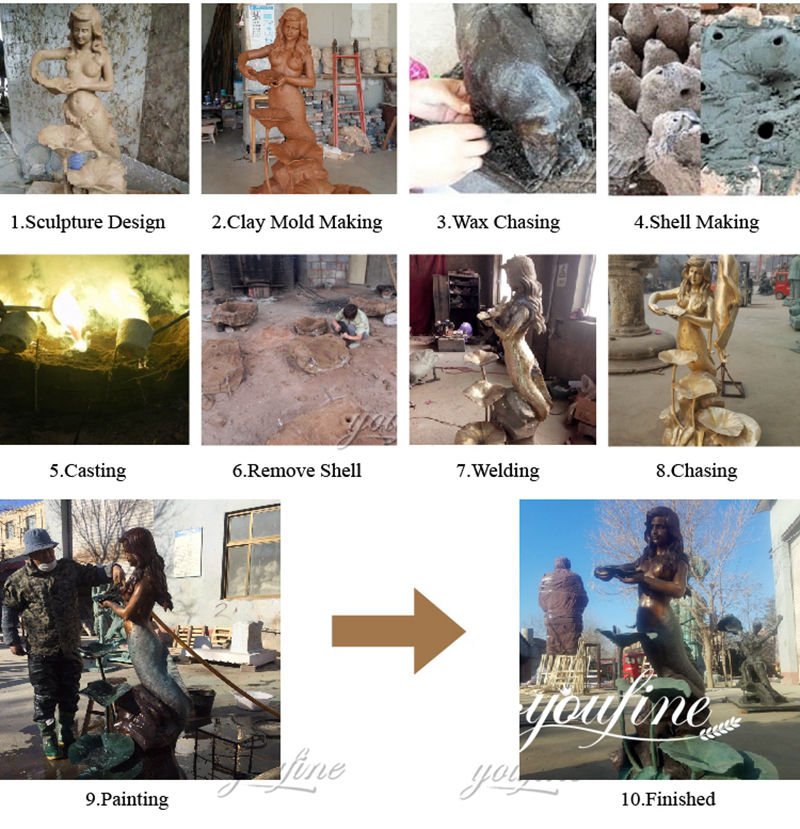 Professional Clay Mold Making
For the production of bronze sculptures, the quality of the clay model is very critical. The quality of the clay model such as the shape, the charm, and the presentation of the intention would directly affect the finished bronze sculpture. Each piece of our bronze sculpture is created by our sculptors after they have repeatedly studied and refined the design and then made it into a clay sculpture. In addition, we have artists who specialize in bronze animals, figures, or other sculptures, so that we could accurately grasp the essence of sculpture.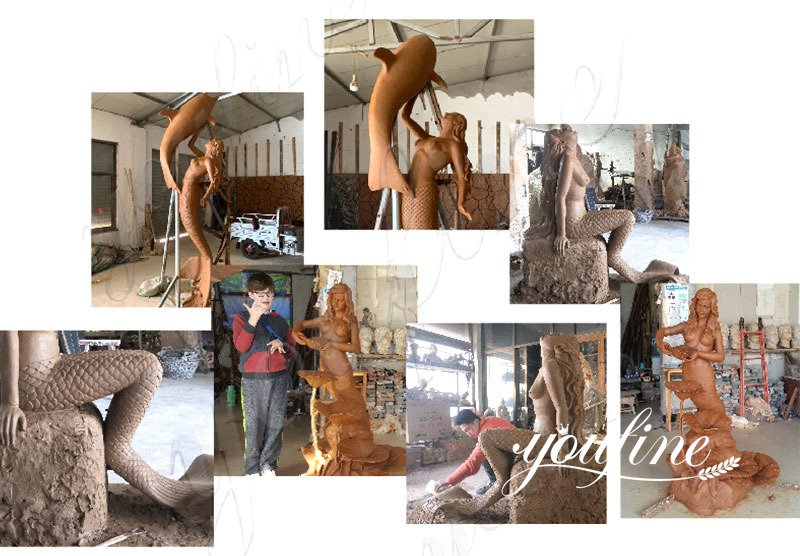 Customized Service
We sell bronze mermaid sculptures in various shapes, colors, and sizes. Our factory not only has a highly skilled sculpture making team, but also a professional design team. Our designers could customize your unique bronze sculpture in the color, size, and shape you require. Our customers are very satisfied with our factory's customization service. If you do not see what you're looking for, or if you simply want to submit your own inspiration photo or architectural shop drawings we could bring your dreams to reality regardless of the scope of the project.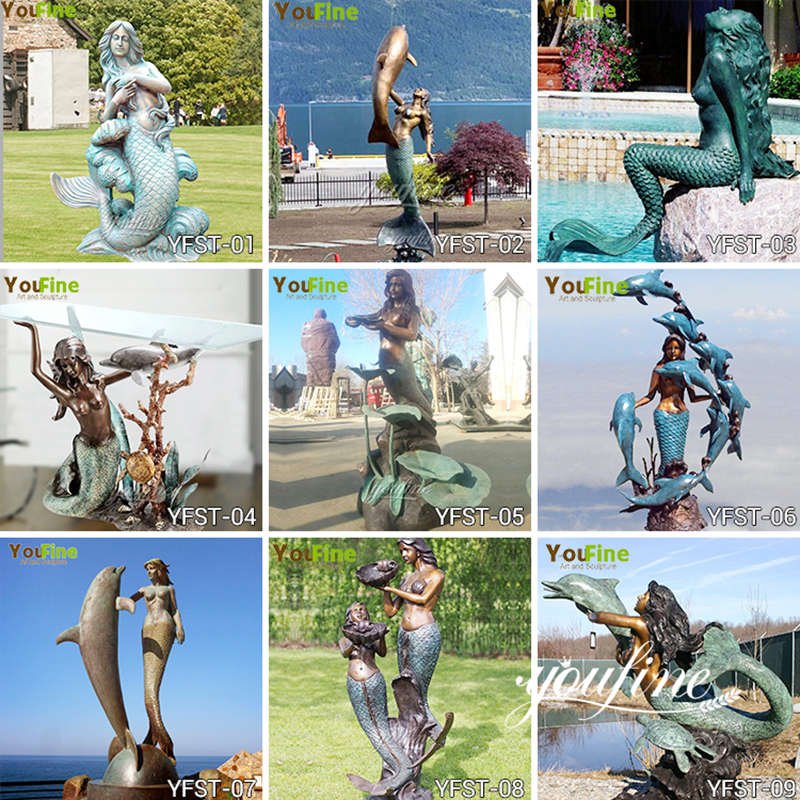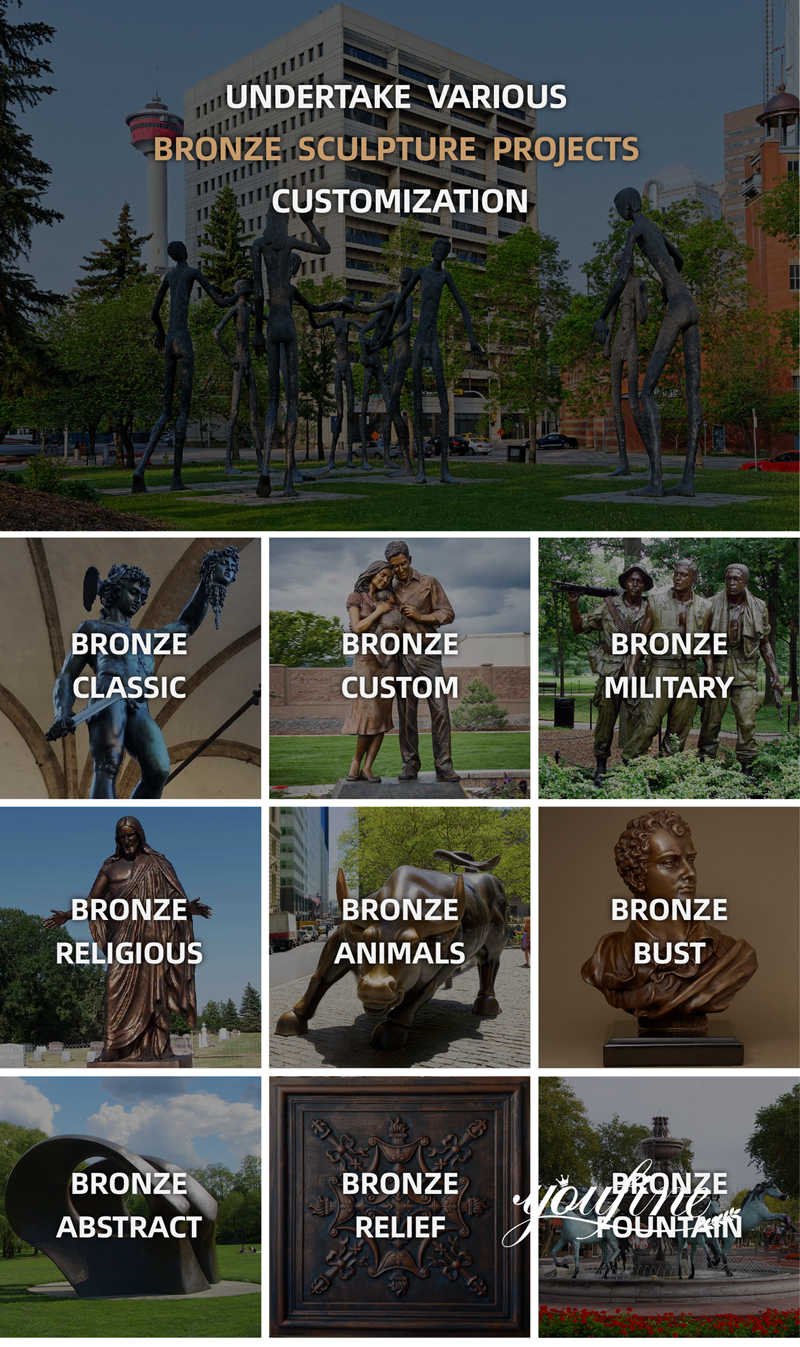 We are a direct factory so we could give you a preferential price. We could provide you with high-quality sculptures and good services. Please contact us if you have any needs.
FEEDBACK
Last Sculpture
:
Large Cast Bronze Dolphin Statue Outdoor Decoration Supplier BOKK-394
Next Sculpture:
Large Outdoor Metal Ant Sculpture Modern Decor Factory Supply CSS-520