Beautiful Bronze Mermaid Statue Outdoor Decor for Sale BOKK-704
The bronze mermaid statue is cast by our top masters. Its elegant shape and beautiful tail often attract people to stop and admire it. You could buy this sculpture as a decoration to put in your garden or patio. If you want to know more product details, you could consult us at any time.
Item No: BOKK-704
Size: Large Size
Type: Garden Decor
Material: Bronze
Service: Customized Service
Insurance: Cover All the Risk
Package: Strong Wooden Case
Applications: Park, Aquarium, Seaside, etc
Get Price
Contact US
Mermaid Statue Introduction
This bronze mermaid statue looks very beautiful and mysterious. The mermaid sits on a stone by the water, it is a good-looking woman with a fishtail, the woman's hair is long and curly, hanging down its back. Its posture makes people feel as if it has just stepped out of the sea and is sitting on a stone by the sea and basking in the sun comfortably. This mermaid's tail is cast so realistically that every scale gleams in the sun. If you come across this sculpture by the seaside, you probably want to take it home too. Our factory produces mermaid sculptures in many shapes, and many customers express their satisfaction with the sculptures.
The Story of Mermaid
We have heard many fairy tales about mermaids, the mermaid is such a mysterious creature that people still study its existence. In fairy tales, people usually write mermaids as beautiful and vulnerable figures. For example, if the mermaid leaves the seawater for a long time, it would become foam, and the tears of the mermaid would become precious pearls, etc. There are also many stories about mermaids falling in love with humans but have a tragic ending. Of course, these are just people's curiosity and fantasies about the unknown. But it has to be denied that mermaids are a beautiful existence in people's hearts. Our factory makes bronze mermaid sculptures in various shapes to help people retain this beautiful image. So it could be liked by customers all over the world.
Professional Bronze Coloring Technology
The coloring of bronze sculptures is a crucial part of the sculpture. Only professional artists could create the most vivid and exquisite bronze sculptures, which we have always been proud of. Our factory has artists who are proficient in various coloring techniques. This bronze mermaid sculpture is finished by professional chemical coloring masters. They are experienced and have a very accurate grasp of color. The color of bronze sculptures painted by our artist's chemical treatment could be retained for a long time, whether it is outdoors or indoors, it would not be affected too much. And it would become more and more natural over time.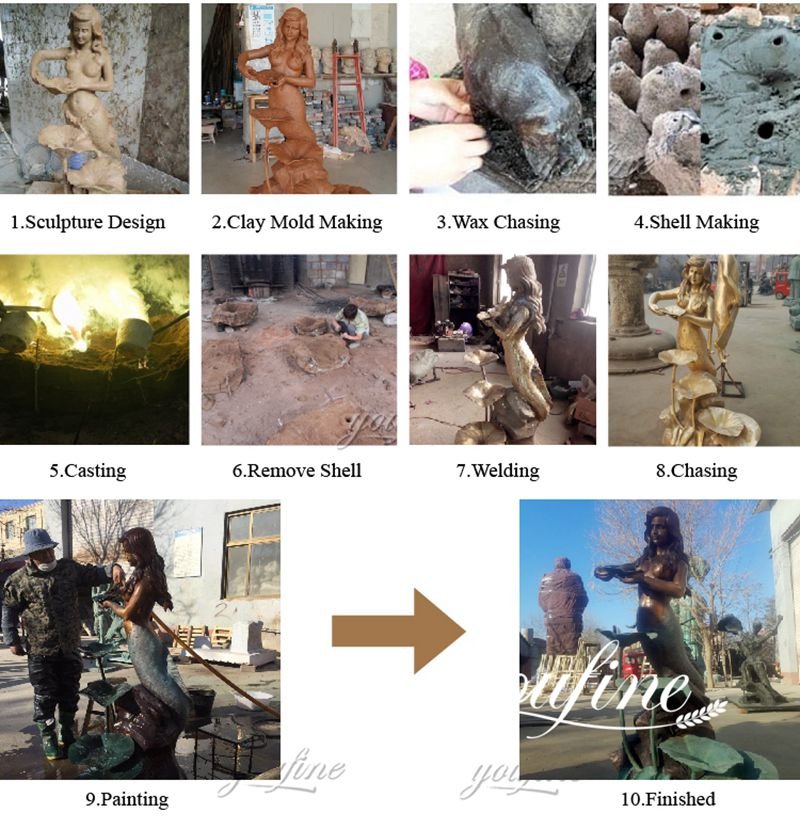 Customized Service
Bronze mermaid sculptures in our factory sell well all the time. Many people inquire about this type of sculpture. Of course, we have rich experience in making bronze animal sculptures and have done many kinds of bronze sculptures for customers. In addition to this patina mermaid sculpture, we also have other sculptures in different colors and shapes for you to choose from. If you want a unique mermaid sculpture, our design team could meet your needs too.
I believe our factory could provide you with the best quality bronze sculptures, please contact us to buy statues if you need them, we would apply for a discount for you. Looking forward to your visit.
FEEDBACK
Last Sculpture
:
Unique Design Metal Bull Sculpture Modern Decor for Sale CSS-580
Next Sculpture:
Large Mirror-polished Stainless Steel Pegasus Statue Supplier CSS-413