Home »
Product
»
Deers sculpture
»
Antique Bronze Doe and Fawn Statue for Garden Ornaments on Discount BOKK-286
Antique Bronze Doe and Fawn Statue for Garden Ornaments on Discount BOKK-286
This doe and fawn statue is an exquisite bronze sculpture as outdoor decoration. It is in hot sale and we could give a discount to you if you want it.
Item No: BOKK-286
Size: Life Size
Type: Animal Sculpture
Material: Bronze
Service: Customized Service
Insurance: Cover All the Risk
Package: Strong Wooden Case
Applications: Park, Square, Hotel, etc
Get Price
Contact US
Deer Statue Introduction:
The bronze doe and fawn statue is a classic style of deer statues. This sculpture is very popular because of the beautiful symbolism it conveys. The sculpture shows a loving image of a standing mother deer patiently nursing her baby deer. At the same time, the doe is also looking back at her child with tenderness. This sculpture vividly shows the intimate connection between mother and child. Whether it is a human or an animal, this kind of affection has always been natural. Many people would be touched by seeing this image.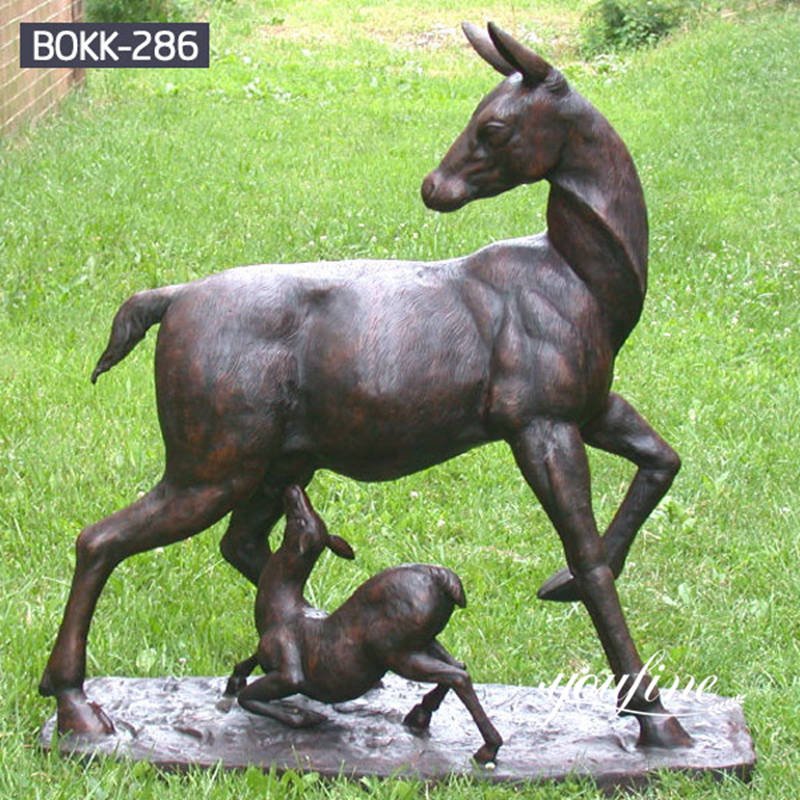 The cast of Bronze Sculpture:
Our bronze sculptures are cast by professional senior masters. As a common outdoor sculpture artwork, the bronze sculpture has been liked by sculpture artists and widely used in sculpture creation from ancient times to the present. Our factory specializes in making all kinds of exquisite bronze sculptures and has nearly 40 years of experience so far. The bronze sculptures we sell are widely liked by our customers because we use the traditional bronze casting process – the lost wax method. This method could preserve the maximum details of metal sculptures, and although the operation is complicated, our factory pays more attention to the beauty and reproduction of the sculptures. Therefore, the bronze sculptures we make have received many positive comments.

Professional Coloring Technology:
Another important factor for the success of bronze sculpture is its coloring process. Our factory has professional sculpture coloring artists, each master specializing in a different coloring method. The coloring method we generally use is the chemical treatment coloring method. The color of the sculpture after our artists' treatment is realistic and vivid. What's more, we also have a variety of painting methods, such as spray painting and color painting, and we would choose the right method according to the specific needs.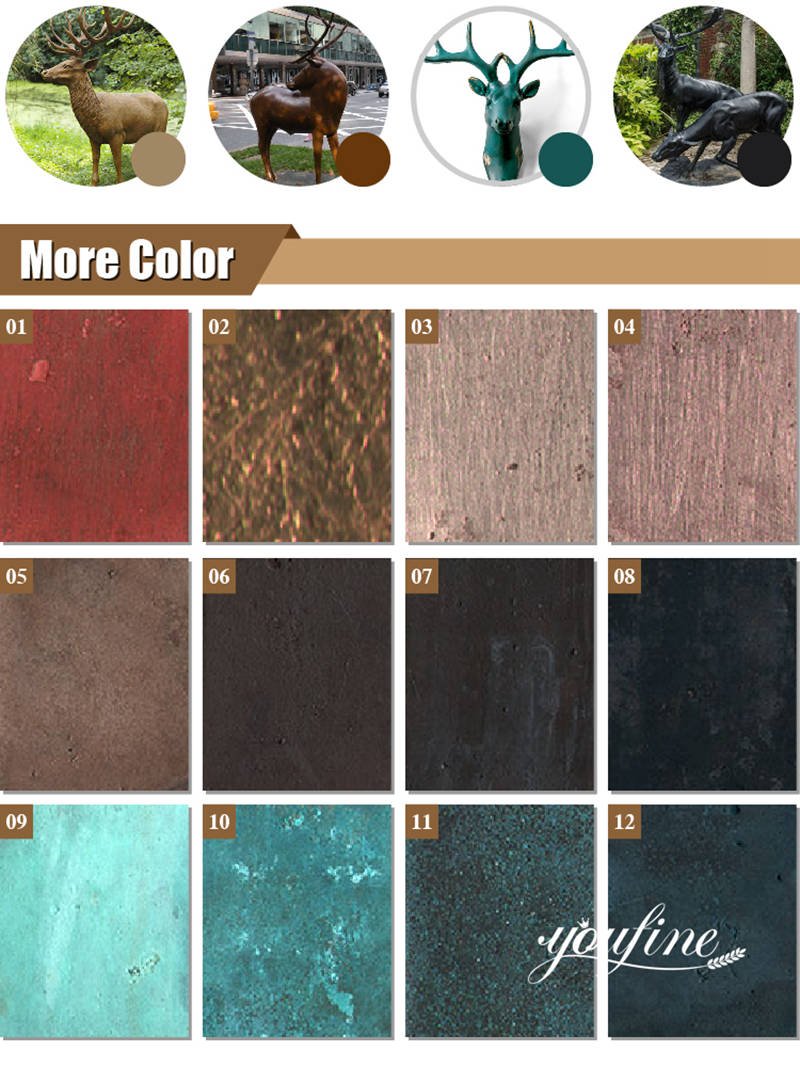 More Choices for Deer Sculptures:
Excluding this classic doe and fawn statue, we also have many elk statues, moose statues, stag statues, etc. Our bronze deer sculptures are available in a variety of sizes and colors, and we have a wide range of shapes for you to choose from. We have a wide variety of shapes for you to choose from. In addition, our factory has made numerous bronze deer sculptures, and we have many models that could be reused, which would also save you a lot of money on modeling.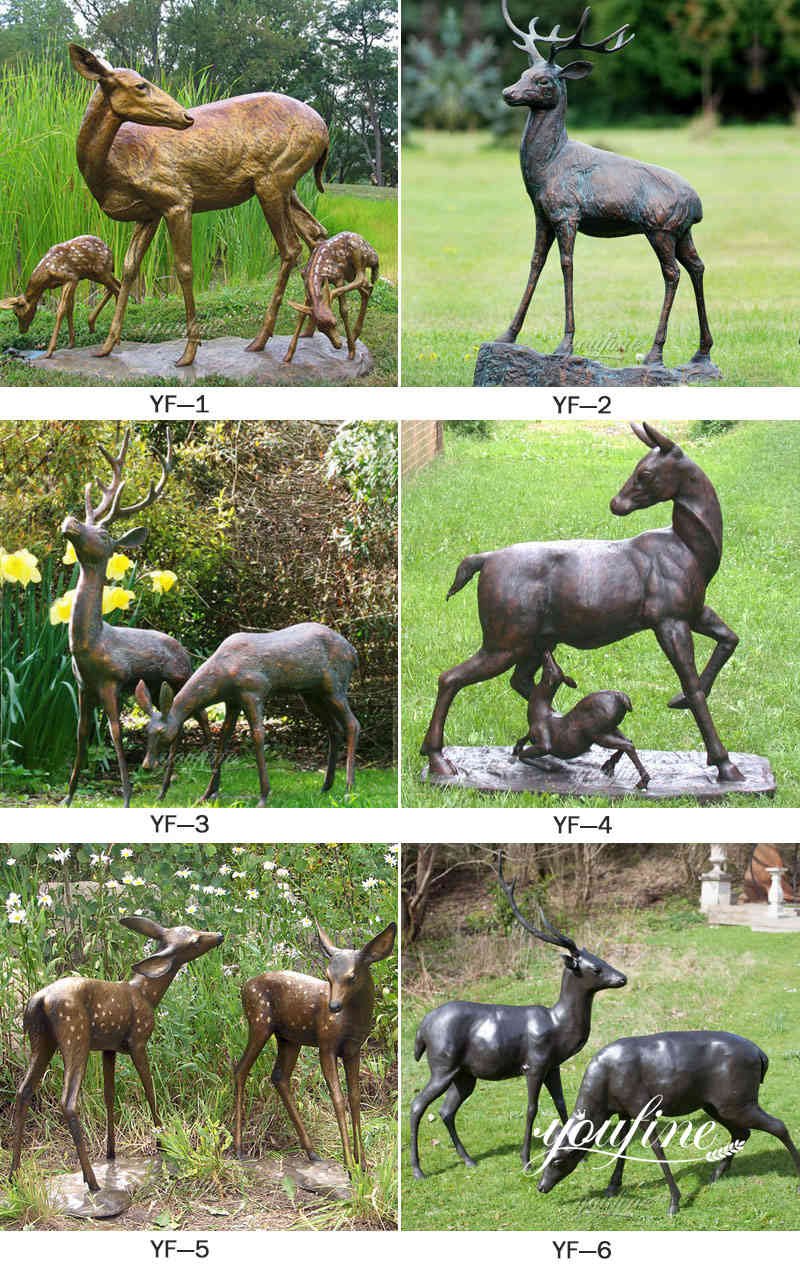 If you like our sculptures, please contact us for the price and we would give you a discount. We look forward to your order for the sculpture.
FEEDBACK
Last Sculpture
:
Outdoor life size antique bronze rabbit sculpture for sale BOKK-384
Next Sculpture:
Large Cast Bronze Dolphin Statue Outdoor Decoration Supplier BOKK-394