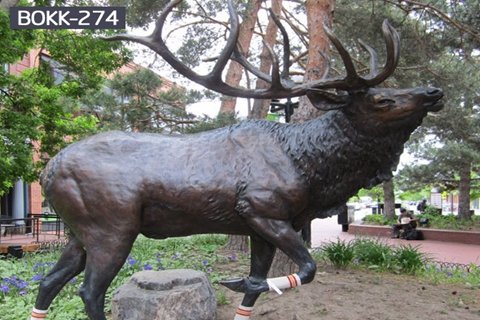 Outdoor Casting Life Size Bronze Elk Statue Garden Decor For Sale BOKK-274
The bronze elk statue is a hot-sale statue in a life size. Many customers buy it for garden decoration and many other places outdoor.
Item No: BOKK-274
Size: Large Size
Type: Animal Sculpture
Material: Bronze
Service: Customized Service
Insurance: Cover All the Risk
Package: Strong Wooden Case
Applications: Park, Square, Lawn, etc
Get Price
Contact US
Product Details
The bronze elk statue is a classic deer statue for decoration, many customers like it very much because it is so vivid in shape. This bronze deer sculpture is a strong stag. The antlers of the stag are very beautiful and are also very valuable handicrafts. Therefore, many customers would pay great attention to the shaping of bronze sculpture antlers. And this pair of antlers is very long, and the bifurcations are also very complicated. What's more, the antlers are sharp enough for the deer to defend against the enemy. We seem to be able to imagine the scene of this deer competing in the herd. Many of our customers are amazed at the realism of this sculpture.
Professional Coloring Technology
The color of this copper deer is very realistic, almost close to the appearance of a real stag. In fact, the coloring of bronze sculptures is very important to a sculpture. Our factory has experienced chemical colorists, who could accurately grasp the intensity and effect of the coloring, and the colors of the sculptures made by them are very beautiful. The color of the sculptures is perfect in our factory, and most importantly, the sculptures would not fade even if they are placed outdoors for a long time, instead, they would become more and more natural over time. What's more, our factory also has many kinds of coloring methods, including spray paint, color painting, etc. Our professional colorists would choose the appropriate coloring method according to the actual needs.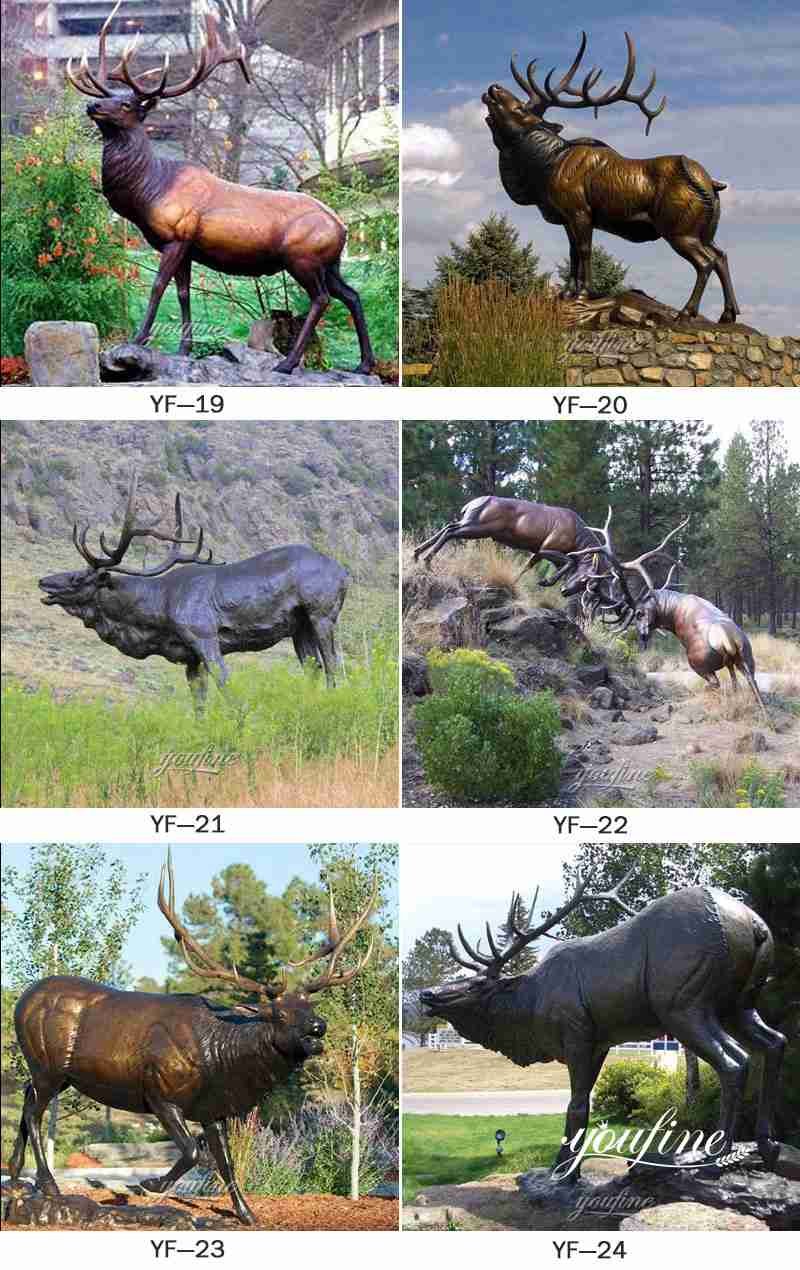 Customized service
Our factory has made many kinds of bronze animal statues for customers. Of course, many customers would choose to customize a sculpture of their own, including the color, size, style, etc. of the sculpture. We have a professional design team that could meet the customized needs of customers. Our professional bronze masters could reproduce 1:1 sculptures for you. Also, our team would patiently communicate with you the details of the sculpture until the sculpture reaches your satisfaction.
Packing Advantages
Our factory is experienced and strictly follows the standard in packing sculpture. First of all, we would wrap your sculpture with a thick sponge and foam to reduce the strong bump of the sculpture during transportation. Secondly, we use a standard 3cm wooden crate to load the sculpture and fix the sculpture in the box to reduce the threat of shaking. Finally, we would also check the tightness of the packaging and confirm that the packaging is in good condition before shipping.
If you have other questions of interest, please contact us directly, we are always ready to serve you.
FEEDBACK
Last Sculpture
:
Large Stainless Steel Giraffe Sculpture Outdoor Decor Supplier CSS-402
Next Sculpture: