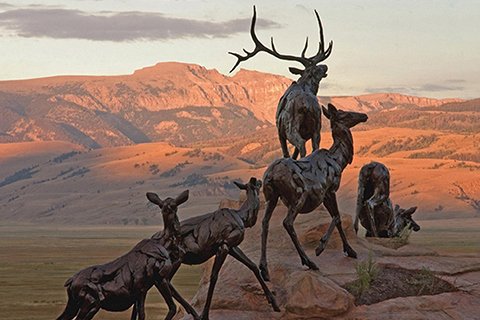 Life Size Bronze Deer Statues Outdoor Decor for Sale BOK1-290
This group of life-size bronze deer statues is a feedback image sent in by YouFine customers who have received many compliments from passers-by for these deer sculptures. Please feel free to contact us for information.
Item No: BOK1-290
Material: high-quality bronze material
Type: Bronze Animal Sculpture
Advantage: Factory Direct
Service: Customized Service
Insurance: Cover all the risks
Package: Strong Wooden Case
Get Price
Contact US
Bronze Deer Statue Introduction
This group of life-size bronze deer statues is carefully cast by top artists of YouFine, using high-quality bronze materials. In this group of bronze deer statues, we could see a long-horned stag and a group of fawn and doe deer without long horns. These deer sculptures are installed on high mountainous terrain, surrounded by a vast mountainous area and wilderness. This scene looks very shocking. These bronze deer are in such a natural environment as if this is where they live, so it looks very harmonious. Of course, you could also put this set of bronze sculptures again in the garden or anywhere outdoors as decoration, they would be a good choice.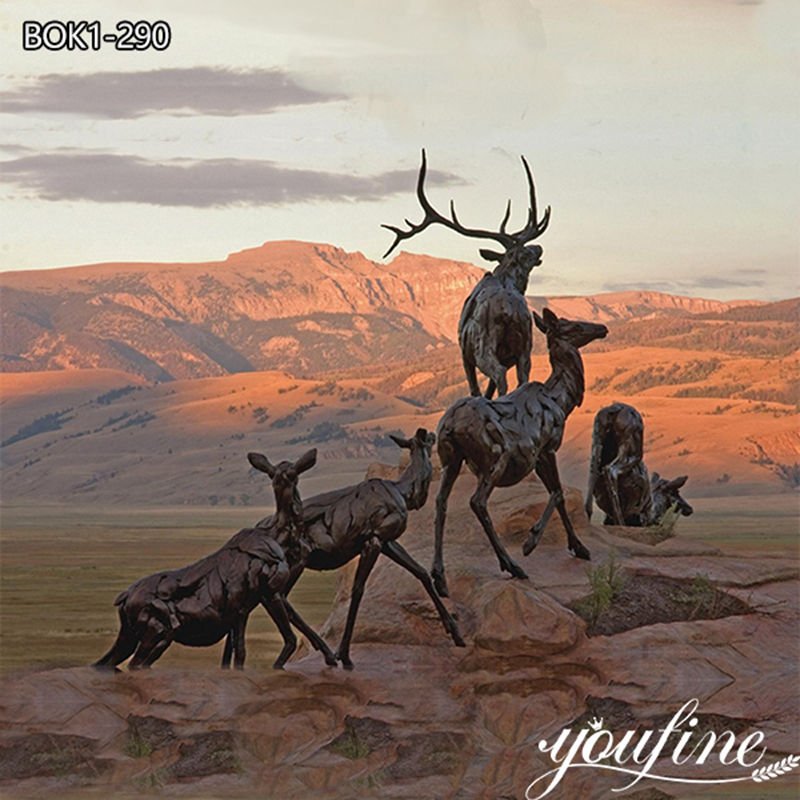 Lost Wax Casting Bronze Sculpture
YouFine is an experienced bronze sculpture foundry, and our bronze sculptures are known for their fidelity and quality. YouFine has been using the lost wax method of bronze casting, which is a traditional sculpture casting method with 33 steps. Each casting step is handled by a dedicated artist to ensure the rigor and professionalism of the process. What's more, the top masters of our factory used to study and visit all over China to finally master the skills and core of the lost wax method of casting bronze sculptures. Up to today, the bronze sculptures cast by YouFine no longer have rust spots and white spots appearing, and the quality of the sculptures is sufficiently guaranteed.
Clay Mold Artist in YouFine
With nearly 15 years of experience and many top masters from top art colleges in China, YouFine's clay artists have a traditional Chinese artisan spirit and take the creation of each clay sculpture very seriously, with each artist accepting suggestions from customers and patiently revising until the customer is satisfied. What's more, our factory has artists who are very good at making animal clay molds. They have studied the habits and characteristics of wild animals for years and have a deep knowledge of each kind of animal. This also helps the artists to master the essence of the sculpture and restore the original appearance and characteristics of the sculpture to the greatest extent.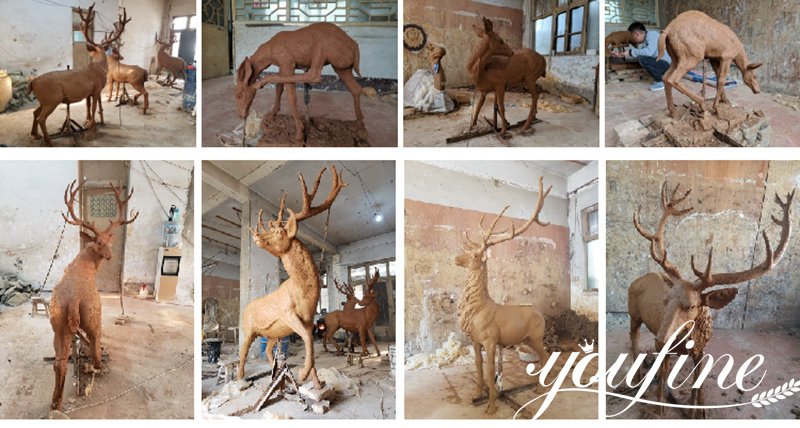 More Choices for Bronze Deer Statues
YouFine is a professional bronze sculpture supplier, we export a large number of bronze sculpture orders every year, and our sculptures are widely welcomed by customers. YouFine is a factory dedicated to sculpture innovation and research and development, every year our artists and designers design new sculpture shapes and styles to provide customers with more choices. In addition, YouFine's bronze deer sculptures are so vivid and realistic that you could choose any color, size, shape, and material you like to make your sculpture. YouFine's professional artists could meet all your needs. We believe you could find a sculpture you like at YouFine.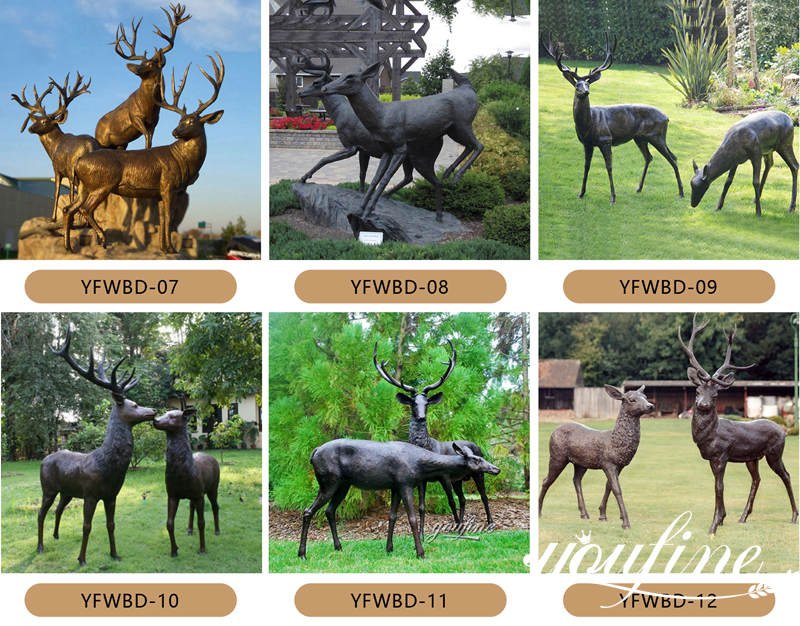 YouFine is a trusted supplier of bronze sculptures, if you are interested in our high-quality bronze sculptures, please feel free to contact us.
FEEDBACK
Last Sculpture
:
Large Stainless Steel Rabbit Sculpture for Garden Supplier CSS-833
Next Sculpture:
Classic Stainless Steel Rabbit Sculpture Replica Best Online CSS-761