Home »
Product
»
Bears Sculpture
»
Life Size Bronze Bear Statue Garden Ornaments with Competitive Price BOKK-303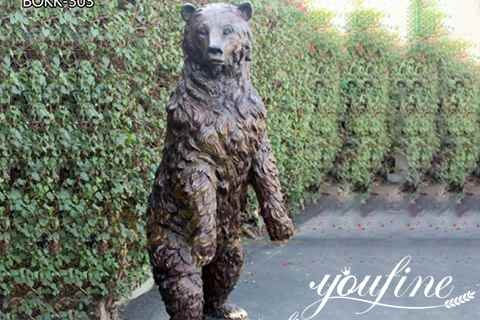 Life Size Bronze Bear Statue Garden Ornaments with Competitive Price BOKK-303
YouFine is a large-scale sculpture supplier with a 39-year history of bronze sculptures. All of our bronze animal sculptures maintain the character of real animals and are both realistic and vivid, making them perfect as garden decorations.
Item No: BOK1-303
Material: high-quality bronze material
Type: Bronze Animal Sculpture
Advantage: Factory Direct
Service: Customized Service
Insurance: Cover all the risks
Package: Strong Wooden Case
Get Price
Contact US
About This Bronze Bear:
This life-size bronze bear sculpture is designed by our talented sculptors. It has a realistic shape and high-quality assurance. In order to highlight the fur of the bear, our artists also specially treated the surface of this bronze bear sculpture to make it more in line with the real bear. Different from the sturdy and mighty bears in the past, this bear sculpture shows more of the quiet side of the bear.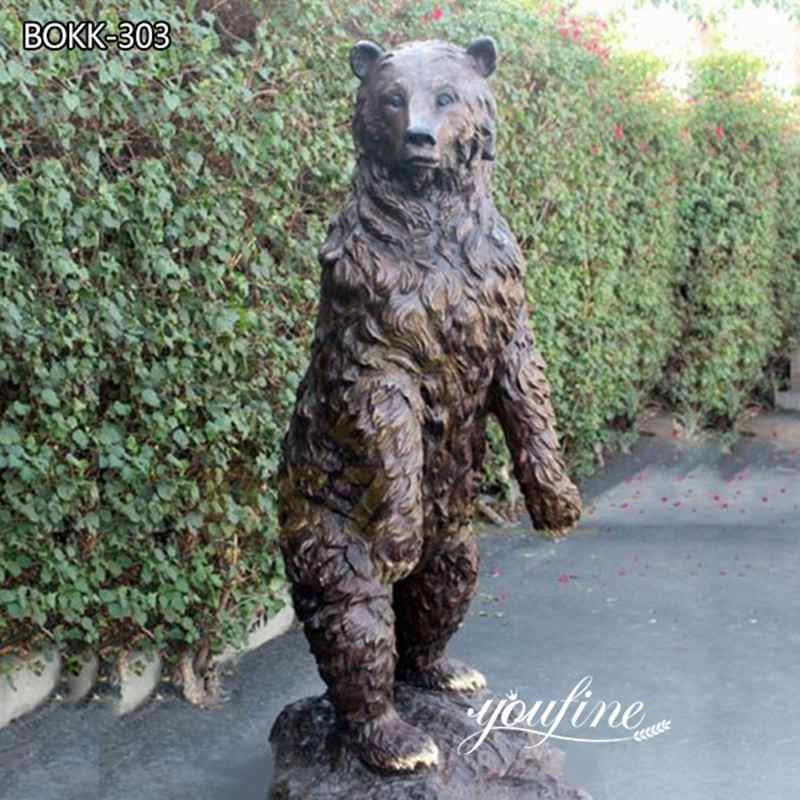 The Advantages of YouFine's Bronze Bears:
There are many suppliers of bronze bear sculptures in China, so why are YouFines bronze bear sculptures so popular with customers? I think there are several reasons for this.
# The Appeal of The Brand
YouFine has been engaged in the production of bronze sculptures for almost 40 years. During this period, we were down-to-earth, constantly improving the quality of sculptures, and made animal sculptures realistic and vivid, making them almost the same as real animals. Gradually, more and more customers noticed the quality of our bronze sculptures and believed in the products produced by YouFine.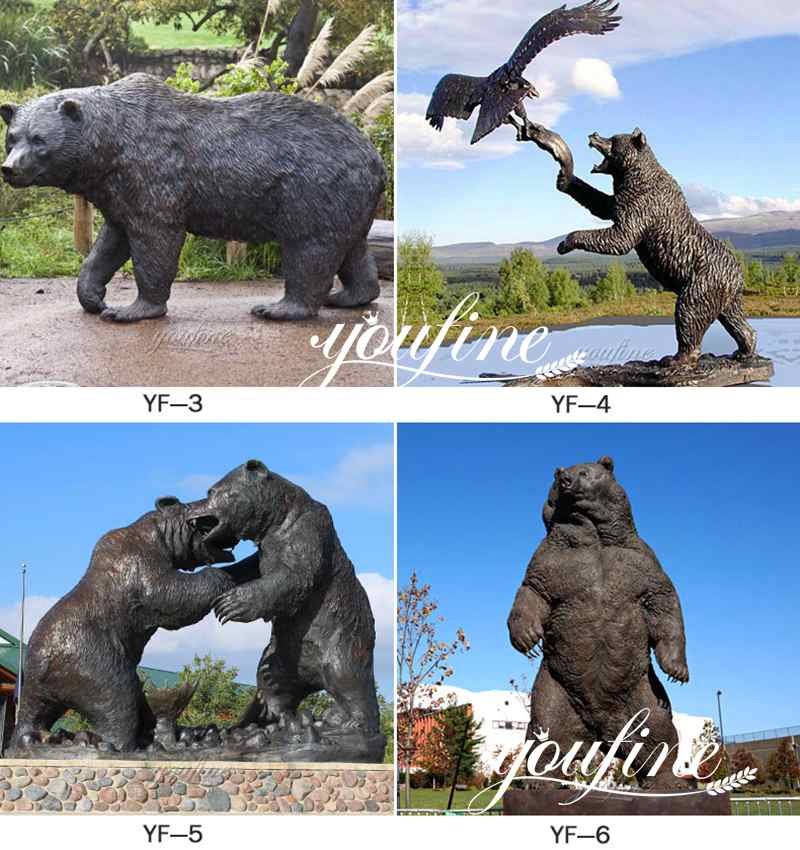 # The Professional Lost Wax Manufacturing Process
When we produce bronze sculptures, the method chosen is the lost wax method. This is a very professional copper carving craftsmanship that is certified internationally. It requires 33 steps, each of which is very important and could not be missed. The first and most important step is the making of the clay model. If the clay model is well made, the final bear sculpture could have a natural and not rigid shape and look, and it could contain all the details it should have.
# A Variety of Visual Presentations
As mentioned above, in order to show the fur on the real bear's body, we roughened its surface. In order to have and better display, we also have bronze bear sculptures with a glossy finish. In addition, the variety of colors is also a big advantage for us. Our artists chemically paint in as many colors as they want.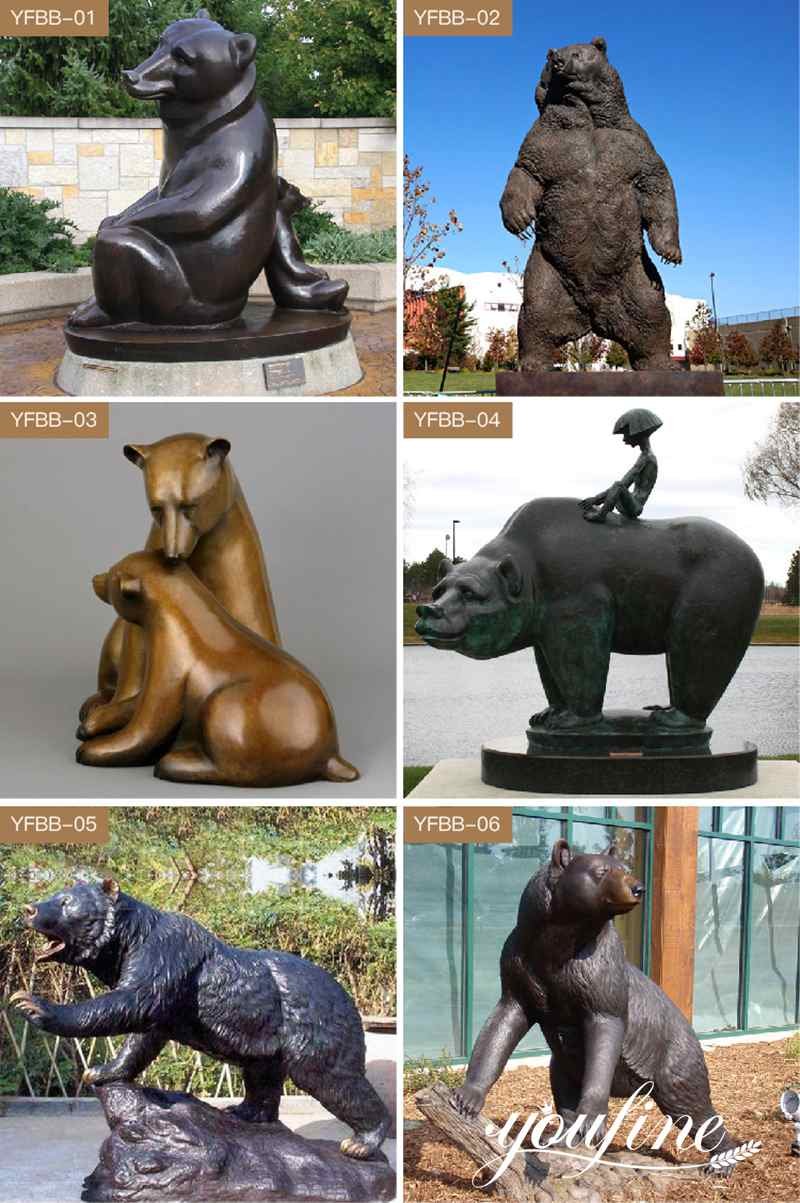 More Bronze Bear Sculptures:
Humans have many sides, and animals are no exception. Therefore, in order to better display the bear and provide customers with more choices, we have produced a lot of bronze bear sculptures. There are popular bear sculptures of the fighting frame, large single bear sculptures, double bears sculptures, three bears sculptures and so on. They have different postures, showing different states of bears. Through these various bronze bear sculptures, people could learn more about bears.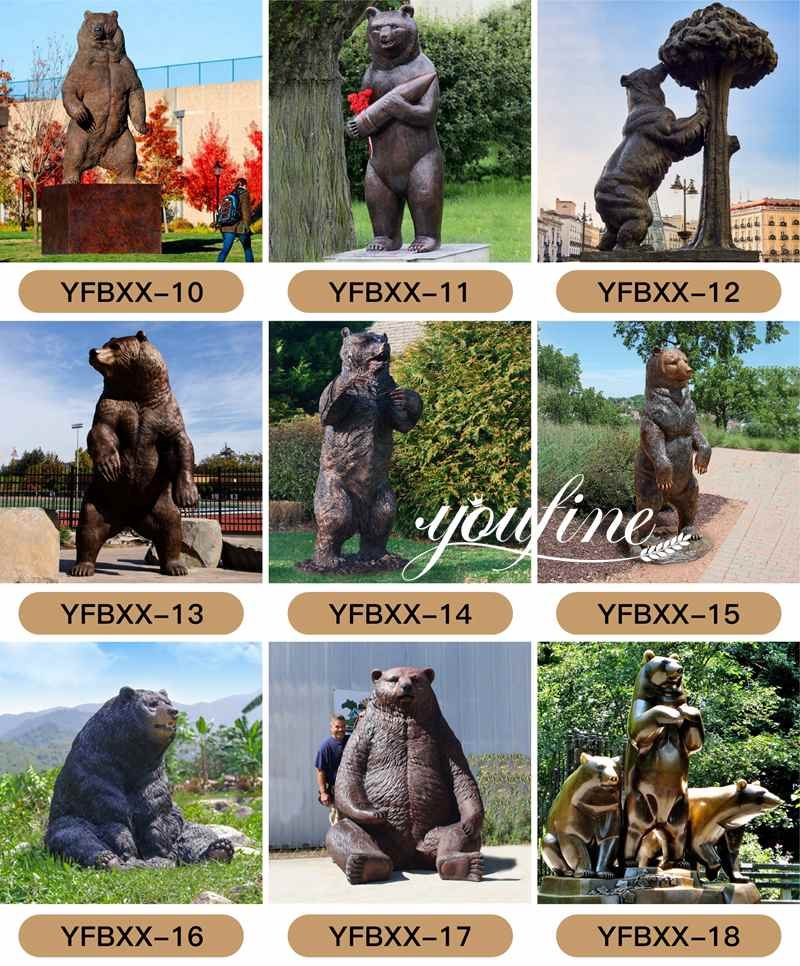 Below is the contact information for each of our platforms. Feel free to contact us if you would like to purchase this life-size bronze bear sculpture.
FEEDBACK
Last Sculpture
:
Large Bronze Eagle Statue Outdoor Garden Ornament Factory Supplier BOKK-822
Next Sculpture: