Home »
Blog
»
Why So Many People Choose Bronze Sculpture Artwork
Why So Many People Choose Bronze Sculpture Artwork
When you think of sculptural art, what is the first material that comes to mind? Is it marble or stainless steel? Bronze is a popular sculpture material, and many people like to buy or even collect bronze sculptures. Bronze has been around for thousands of years and isn't going away anytime soon. Its corrosion resistance, countless alloy combinations, and durability make it perfect for numerous metal fabrication jobs. Bronze's versatility and range of different applications make it a very popular metal for all types of projects.
What is Bronze
Bronze is the earliest alloy in the history of metal casting. The alloy of tin or lead added to pure copper has special importance and historical significance. Compared with pure copper, bronze has higher strength and lower melting point. Bronze has good wear-resistant, wear resistance and chemical stability. After the invention of bronze, it became popular immediately, and the history of mankind has entered a new stage – the Bronze Age.
Dating back to the ancient Sumerians around 3500 BC, bronze is an alloy made of copper and tin. Other metals such as manganese, aluminum, zinc and nickel may also be included. The metals used in the manufacture of different alloys have their own properties, such as hardness, flexibility, and ductility.
Why is the Price of Bronze Sculpture Higher
Since bronze sculptures are handcrafted and require the artist's expertise and artistic attainment, they have a natural rarity, which increases their value as an art investment. It takes a lot of time and expertise to make a bronze sculpture. He needs 33 steps, and each step needs to be handled carefully. This is a difficult process.
The Benefits of Using Bronze for Sculpture
Bronze Sculpture Has a Longer Lifespan
Bronze lasts longer than steel and is a permanent material that is less weathering and corrosion resistant. Of course it develops some patina, but it is more wear resistant than steel. Compared with gold, bronze has a low melting point. After some trace elements are added to copper, it has good fluidity and is easy to cast and shape.
Mature Technique
In terms of technology, copper casting technology has a long history, and the lost-wax casting technology is mature. The production is hollow and can control the weight. Especially when making top-heavy works that are seriously deviated from the support point, it can be made as thin as possible by making the top and bottom. It is very thick to adjust the position, and it is stronger than fiberglass sculpture. According to the creative surface of the work, the effect of gilding, gilding, painting and antique effect can also be used to make the work more rich and beautiful.
Excellent Surface Finish
Excellent workers will carefully polish the bronze sculpture and have excellent coloring skills. If the workers have good skills, the color of the bronze sculpture will be very durable, not easy to fade, and the longer the time, the more natural the color will be.
Bronze Sculpture has Collection Value
Bronze Has an Inherent Charm.
Other metals have bright cool tones, but bronze has a warm and inviting warm tone. Depending on the artist's style, bronze can give a piece a rustic charm or a high-end, sophisticated look. Coupled with the artist's coloring technique, a charming bronze sculpture will appear before our eyes.
Bronze Sculptures are Handmade
Each bronze sculpture requires a lot of manpower and time. Every step of the production process requires the experience and ability of professionals as a guarantee, otherwise the bronze sculpture will fade or even deform. Therefore, every bronze sculpture is called a work of art. It is not a product of machines in the fast age, but a work of art with emotion and warmth.
Bronze Sculptures Can be Preserved for a Long Time
One of the reasons bronze sculpture is a worthy investment in art is its ability to stand the test of time. Bronze is a very durable material that can withstand many conditions that softer metals cannot. Creating works of art with this metal is great because it requires very little maintenance or upkeep and lasts for hundreds of years, making it even more valuable.
YouFine is a Professional Factory
As a sculpture factory with 40 years of production experience, YouFine has enough confidence to make bronze sculptures that satisfy customers.The artists of YouFine all started to learn bronze sculpture when they were teenagers, and each of them has their own field of expertise. We will hand over different sculptures to professional workers.
In the case of ensuring product quality, we will also provide you with a suitable price. YouFine is a direct selling factory, so there is no middleman between us and customers to earn the price difference. We can offer you a suitable price. Welcome to YouFine to buy your favorite bronze sculptures.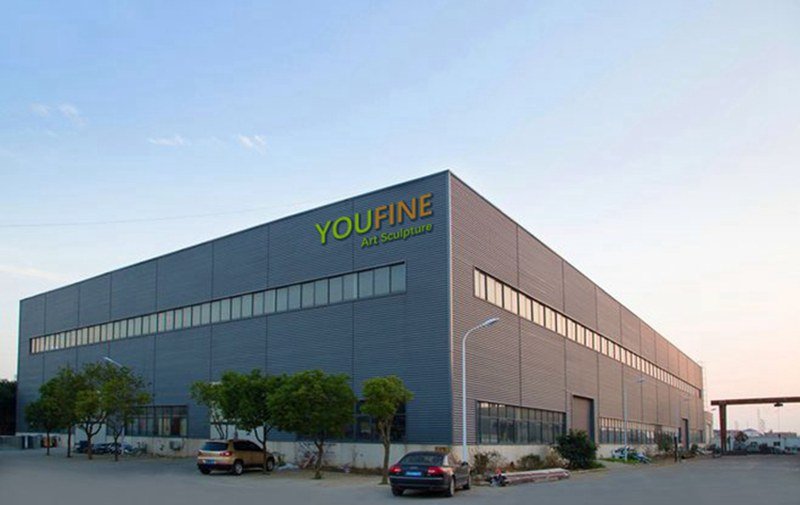 FEEDBACK
Last Article
:
Beautiful Bronze Eagle Sculpture for Garden Art Decoration on Sale
Next Article: