Home »
Product
»
Horses sculpture
»
outdoor life size bronze horse racing statues with jockey garden wildlife sculpture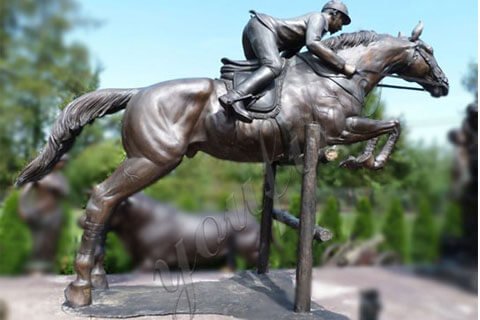 outdoor life size bronze horse racing statues with jockey garden wildlife sculpture
Popular Size: 350 cm tall
Material: Bronze
Patina / Surface Color: Dark Brown
Weight: 400 kg
Tech: Advanced Lost-Wax Casting
Get Price
Contact US
this bronze horse and jockey sculptures Height 350 cm;
Material: Bronze
Turquoise/Surface color: dark brown
Weight: 400 kg
Price: Contact us at the lowest price (usually our prices include all the costs from our foundry to your home are lower than your local 20%-45%)
Customized Service Range
1. Size Optional: Height 150cm-2000cm
2. Available Patinas/Surface color: 6 Colors
The posture of this racehorse sculpture can be adjusted to suit your requirements.
4. All details of this horse racing sculpture can also be adjusted or replaced according to your requirements.
5. Production time for custom orders: usually 30 days
bronze horse and jockey sculptures
Shipping and payment
1. Usually 20-30 days (contact us for accurate shipping time)
2. Acceptable payments: t/t (Telegraph transfer/wire transfer), Paypal,money Gram, Western Union remittance 3. Guarantee: 14 days money back guarantee;
Quality assurance for 30
bronze horse racing statues with jockey

Why Choose us?
1 30 Quality Assurance Our bronze horse sculpture has received our 30-year quality assurance, which means you can come to vincentaa at any time if you can find quality questions about your sculpture within the next 30 years. We will provide rapair free of charge.
If the quality problem cannot be resolved, we will refund the payment to you within 7 days.
2 Money back guarantee.
If you are not satisfied with our bronze horse sculptures or statues for any reason, just return them within 15 days and we will be happy to refund your money, minus shipping and handling charges.
3 Minimum Price Guarantee Our price is the lowest in the industry, but if you have already purchased it, then you already know it.
We only carry artistic quality. We often check with our competitors, so our prices are usually equal to or lower than the lowest price you can find. But we don't want to lose a few dollars in business. If you see the same product with the same quality instead of anywhere else we will match that price and still provide you with the same customer service. However, there is a lot of rubbish there, so please do not let us match the import prices from Vietnam and Thiland.
FEEDBACK
Last Sculpture
:
Garden Decoration Casting Bronze Lion Statue for sale
Next Sculpture:
bronze 8 foot horse statue black horse sculpture for outdoor