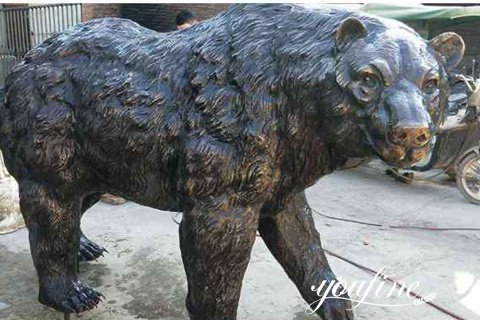 Outdoor Life Size Bronze Grizzly Bear Statue for Sale BOKK-818
This is a life size bronze grizzly bear statue, it is really realistic. No matter where you put it, it would make your place come alive. If you like this statue, you can contact us.
Item No: BOKK-818
Material: Antique Bronze
Size: Customized Size You Want
Insurance: Cover All the Risk
Package: Strong Wooden Case
Get Price
Contact US
Bronze Grizzly Bear Statue Introduction:
This is a really lifelike bronze grizzly bear statue, we could see every hair on this grizzly bear statue. Our sculptors carved this statue very carefully, the expression on this statue is very vivid. The eyes of this bear statue are carved very bright. The ears are carved very cutely. Its claws are carved very sharply. We can see every detail on it. And these details are all very perfect. We have to sigh the magic of the craftsmanship of the sculptors.
Sculpture Art:
The sculpture is an art. We are not only producing a product but also creating a new artwork. A wonderful sculpture could give people a unique visual feast. A good sculpture can be well achieved the harmony of art and environment, the integration of culture and nature. This bronze grizzly bear statue could blend well with your place. It is very interesting. Many people would like this statue.
The Process:
The main process of making bronze sculptures is: first we have to make clay molds, which are the most important basis for making a bronze sculpture. Every bronze sculpture needs a 1:1 model to complete. For this, you can rest assured that we have professional model masters to provide the best models. Secondly, we have to shape the wax shell, and then repair the wax pattern according to the original picture to avoid losing some model details during the mold-making process. Then burn the wax and pour the bronze. You Fine's sculpture adopts the traditional lost wax method. The wax mold is placed in a heat-resistant mold, the paraffin wax in the shell is burned at a high temperature, and then the bronze water is poured into the quartz sand shell to cool and shape. Finally, welding and polishing.
Why Choose You Fine:
You Fine's consistent service philosophy is to put the needs of customers first. Since we are factory direct sales, our prices are very reasonable. We will not deliberately set the price too high to make huge profits. Similarly, we will not produce inferior products. We know that what customers want is cost-effective products, so we use the best materials to make the best sculptures, and then give our customers a reasonable price. It has always been our goal and purpose to make sculptures that satisfy customers.
If you are interested in this bronze grizzly bear statue, you can contact us at any time.
FEEDBACK
Last Sculpture
:
Antique Large Bronze Bull Statue Outdoor for Sale BOKK-973
Next Sculpture:
Outdoor Garden Life-size Bronze Bull Statue for Sale BOKK-684