Home »
Product
»
Horses sculpture
»
Outdoor Large Bronze Fernando Botero Sculpture Bronze Horse Sculpture for Sale BOKK-216
Outdoor Large Bronze Fernando Botero Sculpture Bronze Horse Sculpture for Sale BOKK-216
Item No: BOKK-216
Material: Bronze
Color: The Picture Color or Customized
Size: Life Size or Customized
Package: Strong Wooden Case
Service 1: Customized Service
Service 2: Trade Assurance
Keyword 1: Bronze Fernando Botero Sculpture
Keyword 2: Bronze Horse Sculpture
Get Price
Call US Now
Fernando Botero Angulo is a Colombian image artist and sculptor. Born in Medel, his signature style, also known as "Boterismo", depicts characters and characters in large and exaggerated volumes, which can represent political criticism or humor, depending on the work.
What is really eye-opening is that once you see Bronze Fernando Botero Sculpture, it will be very memorable. His style is very unique in today's art world, and few artists are proud to have a complete artistic direction named after them, but this is the case of Portism. His unique style depicts humans and animals almost exclusively in exaggerated proportions, which is not uncommon in some controversies.
But his unique style is obvious. The Bronze Fernando Botero Sculpture is striking wherever it is. And we could copy her perfectly.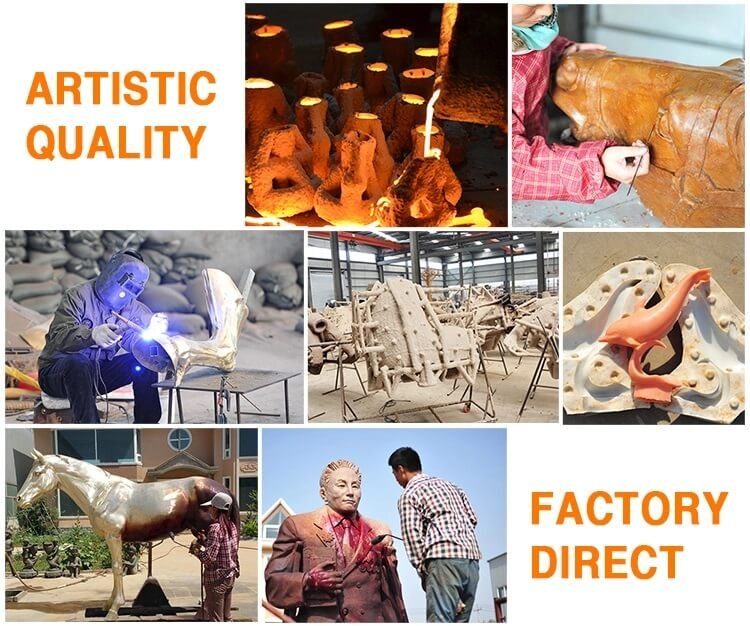 In order to make the Bronze Fernando Botero Sculpture more vivid and realistic, our artists must first make a 1:1 clay sculpture. Second, the sculptor made a wax pattern from the clay sculpture. Third, our bronze masters cast bronze based on existing wax patterns. Next, do surface treatment and color. Finally, we send the completed statue image to the customer for final inspection.
Prices are not the same for different sizes, we are very happy to receive your inquiry.
FEEDBACK
Last Sculpture
:
Large Outdoor Garden Decoration Bronze Rearing Horse Sculpture for Sale BOKK-560
Next Sculpture:
Famous Outdoor Bronze Braunschweiger Quadriga Sculpture for Sale BOKK-213