Home »
Product
»
Bears Sculpture
»
Outdoor Life Size Bronze Casting Momma Bear with Cubs Statue Wildlife Sculpture for Sale BOKK-676
Outdoor Life Size Bronze Casting Momma Bear with Cubs Statue Wildlife Sculpture for Sale BOKK-676
ITEM-NO:BOKK-676;
Size: Height: 6.4 feet, Width:5 feet,Length:3.3 feet;
Category: Bear sculpture
Tech: Lost-Wax Casting
Material : Bronze
MOQ:1 Piece
Production Time:25-30 Days
Delivery Time:15-30 Days
Insurance: Cover all the risk
Tag:bear statue,life size bear statue,bear statue for sale
Get Price
Contact US
This Bronze Casting Momma Bear with Cubs Statue is 6.4 feet high, 5 feet wide and 3.3 feet long. Our sculptors use advanced dewaxing casting technology to make this large outdoor bear family sculpture.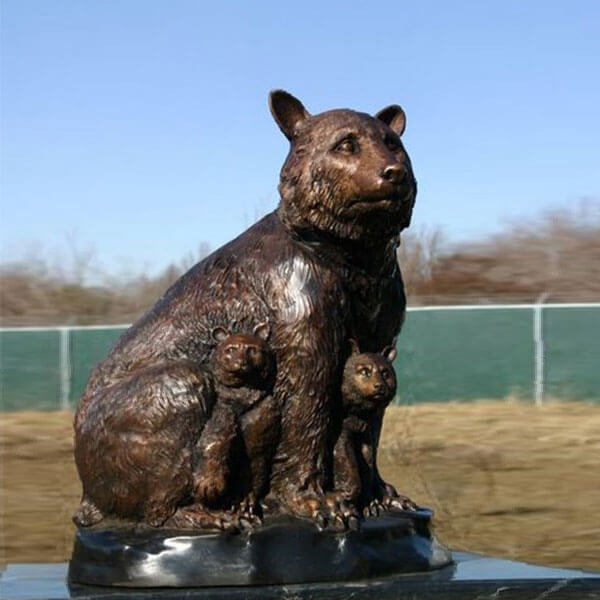 When the bear plays under her, Mother Bear will look after her little bear. This beautiful ornament is the best choice for animal lovers and wildlife collectors. Whether you are in front of the cabin or in the garden, it is very suitable.
Our Bronze Casting Momma Bear with Cubs Statue could be placed on a marble base and looks like an amazing piece of art. The mother and baby bear sculptures are 6.4 feet high, 5 feet wide, 3.3 feet long and front, and weigh 100 pounds.
We are able to make traditional and custom bear sculptures in bronze or cast iron, enabling us to provide the right material design at the lowest possible price. We offer discounted prices for mass production and custom bronze castings. We can create custom parts based on the number of samples generated by your sample or according to your needs.
We accept custom products, and we have many other styles of bears to choose from. Welcome your inquiry.
FEEDBACK
Last Sculpture
:
Outdoor Bronze Jappeloup Horse Sculpture BOKK-220
Next Sculpture: