Nic Fiddian Giant Bronze Horse Head Sculpture Sale BOKK-905
This is a giant bronze horse head sculpture by Nic Fiddian, it is a amazing artwork. It is very suitable for the outdoor. No matter where you put it, it will be very eye-catching.
Item No: BOKK-905
Material: Bronze
Color: The Picture Color or Customized
Size: Life Size or Customized
Get Price
Contact US
This is a very famous sculpture. This giant bronze horse head sculpture is created by the great sculptor Nic Fiddian. The sculptures of this sculptor are very fascinating and are sought after and liked by many people. There are even many celebrities who can't resist his works, among them the collectors include J.K. Rowling, Ringo Starr, Tom Cruise, and Russell Crowe.
From this bronze horse head sculpture, we can see there is a horse head looking into the distance. Its slightly drooping eyelids, let us think it seems to be thinking about something. This sculpture is made of bronze. So it is color is also charming. We make this sculpture uses the lost wax method. And the sculptors of You Fine factory carved this sculpture very carefully, we can 1:1 restore this sculpture. Our sculptors took these to the extreme. You can trust the quality of the sculpture. The details of this sculpture will not afraid of being explored carefully.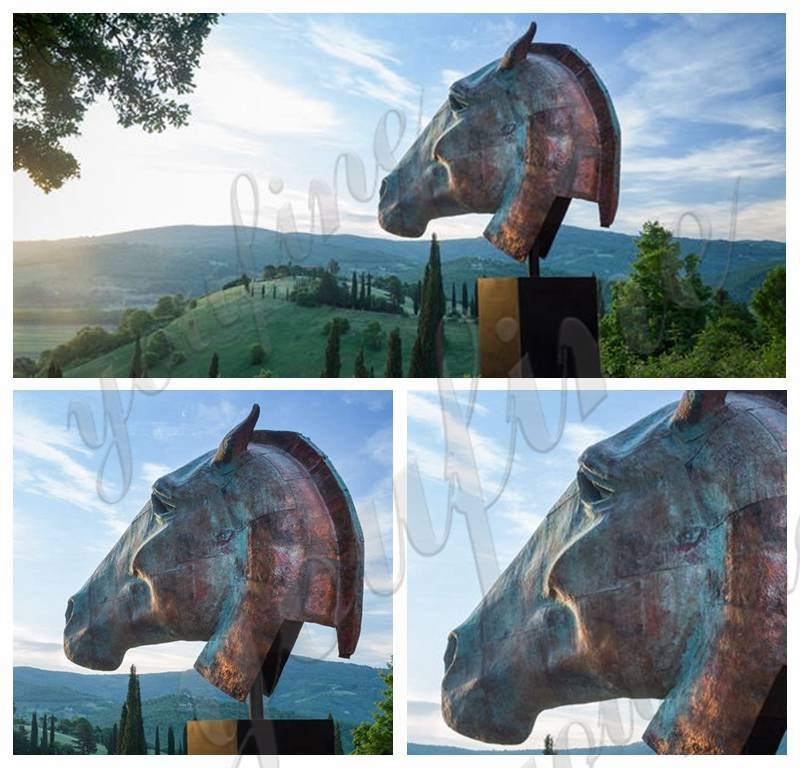 About the Creator:
British sculptor Nic Fiddian Green was born in Ireland in 1963. He received a bachelor's degree from Chelsea College of Art, then studied sculpture at Wimbledon College of Art, and later studied lost wax casting at St. Martins College of Art. Phidien Green built a bronze foundry in Surrey Downs, where he lives and works with his wife and four children. Phidien Green is the most famous contemporary sculptor combining romanticism and classicism. Since he saw the head of a Selena horse in the British Museum, he has been working on perfecting the shape of the horse's head. So his large bronze horse is the highlight of many British landscapes.
You Can Customize:
If you prefer other sizes, you can contact us. We provide you with customized services. You Fine factory has a professional design team. We will provide you with the preferred design and warm service. We have meticulous carving. You Fine respects every customer's personality and hobbies. We will take care of every customer's needs. So we will offer the customers the most moderate and reasonable price. You Fine's sculptures are sold directly by the factory, so the cost-effectiveness of sculptures is very high for customers.
You Fine will also provide professional packing and a safe mode of transportation. And also we will buy the full insurance for every sculpture. So if you are interested in this bronze horse head sculpture, don't hesitate. We are waiting for your contact at any time.
FEEDBACK
Last Sculpture
:
Life Size Bronze Lion Statue Garden Decor Manufacturer BOKK-258
Next Sculpture:
Life Size Antique Bronze Lying Lion Statue Wildlife Garden Animals Sculpture for Sale BOKK-256