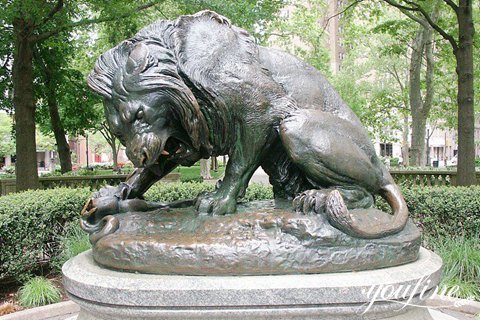 Life Size Bronze Lion Statue Garden Decor Manufacturer BOKK-258
This life size bronze lion statue carved a fight between a lion and a snake. Both the lion and the snake are very vivid. YouFine will use high-quality bronze and hire top masters to cast this statue to ensure 100% restoration. If you like this statue, please contact us as soon as possible.
Item No: BOKK-258
Size: Any Size You Want
Material: Bronze
Insurance: Cover all the risk
Place of Origin: Hebei, China
Get Price
Contact US
Life Size Bronze Lion Statue Introduction:
This life size bronze lion statue shows a very mighty lion image. The lion is catching a snake, and we can see the snake under the lion's feet, showing its fangs. At the same time, the lion looked at the snake fiercely. We can see every part of the lion's body is exerting force. Such a lifelike statue must be perfectly restored by a very professional and skilled bronze casting master. YouFine's bronze casters are the top masters in the industry, and they have a lot of research on the carving and casting of animals. So YouFine can guarantee you the most restored lion statue.
Every detail of this life size bronze lion statue is very delicate. This not only requires a very professional and detailed engraving, but also a very professional coloring. The color of this lion is perfect, and it will become more and more charming as time goes by. The perfect color and the meticulous carving can combine to create such a charming statue. YouFine's professional top coloring masters can grasp the color of the bronze statue very well, which makes our customers very satisfied.

Reasons for the Popularity of Bronze Statues:
Bronze statues have been very popular since ancient times because bronze statues can be handed down for a long time. And the bronze statue will become more and more attractive over time. And people's touch will make the bronze statue look more beautiful. So when making, YouFine will choose the best bronze as the raw material. Because only high-quality bronze can achieve this effect. More importantly, our bronze sculptures can be used for more than one hundred years. If you maintain them properly, you can pass them on to your children and grandchildren.
Why Choose YouFine:
YouFine is a very professional bronze sculpture production factory. So we can not only provide you with the best quality statues but also give you the best prices. At the same time, during the production of the sculpture, our salesman can also send you some flow charts and progress photos and videos. Allows you to participate in the process of making sculptures. Moreover, if you have any suggestions that need to be revised, you can also put them forward in time during the process, and we can also make changes in time. In this way, the final sculpture will be very much in line with your expectations.
If you are looking for a life size bronze lion statue, YouFine can provide you with the best choice.
FEEDBACK
Last Sculpture
:
Large Outdoor Antique Bronze Eagle Statue for Sale BOKK-339
Next Sculpture: