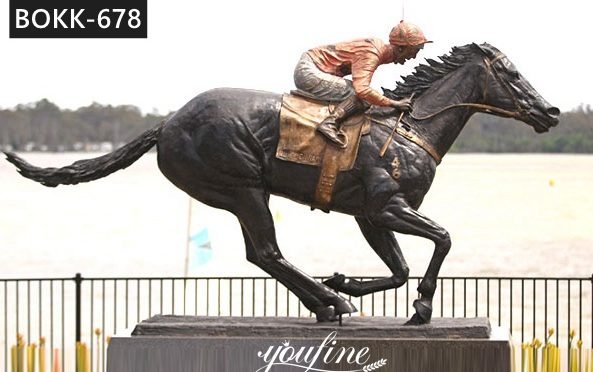 Life Size Bronze Horse and Rider Statue for Racecourse Decor BOKK-678
This magnificent bronze horse and rider statue is sure to be an attractive sign for the racecourse.
Item No: BOKK-867
Size: Life Size or Customized Size
Material: Antique Bronze
Package: Strong Wooden Crate
Keyword 1: bronze horse and rider statue,
Keyword 2: large bronze horse statues for sale,
Payment: T/T, Credit, Western Union, Money gram, PayPal
Get Price
Call US Now
Bronze Horse and Rider Statue Details:
This magnificent bronze horse and rider statue is sure to be an attractive sign for the racecourse. The large horse leaps its front hoofs, raising its head slightly, and its tail is swaying in the wind. The rider on horseback, dressing in an orange uniform and holding a whip, seems to be whipping the horse, urging moving forward. It's such a very heroic bronze horse and rider, which will be a landmark in any outdoor setting.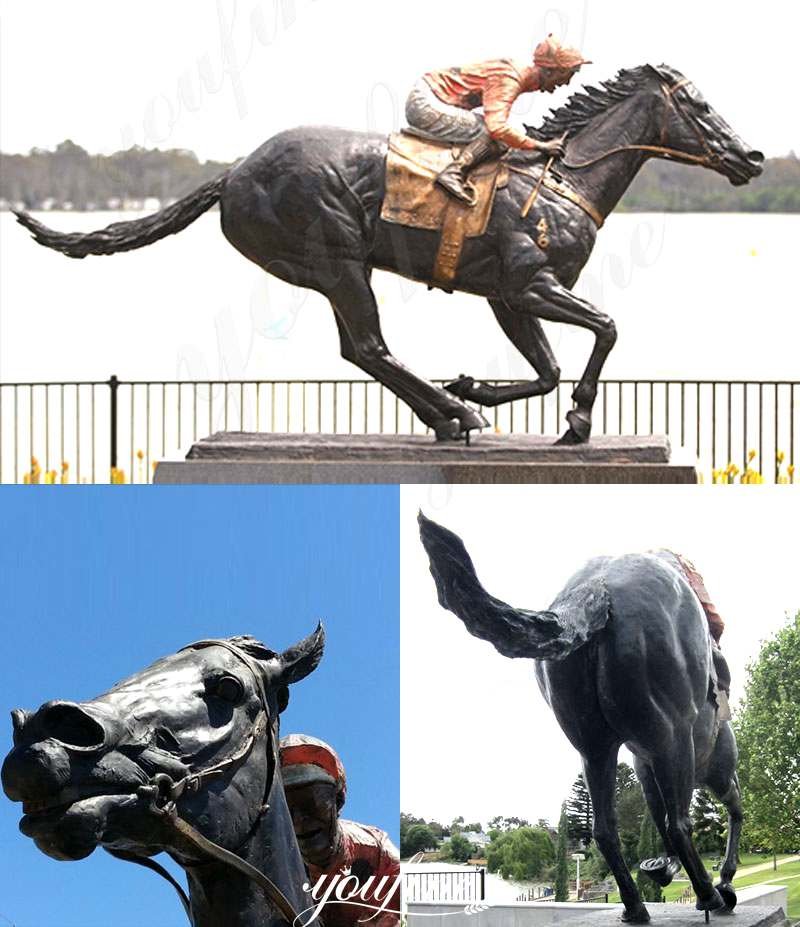 More Horse and Rider Statues:
Among tons of bronze animal sculptures in YouFine, there are countless images of horse statues. Horse is not only the main type in animal sculptures, but also an important part of many figures on horseback in figure sculptures. The group of bronze sculptures of figures on horseback not only give people a fresh sense of vision, but also have rich connotations. It also gives people unlimited space for thinking. The following bronze horse present is what we have made. If you have a design you want, send us a multi-angle photos, we can customize it accordingly.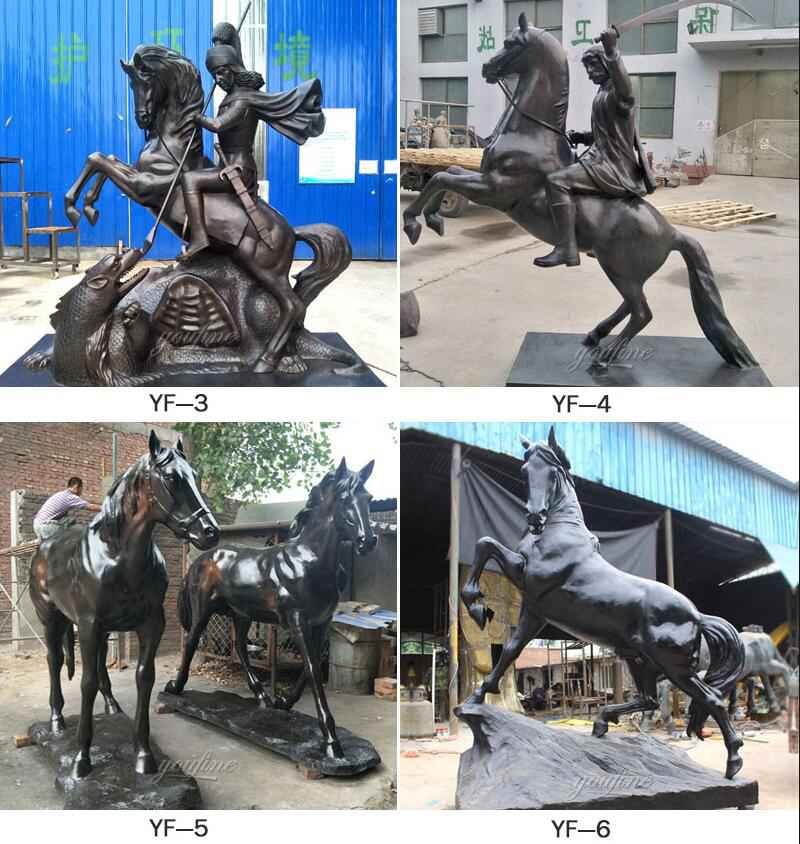 Attention to Details:
YouFine pays great attention to every detail to create quality bronze animals sculptures. And it does make a big difference from others like this bronze horse and rider statue. It riches in the style of Western European character sculpture. Placed in the racecourse, you will compete with real horse racers for sure. Meanwhile, our talented masters can pay much attention to details.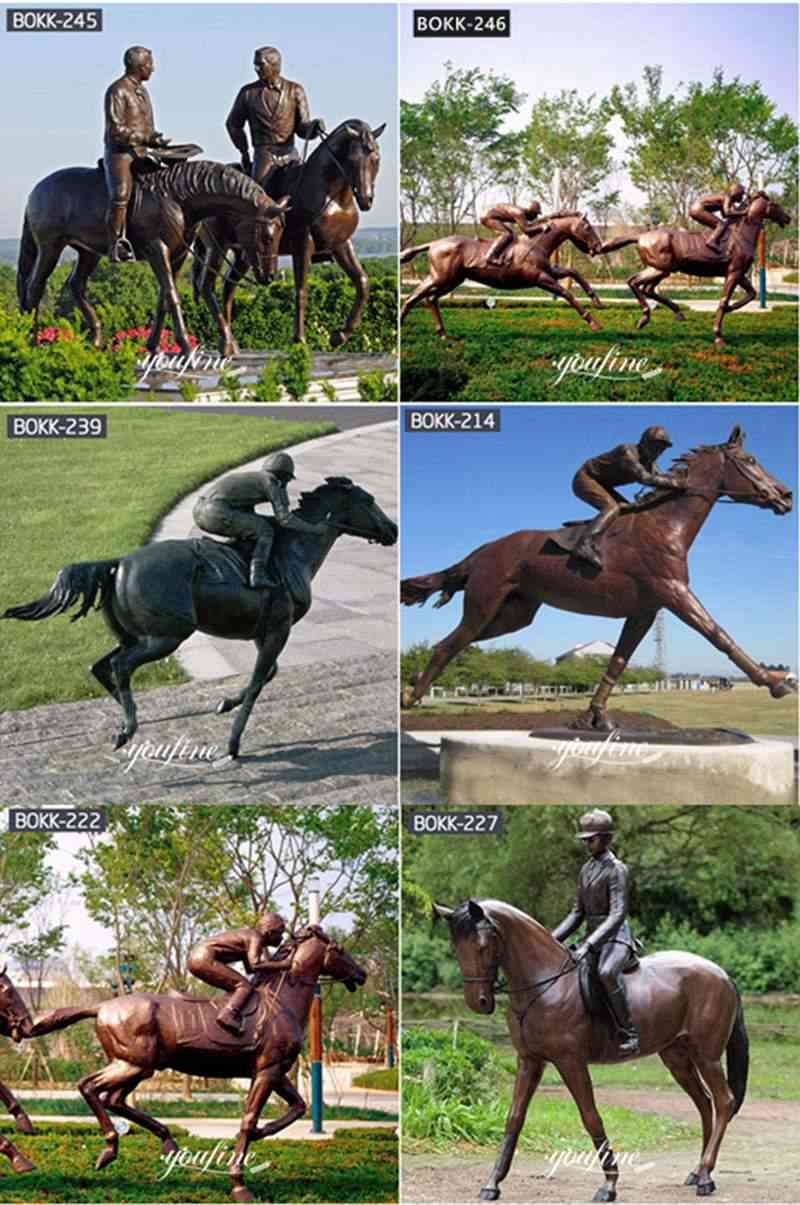 Quality Bronze Materials:
All of our bronze animal sculptures are 98% bronze and hand made in the Lost Wax process. We all know world-class sculpture is for all to admire, but only a few to make. YouFine counts one. The raw materials are never adulterated, which is why YouFine has more than 30 years of exporting experience. We pay attention to the quality and final finish of each product.
Call us today at  0086-17772520029 for more information about our bronze sculptures.
FEEDBACK
Last Sculpture
:
Life Size Antique Bronze Horse Statue With Saddle for Sale BOKK-522
Next Sculpture:
Life Size Bronze Deer Statues with Fawn Garden Statue for Sale BOK-220