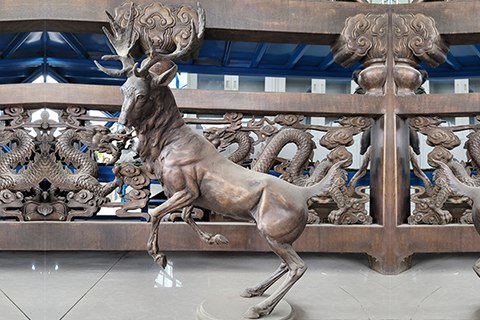 Life Size Bronze Elk Statue for Sale BOKK-999
This is a bronze elk statue customized by our customer. This statue is 100% restored to our client's design and is of high quality. It is a sculpture worth buying.
Item No: BOKK-999
Material: Bronze
Size: Any Size You Want
Insurance: Cover all the risk
Place of Origin: Hebei,China
Technique:Lost Wax Method
Advantage: Factory Direct;Door to Door Delivery
Get Price
Contact US
Bronze Elk Statue Introduction:
This is a highly restored bronze elk statue. This statue comes from a custom made by one of our clients. These pictures are also real shots of our factory. The picture is very real. We can see that the details and posture of this sculpture are very beautiful. Whether you are using it to decorate the space or to collect, such a sculpture is very suitable. Because it not only has very good quality but also has highly restored details.
Charming Colors:
This bronze elk statue has a very charming color. This color is very attractive and looks very textured. Some of our customers very love this color. Moreover, YouFine can guarantee that the color of the sculpture will never fade. YouFine has professional top masters in chemistry coloring. They can grasp the proportion of chemicals very well, so the color is not only accurate but also satisfactory to customers. And it can ensure that the color becomes more beautiful over time, and it will not fade.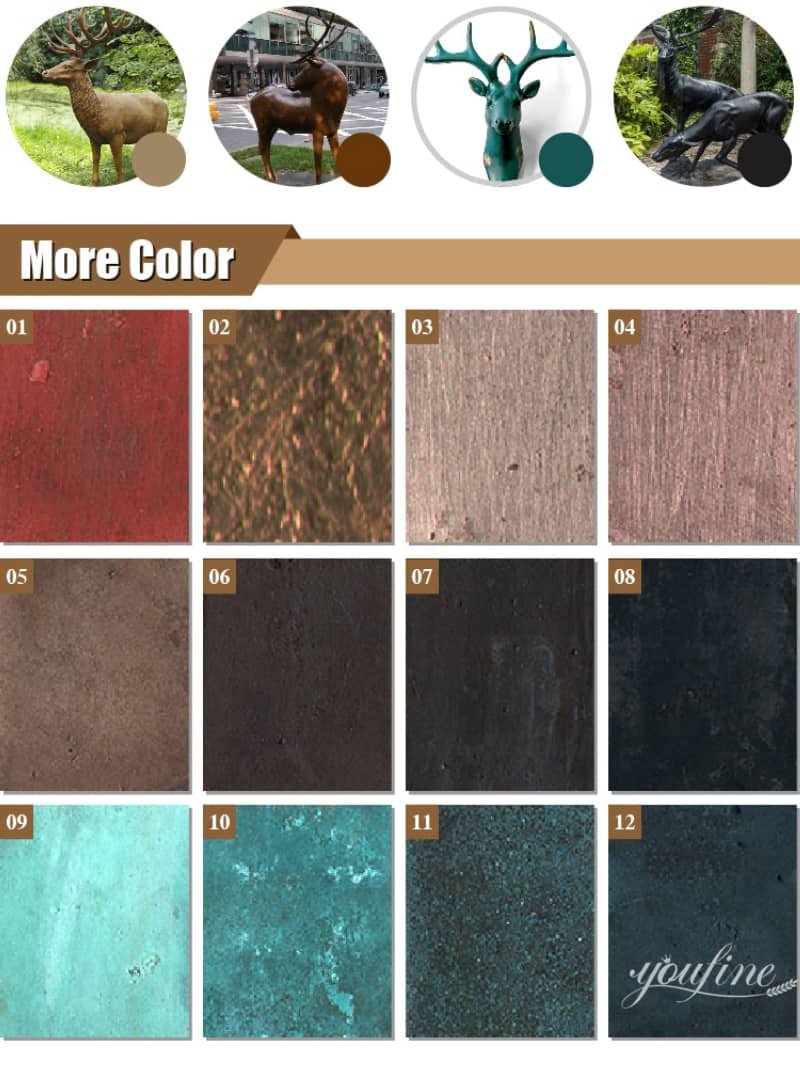 Clay Model Display:
The first step in making this sculpture is designed, and then the clay model is made according to the design. The clay model is the foundation of a bronze sculpture and is a very important step. The clay model determines whether the details of the final sculpture are perfect. YouFine has created a professional clay model room. Moreover, YouFine's top clay model masters are still top in the industry. Therefore, the clay models of YouFine's bronze sculptures are very lifelike and the details are very vivid.
Why Choose YouFine:
YouFine was established in 1983 and has a long history of the establishment. We have been engaged in the export of sculptures for many years, and YouFine sculptures can be found in many countries and regions in the world. YouFine has a variety of bronze deer designs with different shapes, colors, and types. As long as it is what you want, YouFine can help you cast it. And we can guarantee 100% restored and superior quality.
YouFine has always had very strict quality control, and we have always insisted on making fine sculptures. If what you need is a high-quality bronze elk sculpture, you can always contact YouFine. YouFine can give you the best choice.
FEEDBACK
Last Sculpture
:
Fine Cast Life-size Bronze Horse Statue for Sale BOKK-998
Next Sculpture: