Life Size Bronze Arabian Horse Sculpture for Sale BOK1-001
This Arabian horse sculpture is highly realistic, and every detail is very vivid. Very suitable for purchase by horse lovers. You can put it in your home garden, racecourse, square and many other places.
Item No: BOK1-001
Size: Any Size You Want
Material: Bronze
Technique: Lost Wax Process
Insurance: Cover all the risk
Place of Origin: Hebei,China
Get Price
Contact US
Arabian Horse Sculpture Introduction:
This is a highly realistic Arabian horse sculpture. This horse statue is very popular. This is because Arabian horses are one of the most beautiful horses in the world, and many people love them very much. This kind of horse is small in size and has slender limbs. Moreover, this horse has well-developed tendons, and its physique is very strong. When our artist was casting this sculpture, he perfectly grasped these details and made this sculpture look very beautiful.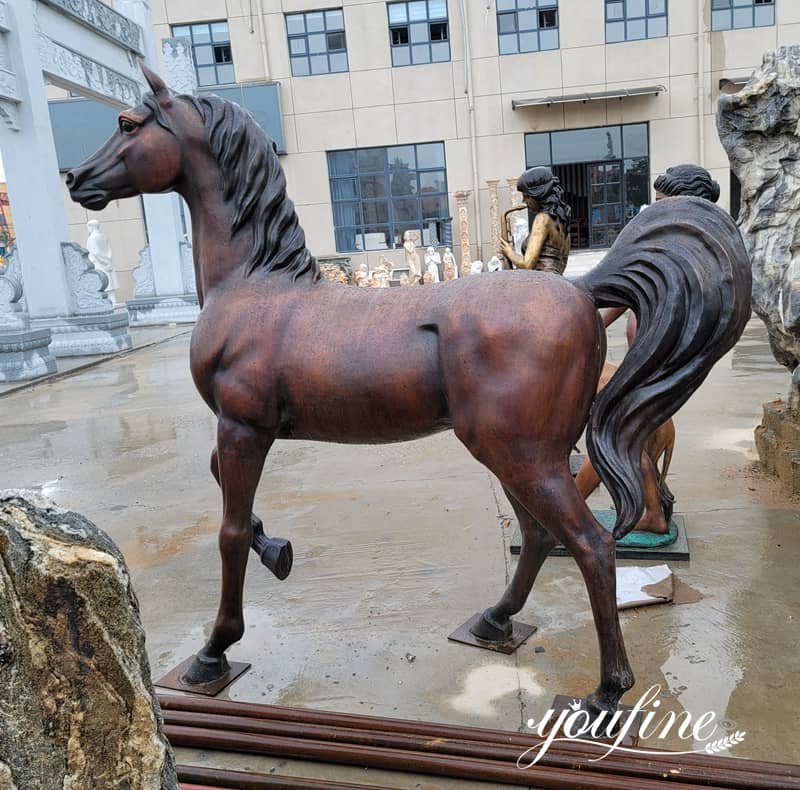 More Details:
The beauty of Arabian horses is well-known all over the world, so we can see that the head of this sculpture is beautiful and delicate, its eyes are large and beautiful. Its nostrils look very clean. The details of the tail of the Arabian horse cannot be ignored, because the tail of the Arabian horse is very flexible, sometimes as high as or slightly higher than the back. When excited, the height will exceed the back. So when casting, our artist let the horse's tail go beyond the back. In this way, a beautiful and very energetic Arabian horse sculpture appeared in front of us.
Professional Casting Process:
The picture below shows the casting process of some bronze horse sculptures. The figure only shows a few major steps. There are 33 processes in the casting process of the bronze sculpture. In every step of the casting process, we are very rigorous. We use advanced silica sol technology to reduce the occurrence of defects on the sculpture. And it will never produce white spots (the white spots would irreversibly damage the sculpture). So YouFine's sculptures have a long service life, at least 100 years.
YouFine has a very professional sculpture production team. Our artists and top masters are experts in the industry. They have superb skills, and everyone has their kind of expertise. The artist who cast this Arabian horse sculpture has an in-depth study of horses, understands the habits and characteristics of each horse, and can grasp some details well. In addition, we can also provide you with more choices, no matter what kind or style of horse, we can restore 100%. And we also accept customization and can cast a statue that fits your imagination according to your requirements.
YouFine's sculptures have always been very popular with customers, and there are many repeat customers. If what you want is a high-quality, well-made sculpture, YouFine will be your best choice.
FEEDBACK
Last Sculpture
:
Life Size Bronze Elk Statue for Sale BOKK-999
Next Sculpture:
What are the auspicious meanings of the bronze lion sculpture?