Life Size Antique Bronze Lion Statue Outdoor Decor for Sale BOK1-245
This antique bronze lion sculpture was cast with care by YouFine's top artists. It has a patina appearance and a majestic pose. Please contact us for more information.
Item No: BOK1-245
Material: high-quality bronze material
Type: Bronze Animal Sculpture
Advantage: Factory Direct
Service: Customized Service
Insurance: Cover all the risks
Package: Strong Wooden Case
Get Price
Contact US
Bronze Lion Statue Details
The antique bronze lion statue is a hot selling product of the YouFine factory, and many customers like this sculpture very much. First of all, the bronze lion sculpture cast by our artist is very realistic and vivid, showing the fierce power of the lion. The lion we see is as strong as the Lion King in the movie, it has thick hair and strong limbs. More than that, the lion opened its mouth wide and roared in the distance, showing the dominance of the king of the forest. Secondly, the color of this lion sculpture has been stained, showing an antique copper green color. This bronze lion sculpture placed outdoors could attract wide attention.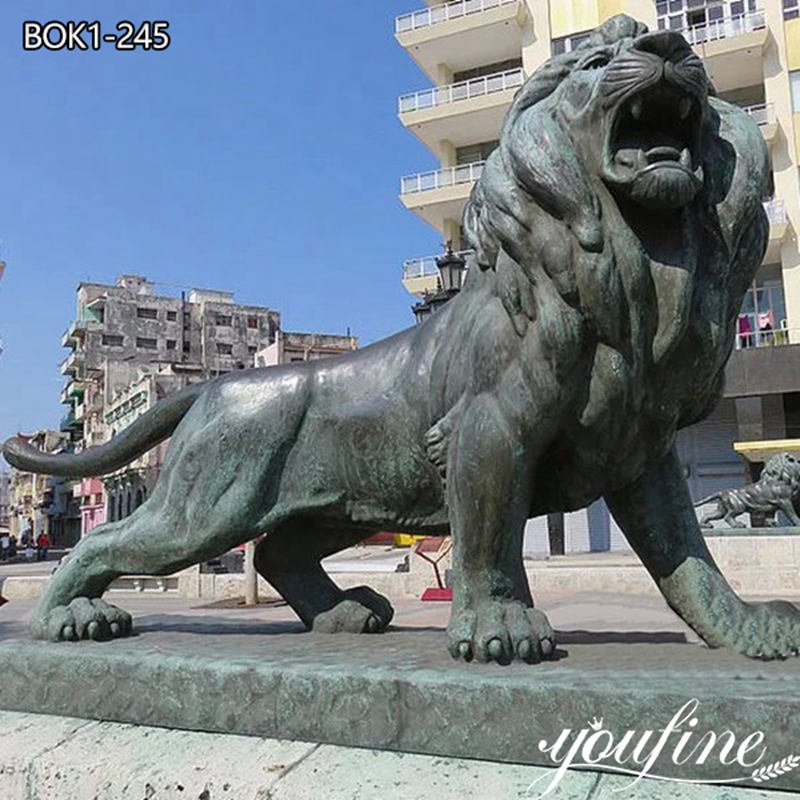 How To Make A Realistic Clay Model?
YouFine pays special attention to the production of clay molds, which is one of the keys to the success of a sculpture. It is worth mentioning that YouFine's clay artists are the best in Quyang, the home of sculpture in China. Before making the sculptures, the artist, who specializes in sculpting animal clay molds, and his assistant repeatedly watch sculpture-related movies and documentaries. After carefully studying and mastering the essence of sculpture, they would start making clay models. During the process of sculpting, each artist would carefully revise every detail until they get the customer's confirmation.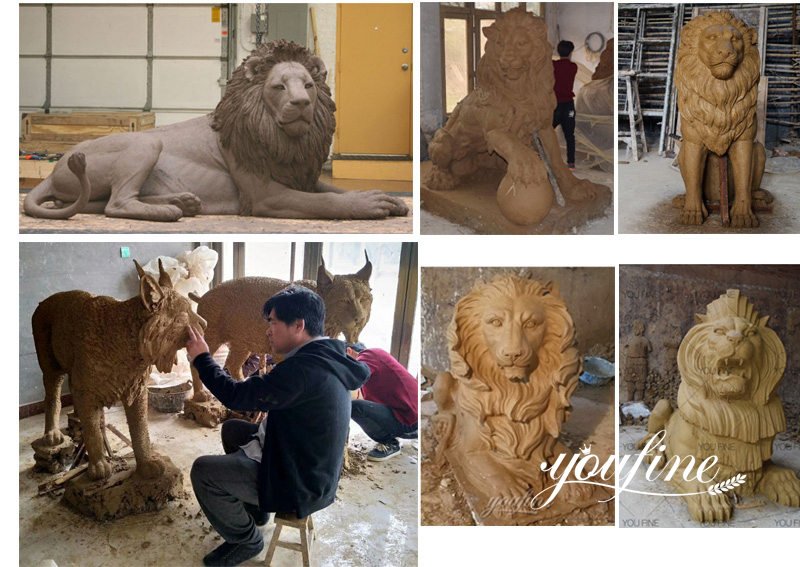 How The Bronze Sculpture Is Painted?
There are many different ways to paint bronze sculptures, and each sculpture would be painted differently; YouFine would usually choose the most appropriate coloring method for the sculpture's needs. Our factory is staffed with artists who have mastered a variety of coloring techniques, such as chemical coloring, high polishing, spray paint, spray plating, painting, etc. It is worth mentioning that many artists come from top art universities in China and have certain attainments in the field of art. They are very good at coloring bronze sculptures, and the colors of the sculptures are very vivid and could become more and more natural with time after being colored by these artists.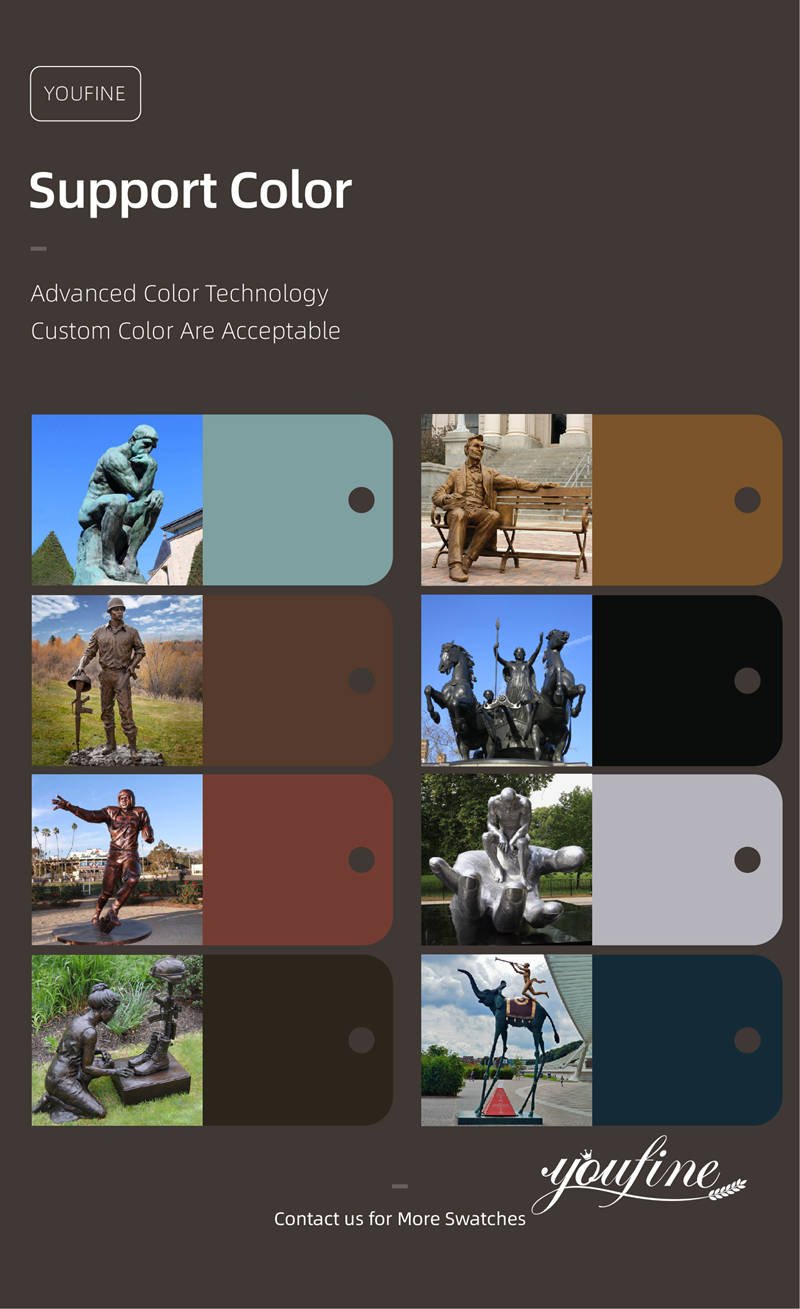 More Choices for Bronze Lion Statues
YouFine factory is very good at making bronze lion statues, and we have made countless lion statues and exported them all over the world. We could make bronze lion sculptures in a variety of poses and types, and you are free to choose the color, size, and design of your sculpture, YouFine sculpture artists could meet your wishes. If you are interested in this type of lion sculpture, we could also show you several product pictures. It's worth mentioning that YouFine's factory already has clay models of the sculptures available for you to use for free, which would save you a lot of money on model fees.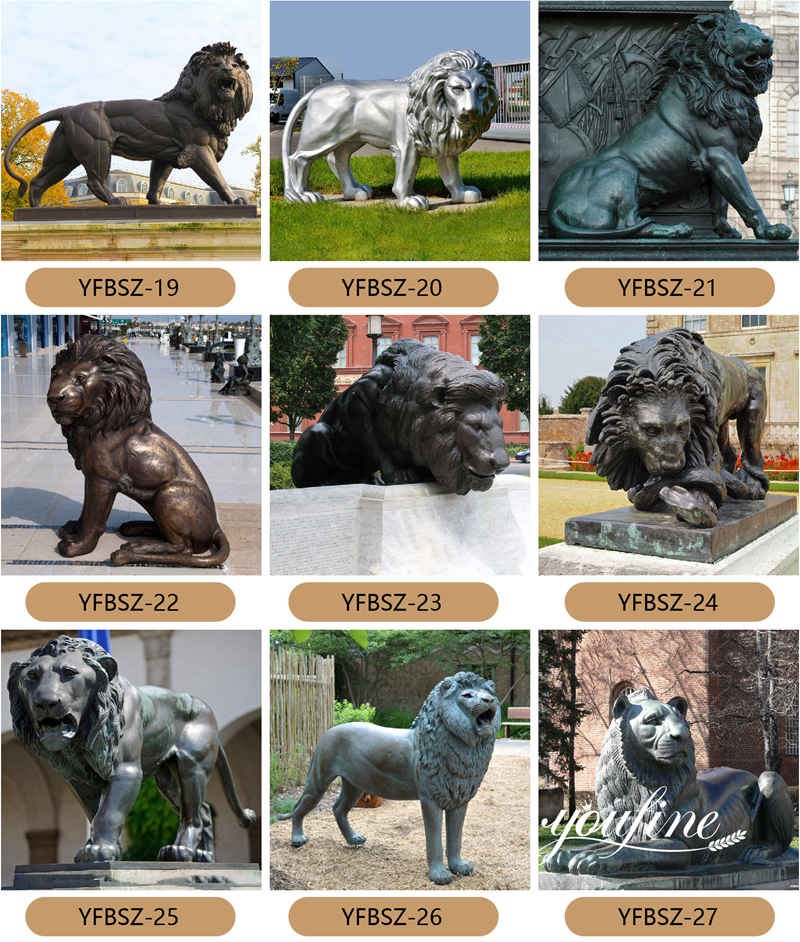 YouFine is a professional bronze sculpture supplier, and we are ranked first in the industry in terms of realism and quality of the sculptures. If you want to buy beautiful bronze sculptures, please feel free to contact us.
FEEDBACK
Last Sculpture
:
Large Stainless Steel Dragon Sculpture Outdoor Decor Supplier CSS-823
Next Sculpture: