Home »
Product
»
Bears Sculpture
»
Life Size Antique Bronze Group of Bears Sculpture Animals Garden Decor for Sale BOKK-289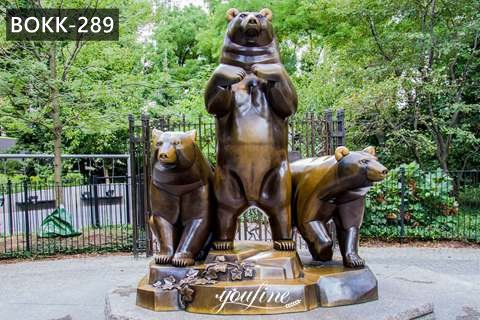 Life Size Antique Bronze Group of Bears Sculpture Animals Garden Decor for Sale BOKK-289
This gorgeous bronze group of bears sculpture is a perfect display of YouFine casting bronze technique.
Item No: BOKK-289
Size: Customized Size You Want
Material: Grade A Bronze
Superiority 1: Free Custom Made
Superiority 2: Foundry Supplying Directly
Superiority 3: 30 Years Quality Guarantee
Technique: Art-quality Hand Carved, Polished
Advantage: Factory Direct; Door to Door Delivery
Get Price
Contact US
Bronze Group of Bears Sculpture Details:
This gorgeous bronze group of bears sculpture is a perfect display of YouFine casting bronze technique. These three bears are sitting together closely on a big bronze base. With the central bear standing upright, it roars with opening mouth. The other two bears lie on both sides obediently, with a sturdy shape. They all have a smooth finish and beautiful antique color, which is the creation of high polishing and chemical coloring. The beautiful base is also adorns with delicate flowers, which will be a great outdoor decoration.
Advanced Castings:
This antique bronze group of bears sculpture is made with a very high bronze casting technique-the traditional lost wax method. We all know that the bronze casting process is a time-consuming and labor-intensive. However, YouFine sticks on quality first. We treat every animal sculptures as our own babies. From simple drawings, clay molds, wax shells, bronze casting, polishing to finished products, every step is supervised by the quality team. High quality is also the reason why we have so many repeat orders.
Advanced Castings:
The life-size bronze group of bears sculpture requires a lot of complicated hand casting processes. Among them, making clay molds is the first and most important step. We have professional clay mold masters who specialize in making 1:1 clay molds. They all have more than 35 years of experience and only focus on doing this thing for their entire life. "Specialize in one subject" guarantees professionalism. So YouFine every clay mold is very lifelike.
Other Popular Types:
This decorative bronze group of bears sculpture is a popular bronze animal sculpture design in YouFine. Both the exterior color and the shape are very attractive. In addition, YouFine offers large varieties of bronze bears with different shapes and poses. If you have your own ideas, you can send pictures to us of course. YouFine's talented designers will make corresponding drawings for you. Because customized products are a major big advantage of YouFine.
Still searching for animals garden decorations? There are tons of options here for you! Just leave your message, and you will be astonished by what you can find out!
FEEDBACK
Last Sculpture
:
Life Size Bronze Elk Sculpture Garden Decorative Animals Sculpture for Sale BOKK-820
Next Sculpture:
Famous Bronze Bernando Botero Horse Sculpture Garden Decor for Sale BOKK-688