Home »
Product
»
Horses sculpture
»
Large Outdoor Garden Decoration Bronze Rearing Horse Sculpture for Sale BOKK-560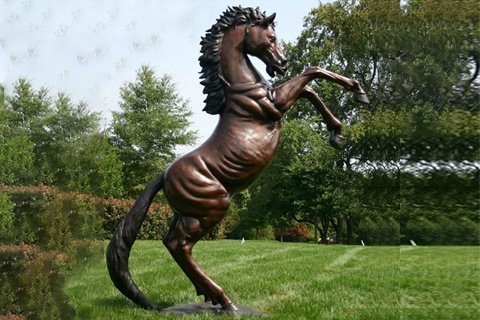 Large Outdoor Garden Decoration Bronze Rearing Horse Sculpture for Sale BOKK-560
This huge Bronze Rearing Horse Sculpture has a very elegant shape and the sculpture captures this movement.
Item No: BOKK-560
Material: Bronze
Color: The Picture Color or Customized
Size: Life Size or Customized
Package: Strong Wooden Case
Service 1: Customized Service
Service 2: Trade Assurance
Keyword 1: Large Animal Sculpture Decoration
Keyword 2: Bronze Horse Sculpture
Get Price
Contact US
Outdoor Garden Bronze Rearing Horse Sculpture Details:
This is a case study we created for our clients. This huge Bronze Rearing Horse Sculpture has a very elegant shape and the sculpture captures this movement. This sculpture could be perfectly added to your home or garden.
Where to Put It?
If you put the bronze image on the pedestal, it will look a bit higher. It seems that the position is higher. This bronze statue demonstrates the power of animal movement in a very subtle way. We know that raising horses has certain challenges, so when you have a Bronze Rearing Horse Sculpture, it must have a special meaning.
If you put this Bronze Rearing Horse Sculpture in a large hall or entrance passage, this piece will be appreciated by everyone. We could also customize the size according to your requirements, please tell me your needs.
Our Advantages:
In order to make the bronze rearing horse statue more vivid and realistic, our artists must first make a 1:1 clay sculpture. Secondly, the sculptor made a wax mold. Third, our bronze masters cast bronze according to the existing wax pattern. Next, surface treatment and coloring are performed. Finally, we send the completed statue image to the customer for final inspection.
You don't have to worry about damage to the goods, we will use a 3 cm wooden package and add soft cotton inside, and if it is damaged, we will make new ones for free. If you still want to buy Bronze Rearing Horse Sculpture, please contact us or leave a message, we will respond to you in time.
FEEDBACK
Last Sculpture
:
High Quality Bronze Horse Statue from Factory Supply BOKK-963
Next Sculpture:
Life Size Bronze Grizzly Bear Statue Outdoor Wild Animal Decor for Sale BOK1-007