Home »
Product
»
Horses sculpture
»
Large Outdoor Bronze Peter the Great Statue Square Decoration for Sale BOKK-735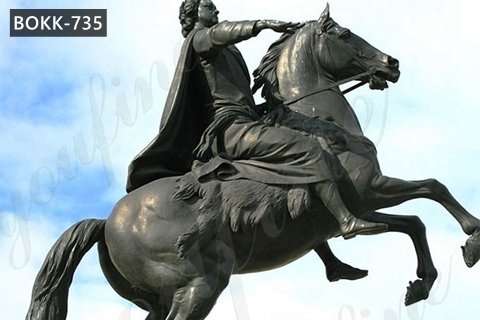 Large Outdoor Bronze Peter the Great Statue Square Decoration for Sale BOKK-735
This large bronze Peter the great statue has perfectly captured the bravery and fearlessness of Peter the Great. You Fine top masters have restored the essence of the statue.
Item No: BOKK-735
Size: Customized Size
Material: Antique Bronze
Package: Strong Wooden Case
Service: Customize Acceptably
Payment: T/T, Credit, Western Union, Money gram, PayPal
Get Price
Contact US
Bronze Peter the Great Statue Details:
This large bronze Peter the great statue has perfectly captured the bravery and fearlessness of Peter the Great. The impressive statue depicts Peter riding a rearing horse with a single piece of red granite as the base. You could also notice that there is a ferocious snack under the horse's hooves. You Fine top masters have restored the essence of the statue. And they express the power and strength of the wild horse and conquering hero with excellent details. This majestic bronze horseman statue is greatly in accordance with a large estate, squares, or garden gates.
Russia Monument Peter Statue:
This outdoor bronze Peter the great statue is a delicate replica of the Bronze Horseman Monument in St. Petersburg, Russia. Made by the famous French sculptor Etienne Maurice Falconet, it is originally an equestrian statue of Peter the Great on the Senate Square. And there are special meanings for the monument statue. For example, the horse steps on a snake, which means the enemy he encountered during Peter's reform. This impressive statue deeply portrays the hero, Russia's most outstanding reformer, founder of St Petersburg, Peter the Great. Nowadays, it has become one of the symbols of Petersburg.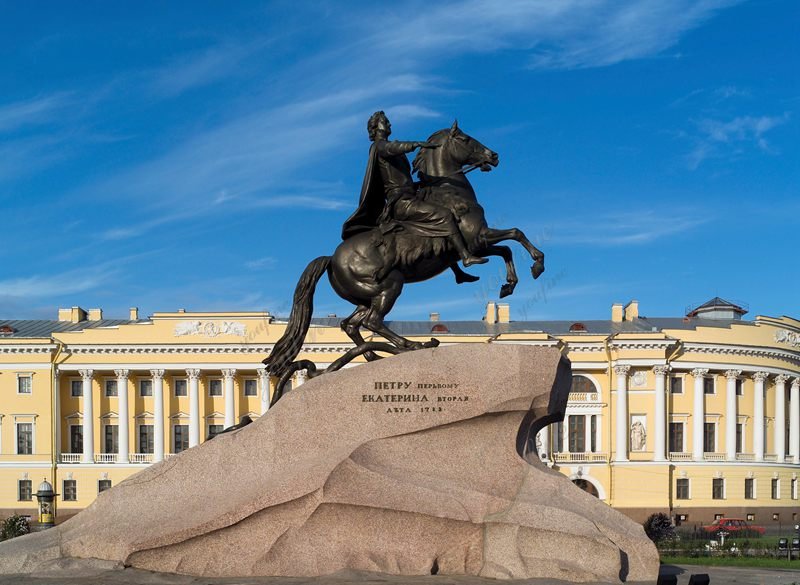 Bronze Peter the Great Statue Production Process:
This gorgeous bronze Peter the great statue replica uses the traditional lost wax method. It also shows intricate details of the horse and man. Our skilled clay mold masters can make perfect 1:1 clay molds as it is also one of the most important steps. After further enhanced by patina and polishing, the sculpture perfectly restores the essence of the original.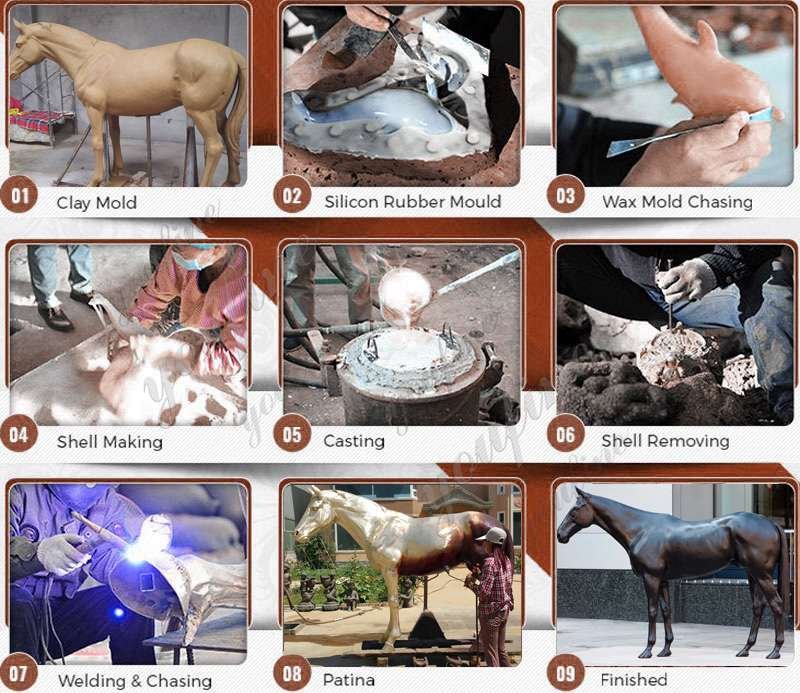 Large Bronze Horseman More Designs:
You Fine Art and Sculpture offers large varieties of bronze horseman and horses including this bronze Peter the great statue. Different types of horses have different shapes, colors, and designs. For example, walking horse, lying horse, bronze male and foal, rearing horse… Any other bronze animals are all available. We accept customization and provide high-quality bronze products according to your needs.
Name your favorite design, and you will get the most favorable price!
FEEDBACK
Last Sculpture
:
Life Size Antique Bronze Horse Statue Mare and Foal Sculpture Racecourse Decor for Sale BOKK-869
Next Sculpture:
Custom Antique Bronze Springer Spaniel Dog Statue for Sale BOKK-553