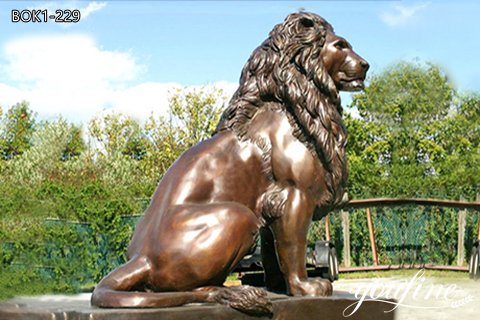 Large Bronze Lion Statue Outdoor Decor Manufacturer BOK1-229
This bronze lion statue outdoor is a large wildlife sculpture, it is very suitable for placing in zoos and outdoor as decoration. If you need please feel free to contact us.
Item No: BOK1-229
Material: high-quality bronze material
Type: Large Bronze Lion Statue
Advantage: Factory Direct
Service: Customized Service
Insurance: Cover all the risks
Package: Strong Wooden Case
Get Price
Contact US
Bronze Lion Statues Outdoor Introduction
The bronze lion statue is an exquisite decoration for the outdoor. This lion sculpture is a large lion sculpture and is a very popular bronze animal sculpture. The lion statue cast by our factory is very realistic. The lion is sitting on the ground, it has a strong body, and the muscles are visible. The lion's hair is cast very vividly, a curly and thick hair shows the lion's majesty. The color of this sculpture is very retro, adding to the artistic atmosphere of this sculpture. If you are interested in this sculpture, please contact us for more details.
Famous Clay Modeling Artist
YouFine is a professional supplier of bronze sculptures. As we know, clay mold making is one of the important steps of bronze sculpture casting. Our factory's clay artists are top masters in the industry, many of them graduated from top art colleges in China, and they have many years of experience in making clay molds. These top masters carefully study the lion's form and related images, which helps them to grasp the essence of the sculpture more precisely. The clay molds produced by our factory are very realistic.
Top Patina Artists
Our factory has the best coloring artists, and the bronze animal sculptures are very realistic and vivid after they are colored. Our factory has artists who are good at many kinds of coloring methods, and our common coloring methods include spray painting, spray plating, painting, and gold flakes. Our coloring artists are specialized in their coloring methods, and we would choose the right coloring artist according to the actual needs of the sculpture.
Customized Service for Bronze Lion Statues
One of the greatest strengths of our factory is our ability to provide comprehensive customization services to our customers. On the one hand, we support the choice of color, size, shape, and material of the sculpture. You could choose any type of sculpture you like, and we could make the sculpture to your satisfaction. On the other hand, our bronze lion sculpture is one of the hot-selling products in our factory, we have made countless lion sculptures which have different shapes, and we could show you more photos and designs if you need.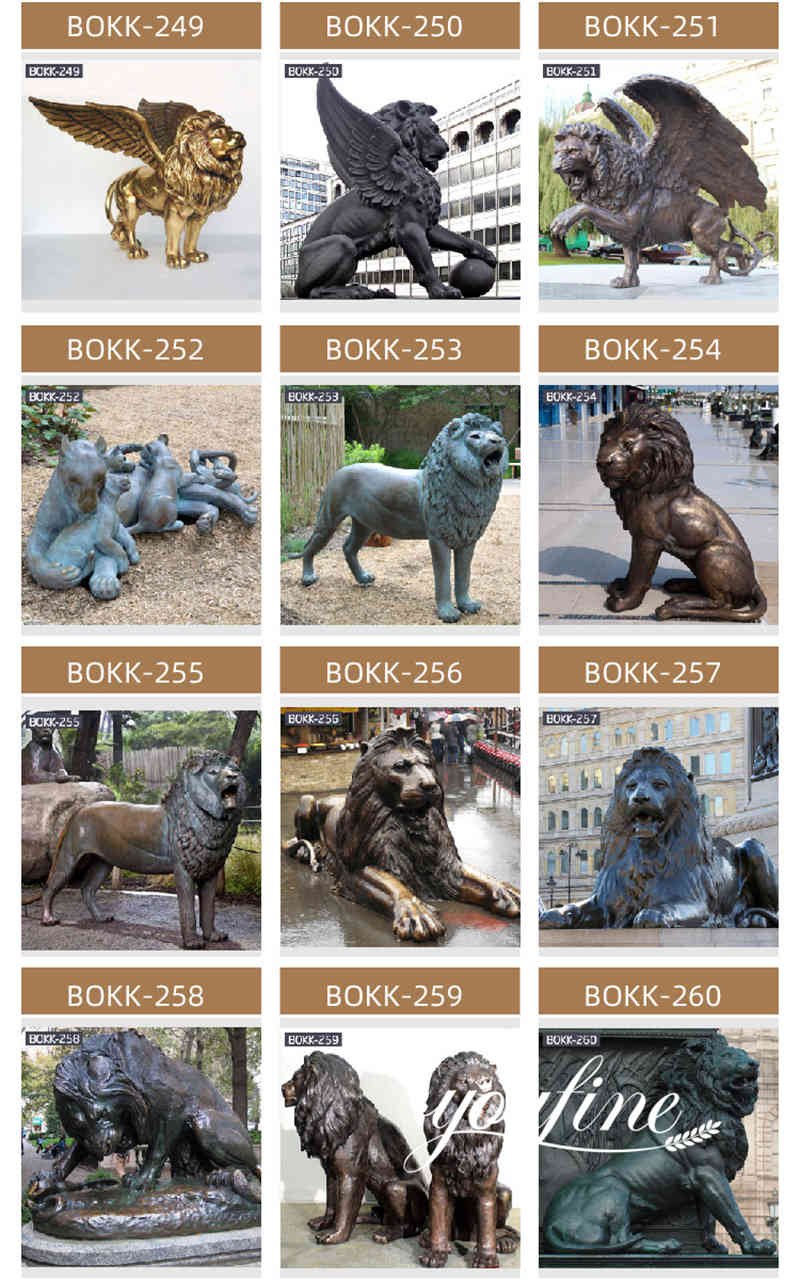 YouFine is a strong supplier of bronze sculptures, please feel free to contact us for questions about the sculptures. We promise to provide you with the best quality service and the most exquisite sculptures.
FEEDBACK
Last Sculpture
:
Large Mirror Metal Turtle Sculpture Seaside Decoration Supplier CSS-807
Next Sculpture:
Geometric Metal Panther Sculpture Modern Design Best Online CSS-811