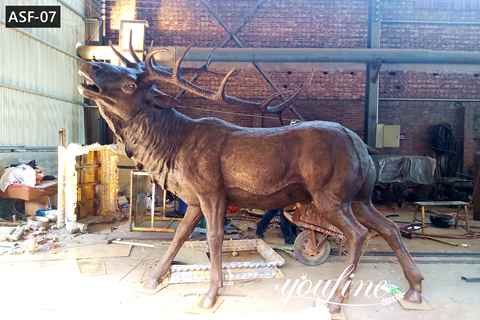 Large Bronze Elk Statue Animal Yard Art for Sale ASF-07
This gorgeous large bronze elk statue will be a perfect animal yard art.
Item No.: ASF-07
Material: Grade A Bronze
Size: L200cm, or custom as your requirement
Casting Method: Traditional Lost Wax
Key Word 1: bronze deer statue life size
Key Word 2: bronze deer statues garden
Advantages: Foundry Directly Supply
Get Price
Call US Now
Large Bronze Elk Statue Details:
This gorgeous large bronze elk statue will be a perfect animal yard art. Featuring large antlers, it presents a pair of tree branches with horn-like ears hidden under it. The alert ears seem to staring on the surrounding movement, ready to flee at any time. There is both bravery and wisdom in its slightly raised head and brown and shiny eyes. The slightly opening mouth also seems to intimidating. Furthermore, the four upright legs seem to gather the power of its whole body. Perfect animal yard art for your place!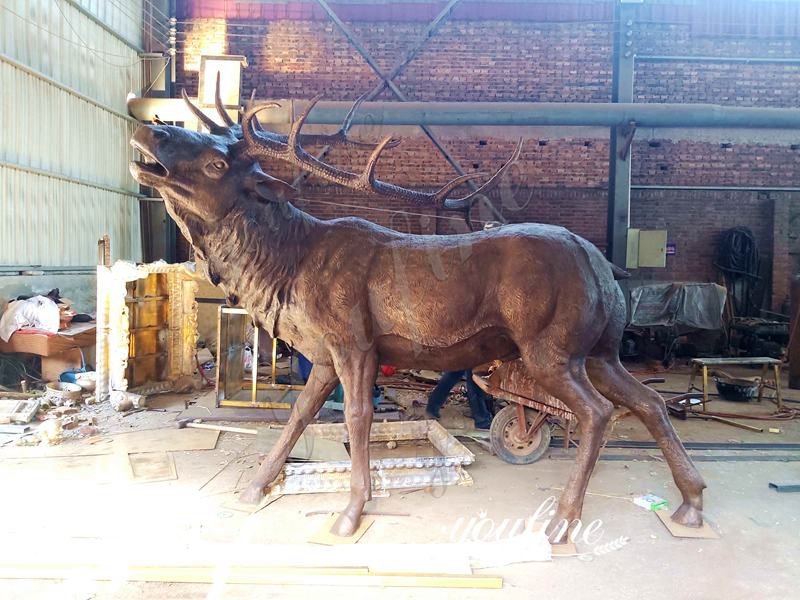 Huge antlers:
The most special part about this large bronze elk statue is the beautiful pair of antlers on its head. The lifelike bronze antlers look like a crown, making it look more noble. The large antlers also extend back and the horns bend inward. There are wrinkles on the surface of the treated antlers, which are the creation of polishing by the craftsman. Moreover, this beautiful antler can also attack the enemy when in danger, as a self-defense weapon. You can imagine the scene of the group of elks running up. It's like a batch of chestnut red leaves swept away by the autumn wind.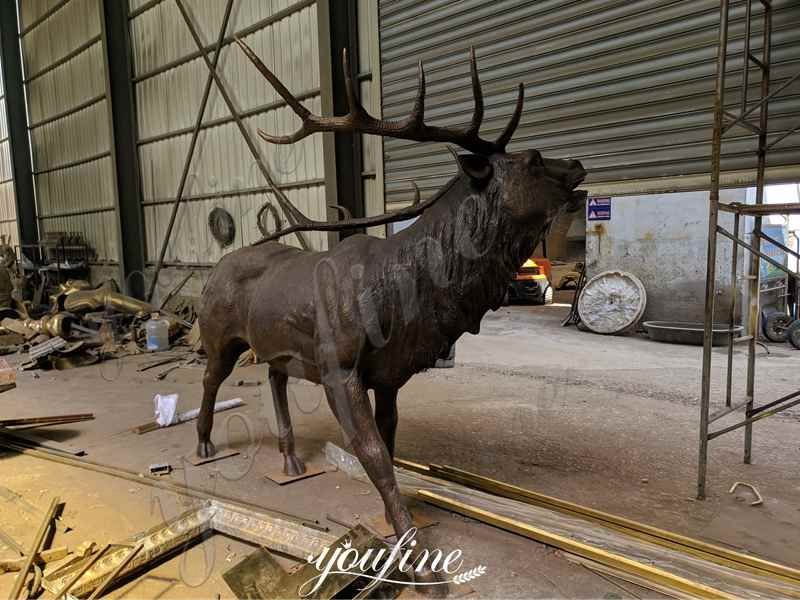 Ordering Guidance:
Each of our bronze animals sculptures use the traditional lost wax method. This is a finished elk sculpture that's sold to our American customers. If you like this sculpture too, we can save you the model fee! If you like other bronze elk designs, here is the ordering guidance.
Confirm the detailed design/drawing with detailed size. Send multi-angle pictures.
We will design and quote according to the designs. Start production after confirmation.
Making clay molds.
Lost wax casting bronze.
Welding and polishing.
Completed
During the production process, we will take all different pictures/videos and show them to you. When you are satisfied with the sculpture, pack it into a wooden crate.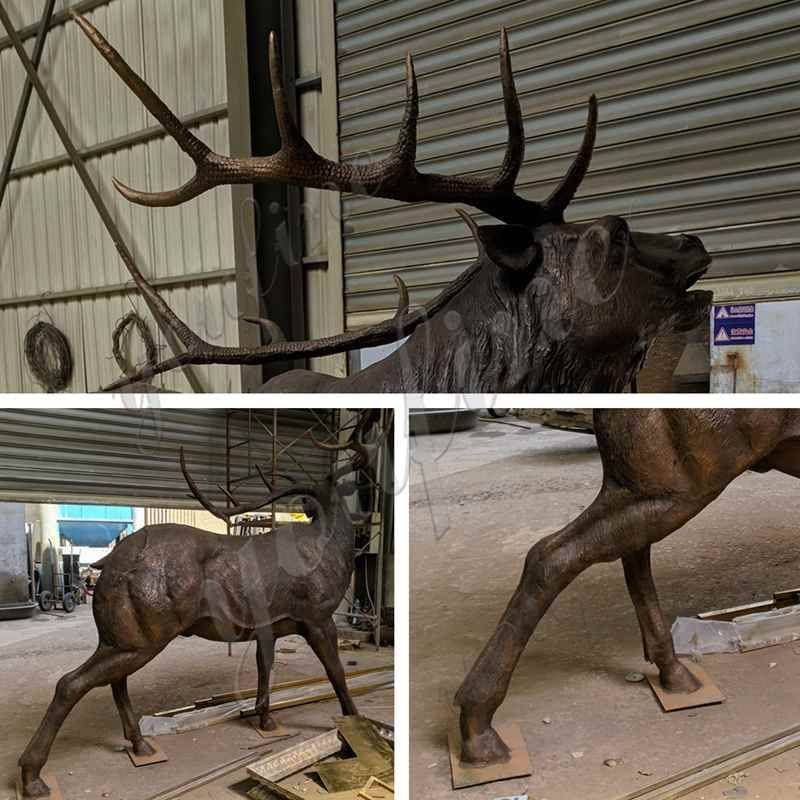 Related Elk Sculptures:
This large bronze elk statue can reach two meters high, which is very realistic. In addition, different sizes are also available, which can be made according to your needs. If you prefer bronze elk, please let us know without hesitation. You will be satisfied.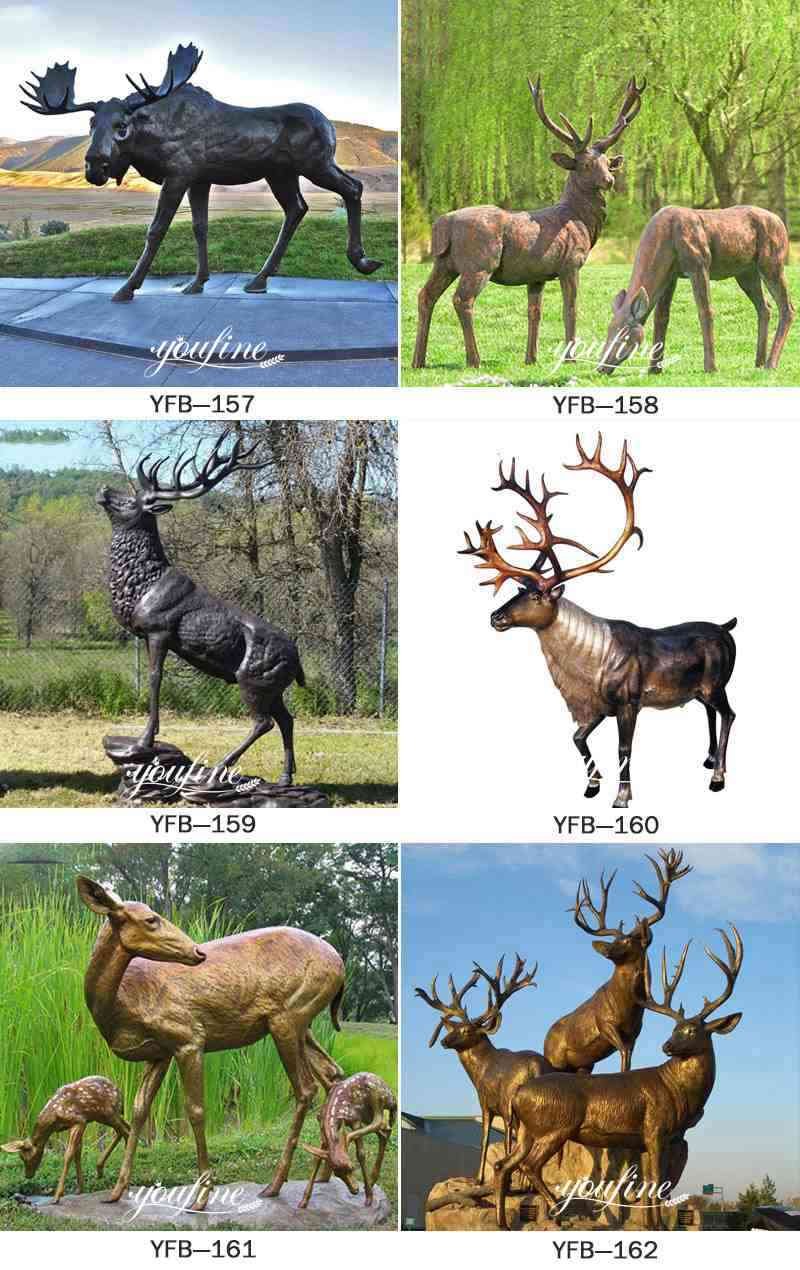 Anything you like, we can make it in bronze!
FEEDBACK
Last Sculpture
:
Life Size Antique Bronze Deer Garden Statue for Sale BOKK-468
Next Sculpture:
Bronze Elk Statue Life Size Christmas Metal Art for Sale ASF-08