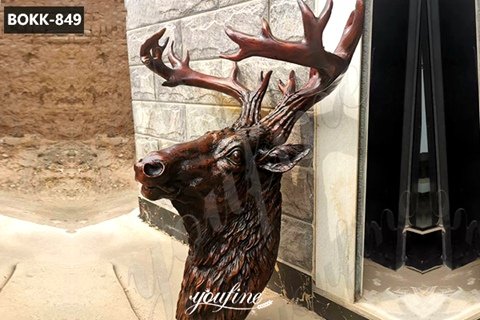 Large Bronze Deer Head Statue Metal Wall Decor for Sale BOKK-849
Item NO.:BOKK-849
Size: Life Size or Customized
Material: Bronze
Key Word 1: Large Bronze Deer Head Statue
Key Word 2: Bronze Deer Head Metal Wall Decor
Design: By Our Team(Customer Design Is Acceptable)
Advantage: Factory Direct; Door to Door Delivery
Get Price
Call US Now
Descriptions:
This life-size bronze deer head statue has very beautiful antique bronze patinas, which is perfect metal wall hang piece. The two big antlers are glowing with red patinas, and the hair on the neck is clear and lifelike. Please also pay attention to the detailed facial expressions, eyes and ears, antlers, branches etc. They are all very realistic in spirit. This fantastic bronze piece sprinkles charming, which also shows the unique personality of the owner. They will match your farmhouse very well.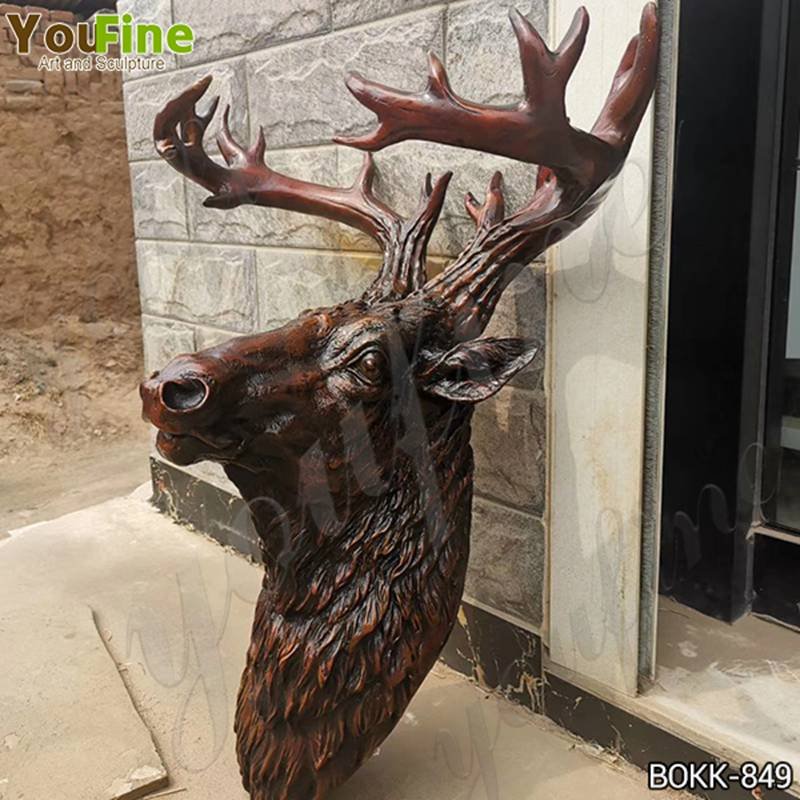 Features & Details:
This gorgeous bronze deer head statue has very realistic details. All handcrafted from grade A bronze, professional artists of YouFine design such a wonderful piece. Using traditional lost method, it retains every subtle detail of bronze products. This charming animal head will be a great focal point to appreciate his uniquely colored coat. From clay mold making, wax shell modifying, patination, polishing and final package, YouFine make it very well. It is the perfect decoration for fireplace, living room or office extraordinary space.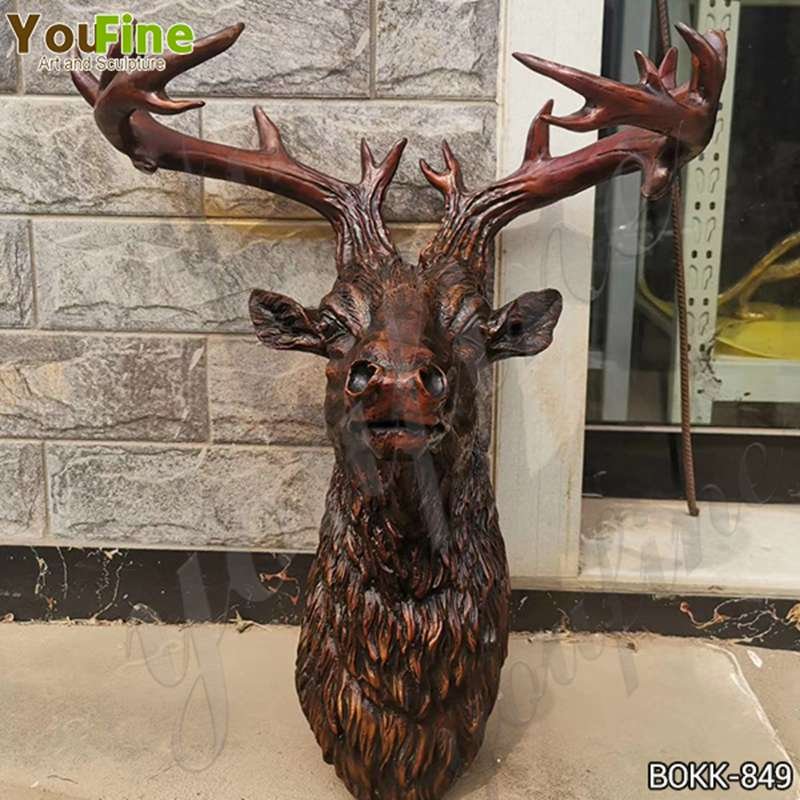 More Designs:
A color variation of bronze deer head sculpture for you to choose. Each bronze product is individually handmade, with various fashionable colors and unique designs. If you have a favorite color, please feel free to consult us, our senior coloring masters will paint according to your preference. In addition, there are many other bronze deer designs here at YouFine. For example, the very classic popular white-tailed deer, elk, sika deer and so on. Choose your favorite, and tell us in time!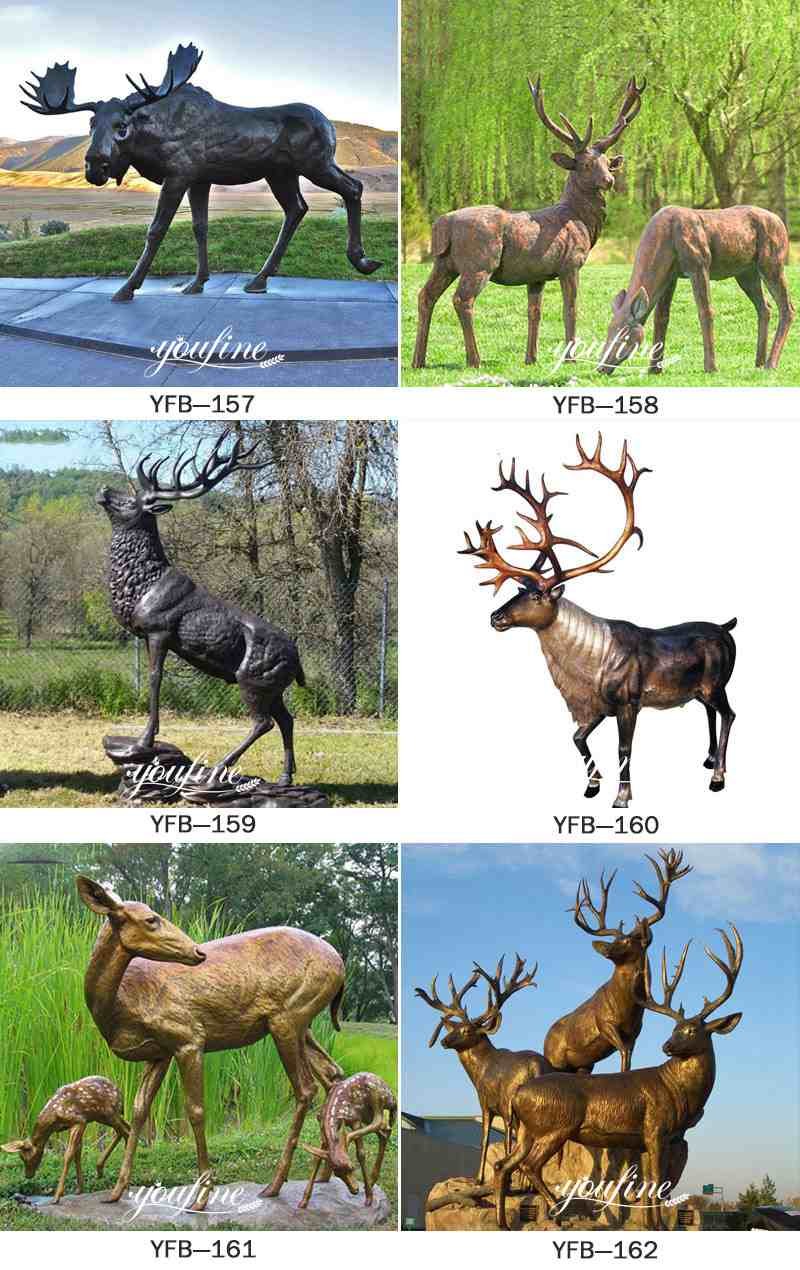 Our Customers Feedback:
"Great quality. Fantastic wall decor. YouFine really did a wonderful job! I love this solid and heavy bronze piece. Matching with my cabin very well. It's not the same as it looks in the photo. The real antlers I see are very realistic. I love this piece of work! The staff at YouFine is also very enthusiastic. They have sent me pictures of the production process on a regular basis. I can know every step of the production in time. It is a pleasure. Very grateful."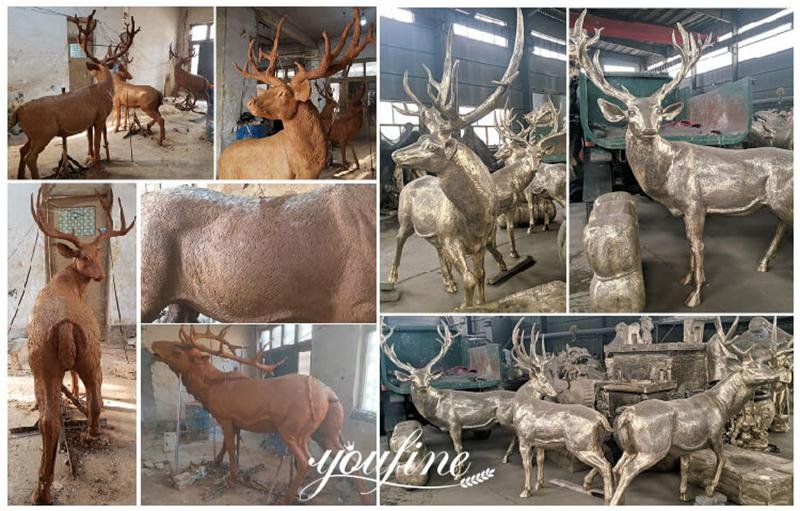 We'd love to receive your feedback on this bronze deer head statue metal wall art soon!
FEEDBACK
Last Sculpture
:
Life Size Bronze Deer Family Statue Animals Sculpture Home Decor for Sale BOKK-851
Next Sculpture:
Outdoor Life Size Antique Bronze Flying Lion Statue Animal Sculpture for Front Gate BOKK-251