Large Antique Bronze Horse and Rider Statues Racecourse for Sale BOKK-240
This large antique bronze horse and rider statues vividly show an energetic jockey to participate in the equestrian scene. This magnificent bronze race-man has very strong muscles.
Item No: BOKK-240
Material: Bronze
Color: The Picture Color or Customized
Size: Life Size or Customized
Package: Strong Wooden Case
Service 1: Customized Service
Service 2: Trade Assurance
Get Price
Call US Now
Bronze Horse and Rider Statues Details:
This large antique bronze horse and rider statues vividly show energetic jockey to participate in the equestrian scene. This magnificent bronze race-man has very strong muscles. With right front leg straight forward, the large horse raise mane, and its tail is thick. This life-size jockey statue pulled the whip to spur the horse to make it run faster. A majestic bronze horse is struggling to jump over a tall wooden fence in the race. YouFine has a very superb artistic interpretation of horses and knights, adding drama and prestige to any home or horse lover.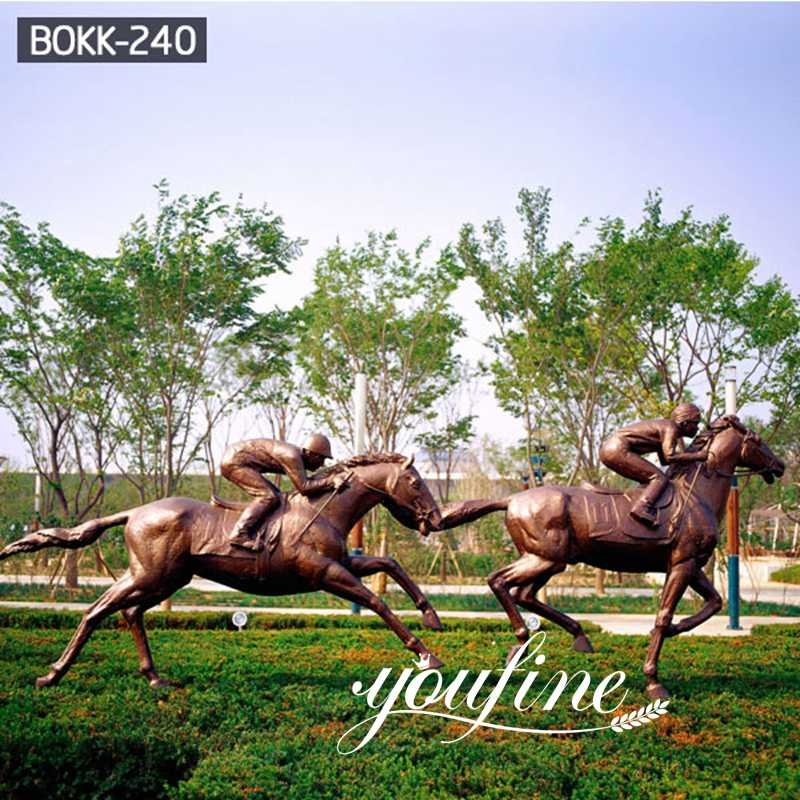 More Horse Sculptures:
YouFine artists and craftsmen, top masters have a very high level of bronze casting skills for horses and jockey. Therefore, the unique bronze horse and rider sculptures we present have a strong sense of movement and subtle details. As a high-quality bronze casting manufacturer, we have a large number of bronze horse sculptures and sculptures with jockey for you to choose from. Or send us the renderings you want, we can also make them.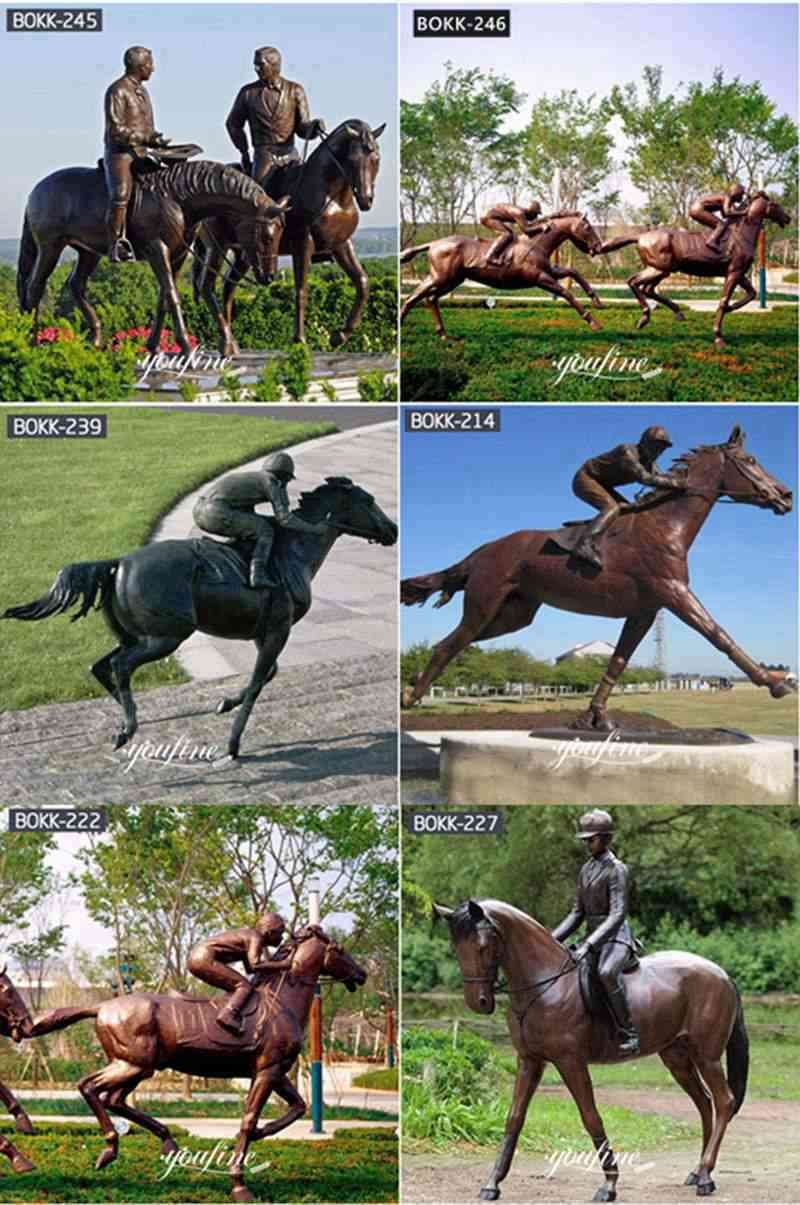 Quality Bronze Castings:
This bronze horse and rider statues truly shows sports competition, which is a high-quality bronze masterpiece. This large antique statues is a clever method of casting bronze using the lost wax method of the century ago. Made by hand, they cast with traditional lost wax casting process like 100 years ago. Therefore, our bronze animal sculptures can guarantee high quality. Moreover, it is a perfect bronze masterpiece placed on the racetrack, at home, in the park, and outdoors.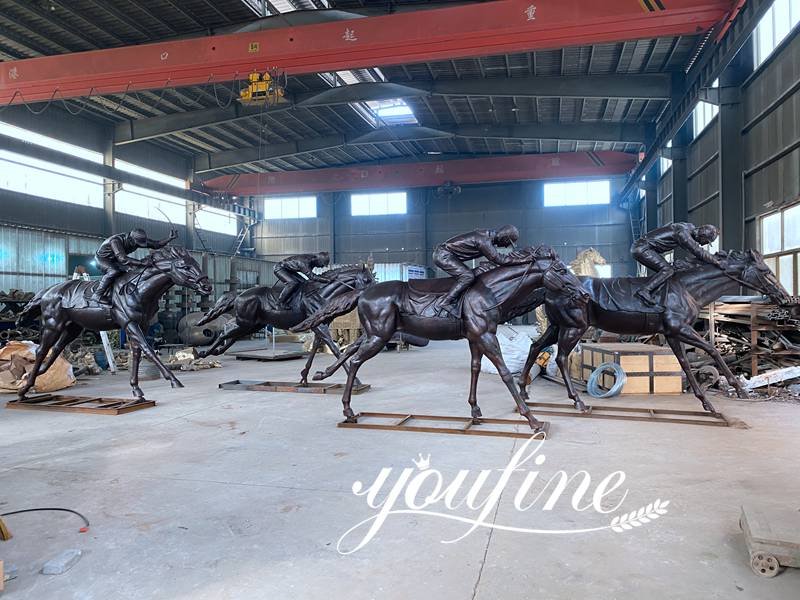 Beautiful Patination:
Do you like this patination of large antique bronze horse and rider statues? This classic red-brown finish is very attractive and our most classic color system. At YouFine, our bronze animal sculptures are artificially colored by chemical coloring methods. Our experienced painters have matched the most classic patination based on the photos of the statue. Among them, there are several kinds for you to choose from, including red brown, dark red brown, dark green, golden patinas, and brown etc.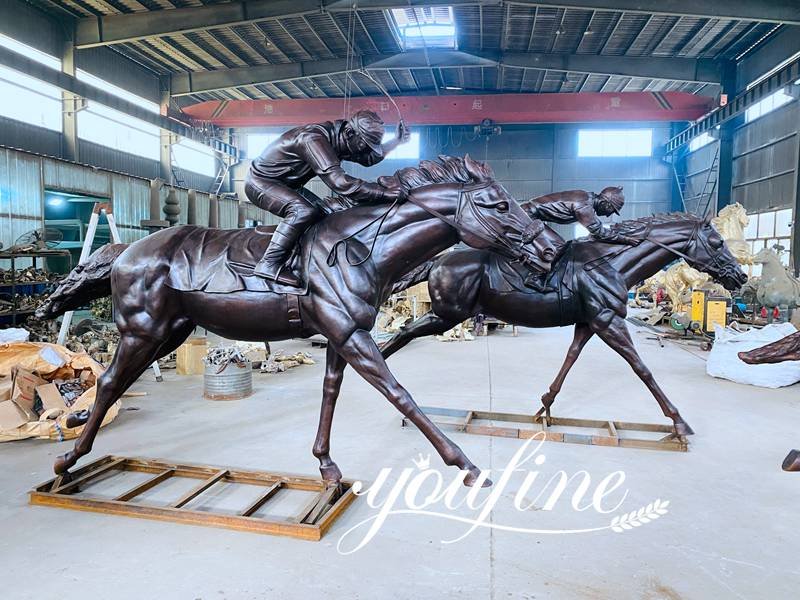 FEEDBACK
Last Sculpture
:
Life Size Bronze Lion Statue Front Porch for Sale BOKK-662
Next Sculpture: