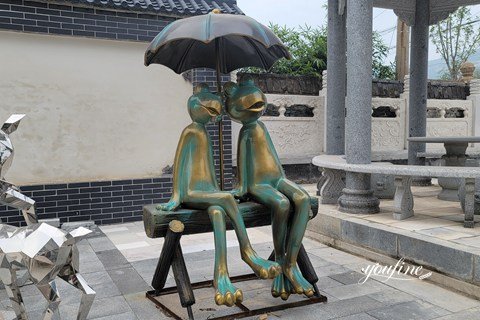 High Quality Bronze Frog Statue for Garden from Supplier BOK1-011
If you want to make your garden interesting, then this bronze sculpture must not be missed. YouFine uses high-quality bronze as its raw material and hires top masters to create it. So this sculpture is of high quality and exquisite details.
Item No: BOK1-011
Material: Bronze
Size: Any Size You Want
Insurance: Cover all the risk
Place of Origin: Hebei, China
Technique: Lost Wax Method
Get Price
Contact US
Bronze Frog Statue Introduction:
Just like other bronze products in our factory, this bronze frog statue was cast by hand in our foundry. Through our strict quality inspections throughout the modeling process. It is made of the highest quality bronze material. The modeling is very detailed and it is an impressive statue. Its quality could be displayed in exhibitions or as a collection. It is a realistic and precious artwork. So it could make your garden more artistic.
Provide a Variety of Options:
All our sculptures are exclusively made with the help of the lost wax method. So every detail of our bronze sculpture is unparalleled. In addition, we have been established for many years and have accumulated a large number of bronze frog statue designs, each of which is unique and novel. You could have many choices in YouFine. At the same time, we could guarantee 100% restoration and perfect details.
Clay Model Display:
Before the bronze sculpture starts to be cast, we need to make a 1:1 clay model. This clay model is the foundation of the entire sculpture and could also determine the details of the sculpture. This bronze frog statue is no exception. Our clay model studio is very advanced, and our top masters are also very professional. They could accurately grasp every detail. In addition, there are many completed models in our clay model studio. If your favorite sculpture has a ready-made model, then you are too lucky. We would give you a discount and waive the model fee for you. And, you would also reduce the waiting time for sculpture.
Transportation:
You don't have to worry about transportation. Our sculptures have been exported for many years, and we have accumulated rich experience in transportation. Moreover, we are familiar with the port situation of various countries and regions, and also understand the latest policies. So we could make the most suitable plan for you according to your situation. We would do our best to ensure that your sculpture is delivered to you intact. More importantly, we would also purchase full insurance for your sculptures to protect your interests to the greatest extent.
If you feel that your garden, courtyard, or other places lack decorations, you could contact YouFine at any time. We would give you the best choice.
FEEDBACK
Last Sculpture
:
Life Size Bronze Bull Statue Outdoor Ornaments for Sale BOKK-718
Next Sculpture:
Garden Decor Bronze Deer Statue from Factory Supply BOK1-012