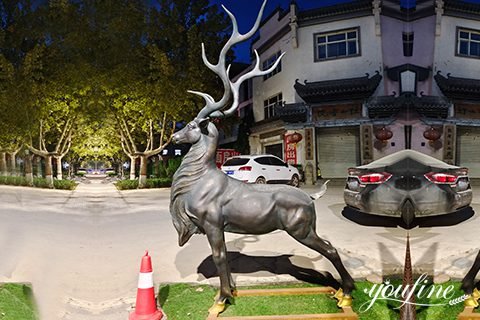 Garden Decor Bronze Deer Statue from Factory Supply BOK1-012
Our bronze deer statue is made of high-quality bronze and is of high quality. It is one of the best-selling bronze deer sculpture by YouFine. If you are interested in this, you could contact us for more information.
Item No: BOK1-012
Material: Bronze
Size: Any Size You Want
Insurance: Cover all the risk
Place of Origin: Hebei, China
Technique: Lost Wax Method
Get Price
Contact US
Bronze Deer Statue Introduction:
This bronze deer statue is made of high-quality bronze and is a perfect artwork. It would be a lifetime treasure in your yard. It has strong muscles and beautiful hair. Its antlers are also very realistic and attractive, which is the highlight of the entire sculpture. This life-size deer statue would be a beautiful decoration for any outdoor venue. You could put it in gardens, parks, streets, lawns, etc.
Superior Quality Assurance:
Our bronze deer statues are made of high-quality bronze and are perfect metal ornaments. The bronze we use has a copper content of over 80% and is of extremely high quality. This means that in bad weather, you don't have to worry about leaving the statue outdoors. Moreover, the cast copper of this deer statue is very thick and very strong! This kind of modern courtyard art would be a kind of treasure, durable. This is because we have a rigorous production process, and each step is inspected by a dedicated person. Therefore, our sculptures are all high-quality fine works of art, which are also highly praised by customers.
Clay Model Display:
Clay models are the basis of bronze sculptures. Whether the details of the bronze sculpture are perfect depends on the clay model. YouFine has a professional clay model studio, as well as top clay model masters. So we could guarantee the exquisiteness of every detail. This is why YouFine's sculptures are so vivid. Because deer sculptures are very popular, we have made many vivid bronze deer statues for our customers. If you choose our sculptures with clay models, we would offer you a discount. Model fees would be waived for you, and at the same time, you would also reduce the waiting time for sculpture.
More Choose to You:
YouFine has hundreds of deer designs for you to choose from, including various types of deer such as bronze elk, moose and reindeer. It is very suitable for commercial indoor and outdoor gardens, courtyard decoration, theme parks, school exhibitions or outdoor garden animal theme activities. In addition to deer, we also have many other animal designs. Of course, we could also provide you with customized services. If you have ideas and designs, you could contact us. We would customize the most perfect sculpture for you according to your needs.
If you want more information, you could contact us at any time. YouFine looks forward to having a perfect cooperation with you.
FEEDBACK
Last Sculpture
:
High Quality Bronze Frog Statue for Garden from Supplier BOK1-011
Next Sculpture:
Antique Bronze Bull Statue Home Decor from Factory Supply BOK1-013