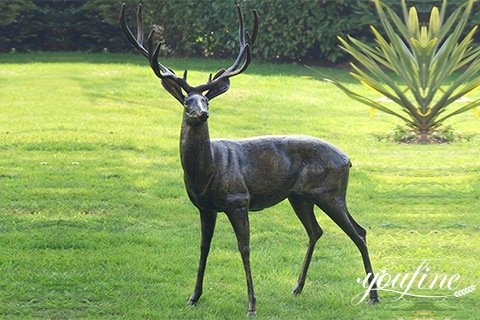 Fine Cast Bronze Deer Statue Outdoor Lawn Decor Factory Supply BOK1-028
This beautiful bronze deer statue stands gracefully on the lawn and looks very attractive. We use high-quality bronze as raw material, which would become your permanent treasure. If you are interested in it, you could contact us immediately.
Item No: BOK1-028
Material: Metal bronze
About Us: 39 Years Factory
Technique: Lost Wax Process
Get Price
Contact US
Bronze Deer Statue Introduction:
This beautiful bronze deer statue is in a standing position. This is a lifelike elk, with exquisite details everywhere. We could see its smooth body lines, which look soft and charming. In addition, a pair of gorgeous antlers is its biggest symbol. Every detail is so exquisite, anyone who sees this realistic bronze deer sculpture would love it. Contact us and take it home!
Casting Process:
This life-size bronze deer statue is made of high-quality bronze with a copper content of more than 80%. We use the traditional lost wax method to cast it. Although the lost wax method has many steps and a long process, it could show fine details. We could see the fine hair processed on this sculpture. In addition, during the casting process, we would continue to repair the wax model to make the details more refined. Therefore, we could guarantee that our sculptures are 100% restored.
More Colors:
In order to give our customers more color choices, we have set up a professional coloring team. They concentrate on researching various colors and could accurately make the most beautiful colors on the sculptures of our customers. Therefore, there are many options for the color of this bronze deer statue. Whether you like passionate red, low-key bronze, or mysterious patina, we could do the best for you.

More Options:
We have professional genius masters specializing in animals. This artist only makes bronze sculptures related to animals. And in order to better grasp the characteristics of animals, he also built a manor to breed animals. Therefore, our animal sculptures are all lifelike. In addition to this elk, we could also provide you with designs of statues such as reindeer, moose, stag, and sika deer. Of course, other animal sculptures also have abundant designs and stocks. You could choose as much as you like at YouFine.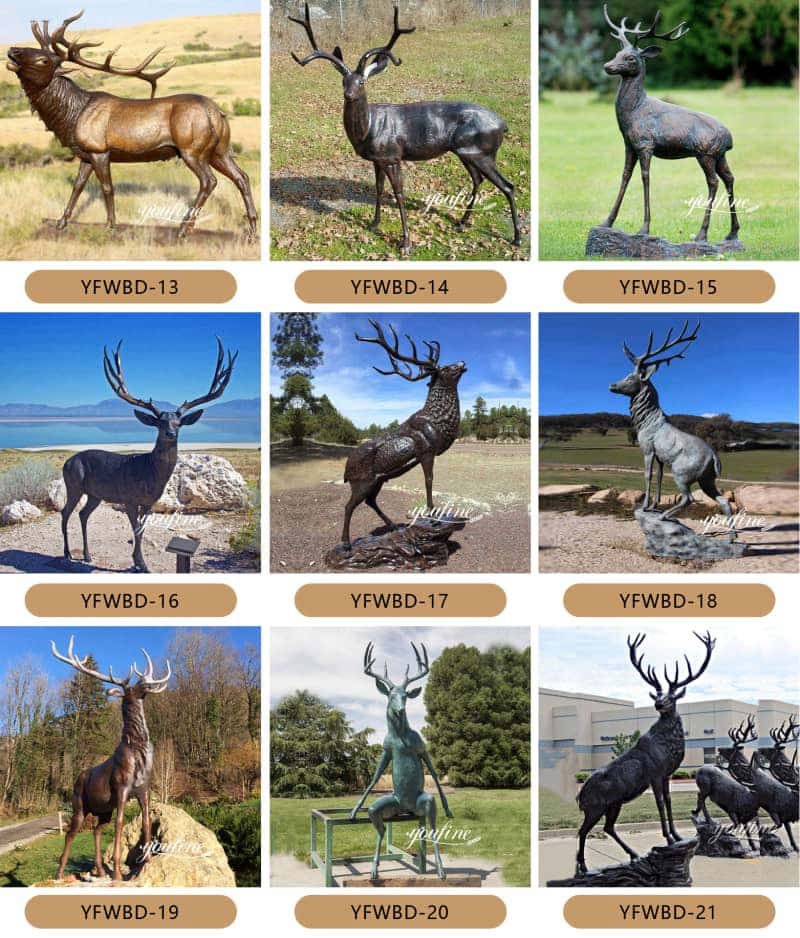 YouFine is a factory direct sale that could give you the best price. therefore. If you are interested in our sculptures, you could contact us immediately for more information.
FEEDBACK
Last Sculpture
:
Unique Bronze Frog Sculpture Garden Decor Factory Supply BOK1-016
Next Sculpture:
Garden Decoration Bronze Animal Sculpture Leopard Bronze Sculpture for Sale BOKK-653