Famous Outdoor Large Bronze Horse Head Sculpture for Sale BOKK-444
Item No: BOKK-444
Material: Bronze
Color: The Picture Color or Customized
Size: Life Size or Customized
Package: Strong Wooden Case
Service 1: Customized Service
Service 2: Trade Assurance
Keyword: Bronze Horse Head Sculpture
Get Price
Contact US
Bronze Horse Head Sculpture Details:
This famous Bronze Horse Head Sculpture is very eye-catching wherever it is placed. The size of this sculpture is so large that our customers choose to put it on his farm. This sculpture is really magnificent from a distance.
Custom Designs:
We specialize in making all kinds of bronze horse sculptures, and we have our own passion for the production of horse sculptures. At the same time, we provide customized services for Bronze Horse Head Sculpture. Whether you want a bigger or smaller horse, you want to change some of the horse's design details, or you want a different surface color, our team could do it!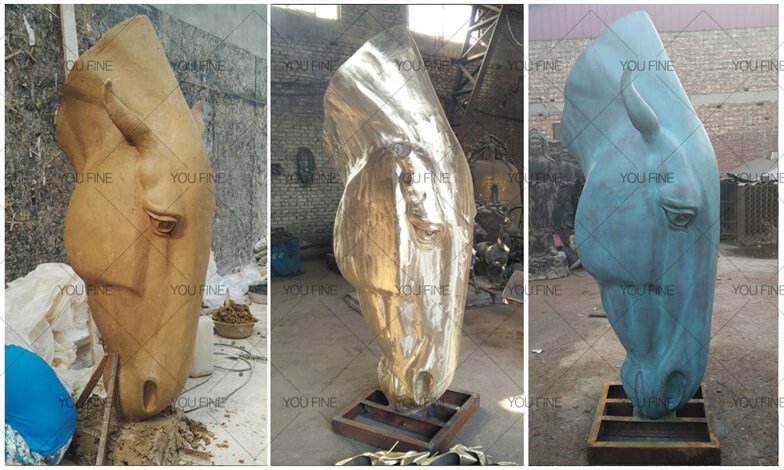 Exporting Experiences:
Most of our customers come from different countries, so the style of the horses they need is different. Our sculptors often go to the racecourse to observe the posture and structure of the horses, focusing on the characteristics of each popular horse. No matter what design you want, we will do our best!
1. Custom design
As an experienced manufacturer of materials and technology, we could advise you on design and completion based on your budget. In addition, we could provide drawings and sketches that express the original ideas.
2. Production
We will strictly follow the details of the confirmation and keep updating and informing you to ensure the high quality of the sculpture.
3. Shipping arrangement
If you need us to help you arrange your shipment, we could ask a professional freight forwarder for advice and fees for your reference.
4. Installation
We have been to many countries to install sculptures, so our technical and professional teams could safely install sculptures.
Whether you are a horse enthusiast or you are just going to do a project that requires horse sculpture, please contact us! We will give the best service and the cheapest offer.
FEEDBACK
Last Sculpture
:
Large Bronze Horse Head Statue Farm Decor for Sale BOKK-708
Next Sculpture:
Bronze Border Collie Statue Outdoor Decor Factory Supply BOK1-084