Home »
Custom Sculptures
»
Bronze Fallen Soldier Memorial Statue Battle Cross Sculpture Military Statues Foundry
Bronze Fallen Soldier Memorial Statue Battle Cross Sculpture Military Statues Foundry
This Fallen Soldier memorial statue is made of bronze and polished separately.this is a soldiers cross for outdoor memorial.
Measurements: The Fallen Soldier Memorial Statue measures 44″ tall (including the bronze base) and the base is 18″ wide and 22″ from front to back and 6 3/4″ high. However, we can mount this on a larger or smaller base as necessary. The height is 38″ tall from the bottom of the boots to the top of the helmet.
Let us mourn in silence to commemorate the brave warriors who ensure our freedom. This Battle Cross memorial sculpture features warrior boots, rifles, helmets and dog tags set on the pedestal. Inscribed on the pedestal is "the hero does not wear a cloak. They wear a dog tag." This sculpture is a beautiful decoration and gift for military personnel and their families.
This is the exclusive series of YouFine Sculpture Foundry.
this sculpture is famous and be called "Fallen Soldier memorial statue" or "Battle Cross memorial sculpture".This fallen soldier statues is a tribute to the sacrifices that soldier and their family have made for our freedoms.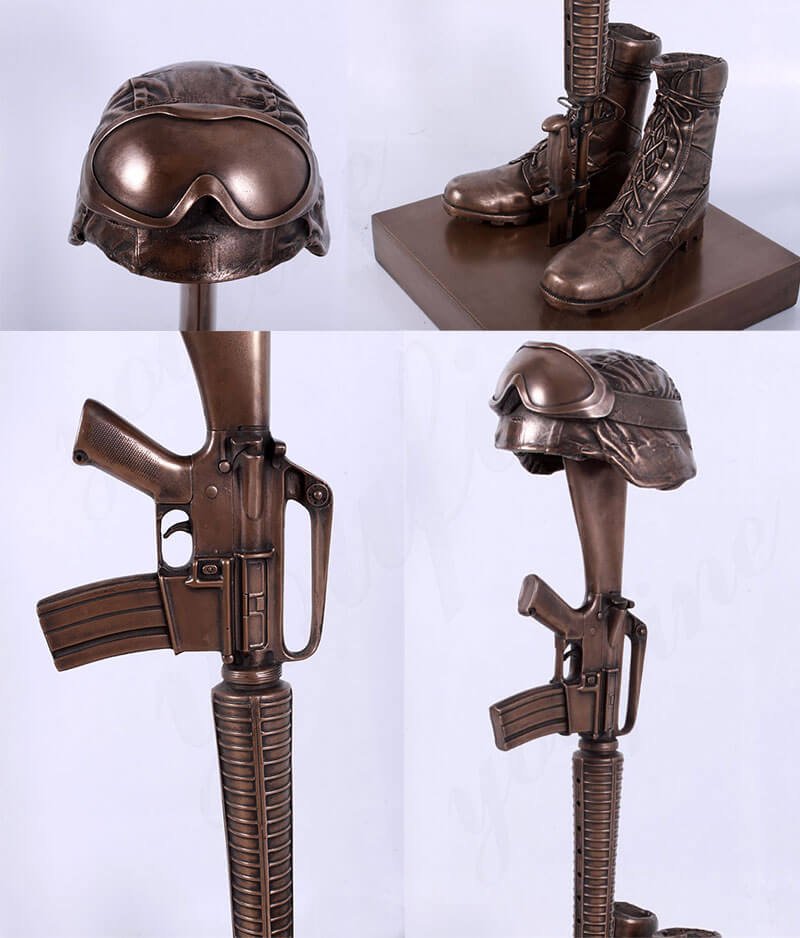 We have done many military series of monuments for many military memorials, veterans' homes, and families of sacrificial soldiers. this is Fallen soldier memorial statue is one popular design.
We offer more than 100 open bronze sculptures and statues of various styles, including the Western sculptors such as Frederiic Remington and Charles Russell, the classical sculptors such as Augusto Roin, the Equestrian sculptors such as Mene and Barye, the sculptors such as Icaart and Chipius, and the wildlife sculptors such as Mooniez and Bonheur. If you are looking for something specific and you canundefinedt see it on our website, please call or leave a message at any time. Weundefinedre very likely to get it or our price wonundefinedt be beat. If you can find the same quality bronze sculpture or statue at a more favorable price, we will match it!
if you want a custom soldier statue. pls visit the page:https://www.animalssculpture.com/custom-military-bronze-statues-the-three-soldier-sculptures-memorial-for-public.html,
if you are interested in kneeling soldier statues, pls visit to this page: https://www.animalssculpture.com/bokk-43-life-size-custom-bronze-army-soldier-statue-for-sale.html
FEEDBACK
Last Article
:
24'' Bronze Self Made Man Statue for Table/Desktop
Next Article:
Full Size Bronze Bruno Catalano Sculpture Replica Outdoor Traveler Statue missing pieces