Outdoor Life Size Bronze Black Horse Sculpture for Sale BOKK-246
Item No: BOKK-246
Material: Bronze
Color: The Picture Color or Customized
Size: Life Size or Customized
Package: Strong Wooden Case
Service 1: Customized Service
Service 2: Trade Assurance
Get Price
Contact US
Bronze horse sculpture is one of the more common sculptures in life. It not only has its own unique beauty in decoration, but also has certain cultural characteristics. Since ancient times, horse has symbolized freedom and courage, and it has very positive significance for us.
With the improvement of living standards, our demand for bronze sculptures is getting bigger and bigger. The life of bronze sculptures is relatively long and easy to handle. It could often play an important role in some artistic arrangements. Bronze horse sculpture is a very good choice.
As a sculpture factory with many years of experience, we have excellent service and professional sculptors. All of our galleries are customizable, and we can meet your requirements for size and color.
Bronze horse sculpture production process
1. Making small clay sculptures (the shape of the clay sculpture is good or bad, the expression of the charm or not, the expression of intentions directly affects the future product quality, so the excellent clay sculpture can not be separated from the excellent clay sculpture division.);
2. The large mud covers the sculpture shape;
3. Make a prototype of a mud sculpture;
4. The sculpture is completed in large scale, and Party A is notified to review and make comments or amendments to the large model;
5. Enter the re-stage, use the slice on the clay to divide the block mold design, and then spray soapy water as isolation protection;
6. After demolding, remove the residual mud on the block mold. After the completion, carefully repair the plaster mold and make up the grinding. Then polished with a metal copper mesh;
7. Casting;
8. Product castings are trimmed and treated (sanding and cleaning of the cast copper products, and cutting, grinding, heat treatment, shaping, machining, polishing, etc.);
9. Surface effect treatment and protection (the effect required for the surface treatment of cast copper, usually with cold color and hot color, and finally wax protection and polishing).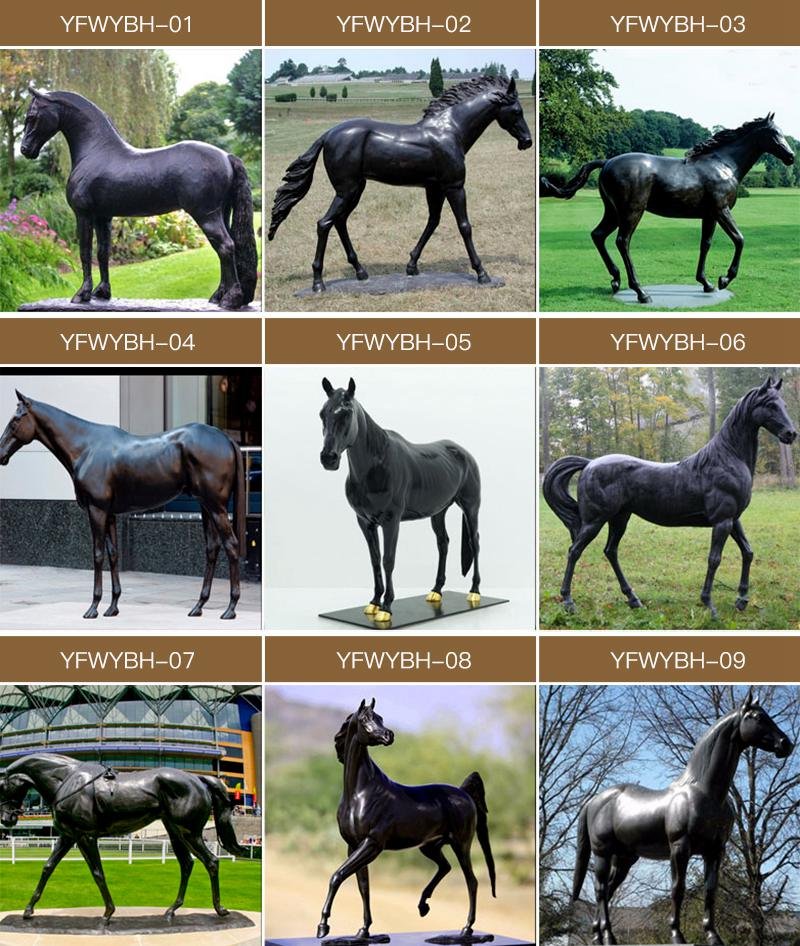 We support a variety of payment methods and are available for shipping worldwide. We purchase full insurance for each shipment, and we can safely deliver the goods to you wherever you are.
If you are interested in the bronze horse sculpture, or if you want to see more details and quotes about the bronze horse sculpture, please leave us your email or send us an email and we will respond to you in time.
FEEDBACK
Last Sculpture
:
Life Size Bronze Standing Horse Statues for Lawn Ornaments BOKK-224
Next Sculpture:
Huge Outdoor Bronze American Horse Sculpture for Sale BOKK-733