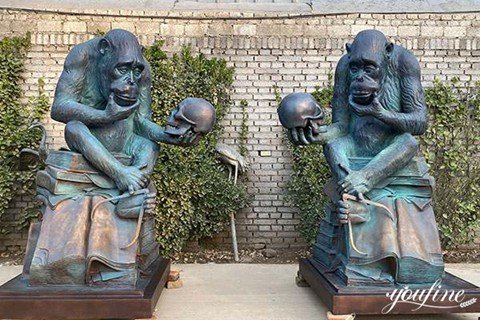 Bronze Ape With Skull Statue Garden Decor for Sale BOK1-008
This ape with skull statue is a very unique bronze statue. We used high-quality bronze as the raw material when making this statue, which was built by top masters. If you are interested in this statue, you can contact us at any time.
Item No: BOK1-008
Material: Bronze
Insurance: Cover all the risk
Place of Origin: Hebei, China
Technique: Lost Wax Method
Get Price
Contact US
Ape With Skull Statue Introduction:
This ape with skull statue is a custom statue from our client. Every detail of this statue is completely customized according to the needs of customers. This sculpture is a very famous work from the late nineteenth century. Its author is the German sculptor Hugo Rheinhold. This statue is also called Affe, einen Schädel betrachtend ("monkey watching or thinking about the skull"). It was first exhibited at the Greater Berlin Art Exhibition in 1893. Our client was also very pleasantly surprised after receiving the sculpture. If you have any needs for custom statues, you can contact us at any time. YouFine will do its best to make a sculpture that is 100% restored for you.
About Details:
This ape with skull statue is a very unique statue. This statue depicts a very peculiar scene. We can see an ape sitting on a pile of books and manuscripts. It holds a human skull in its right hand. The ape held his chin in his hands and assumed a pensive posture. Its left leg supports the right leg, and the right leg fixes the calipers to the foot. One of the closed books reads "Darwin" on the spine. It is not difficult to see that it is a sculpture related to Darwin. The artists of YouFine restored all the details of the original work after consulting a large amount of information. We will restore the book layout and direction one by one.
Clay Model Display:
When YouFine made this ape with skull statue, we first made a clay model. The clay model is the basis of the bronze statue and can determine the details of the statue. YouFine has a professional clay model studio and top artists to make clay models. So we can guarantee the vividness of the clay model details and the overall restoration. YouFine's clay model studio has many clay models. If your favorite style has ready-made clay models, you will be lucky to get a discount. We will reduce or exempt the clay model fee for you. Moreover, you will also reduce the waiting time for sculpture.
Why Choose YouFine:
YouFine is a very professional sculpture production factory. We have been engaged in the sculpture production industry for 40 years, and each of our teams is very mature and professional. The sculpture production team can make the most perfect sculpture for you; our business team can provide you with the warmest and professional customer service; the design team can design works that best meet your expectations according to your needs. We can serve you in all directions and give you the best service. And since we are direct sales from the factory, our prices are also very affordable.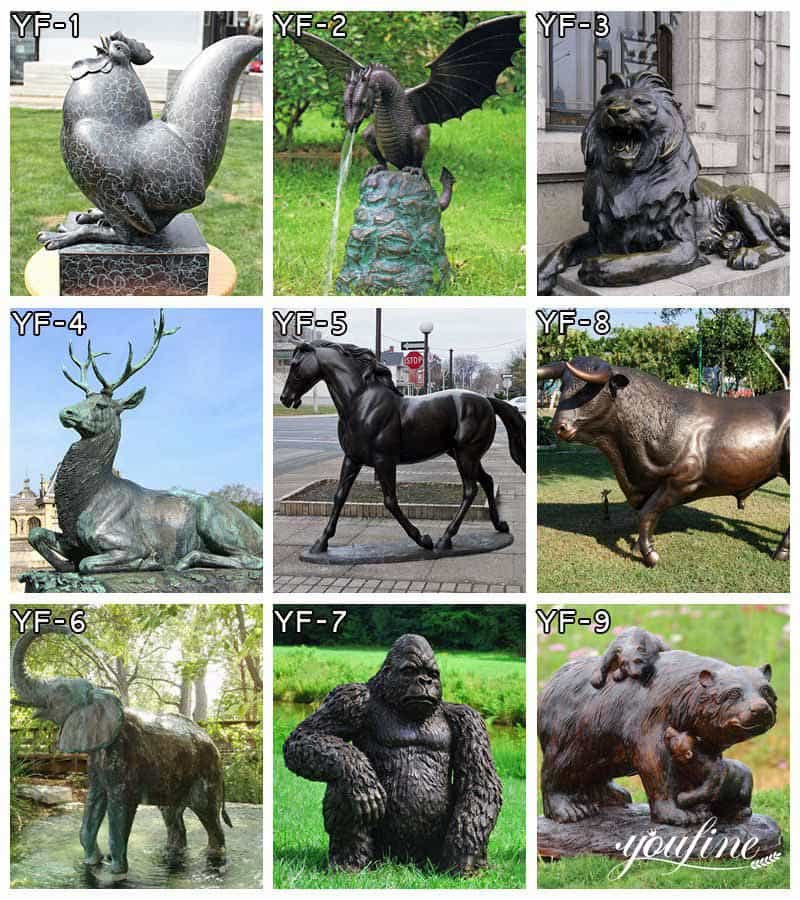 No matter what kind of sculpture you need, YouFine can give you the best choice. Contact us as soon as possible, we also look forward to having perfect cooperation with you.
FEEDBACK
Last Sculpture
:
Fine Cast Bronze Horse Sculpture Garden Decor for Sale BOK1-009
Next Sculpture:
Life-size Bronze Horse Statue Garden Decor Manufacturer BOK1-010