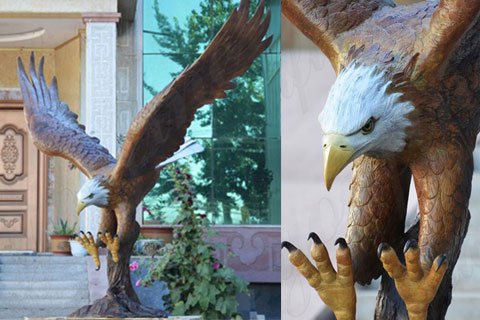 Ourdoor Life Size Metal Bronze Eagle Statue for Sale BOKK-601
Item-No: BES-01
Material Casting Bronze
Usage Home | Garden | Hotel …
Color same to the picture, other color is also available
Size H150cm ( 59inches)
Material Bronze
Weight about 150 kg
Tech Fine Lost-wax Casting
MOQ Only 1piece
Get Price
Contact US
YouFine Art Sculpture made the custom metal craft eagle statue. The eagle sculpture spreads the wings and grows the wings of the crafts. the height is 150cm;
Features: The great eagle, the eagle spreads its wings, meaning that Qingyun goes straight to the exhibition. Fine craftsmanship, clear texture, skull-headed copper eagle sculpture, strange shape. The fish eagles & sea eagles, which are mainly fish-eating, have eleven species of eagle belonging to this group.
They are large in size and live on the shores of fresh water or sea water. They feed on fish and waterside birds. The North American Bald Eagle, which was selected as the American national bird in 1782, is one of them. The harpy eagles have six species of eagle belonging to this group.
bronze eagle statue size is huge in the eagle and weighs up to nine kilograms. Distributed in Africa, Central and South America, and southern Mexico, the white-headed bronze eagle sculpture is mainly inhabited in the rain forest to hunt mammals such as monkeys, goats, and birds.
FEEDBACK
Last Sculpture
:
BOKK-663 The Bather By Rodin Sculpture for Sale
Next Sculpture:
BOKK-43 life size custom bronze army soldier statue for sale