Antique Bronze Bull Statue Home Decor from Factory Supply BOK1-013
The bronze bull statue carefully cast by top masters is of high quality and perfect details. It is a sculpture worth buying. If you want more relevant information, you could contact us at any time.
Item No: BOK1-013
Size: Life Size or Customized Size
Material: Metal bronze
Package: Strong Wooden Case
Service: Customize Acceptably
Technique: Lost Wax Process
Get Price
Contact US
Bronze Bull Statue Introduction:
The bronze bull sculpture with perfect details is a good product loved by many customers. YouFine's top masters carefully cast this antique bull sculpture. We could see the fine hair, powerful muscles, and realistic eyes, and other details. Such a sculpture that truly restores every detail is a good choice for decorating your space.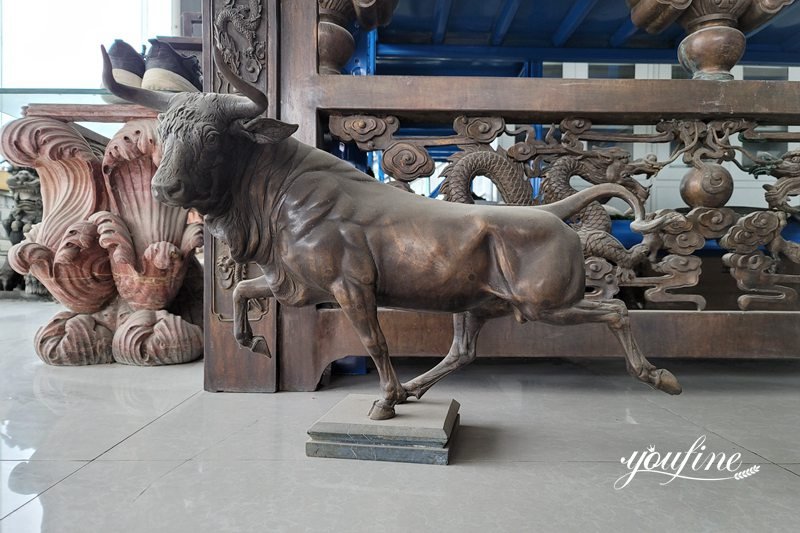 Production Process:
When making this bronze bull sculpture, we first made a clay model. The clay model is the most important basis for making a bronze sculpture. Every bronze sculpture needs a 1:1 model. Secondly, we have to make the wax shell, and then repair the wax pattern according to the original picture to avoid losing some model details in the model-making process. Then burn the wax and pour the bronze. You Fine's sculptures use the traditional lost wax method to ensure the details of the sculpture. Finally, after welding and polishing, the shape of the bronze sculpture is completed. Then the sculpture would be colored or other surface treatments according to the customer's needs.
More Color to Choose:
Coloring is the last step of this bronze bull statue. The color of the sculpture shown in the picture is antique brown. If you prefer other colors, we could also customize them for you. Whether it's red, black, or charming patina is all right. Before coloring, we would test the color on a small bronze board. After getting your affirmative reply, we would color your sculpture.
Why Choose YouFine:
We have been established for many years and have accumulated a lot of experience. There are also many designs and models. If the sculpture you choose has a ready-made model, we would subtract the model fee for you and provide you with a discount. And we are factory direct sales, you could get the best factory price and thus get the most cost-effective sculpture. In the process of sculpture making, we would also report to you the progress of the sculpture. It would also provide you with progress photos and videos. During the production process, if you find any details that need to be modified, we could make adjustments for you in time.
If you are interested in this sculpture, you could contact us at any time for more information. We would also give you the best service.
FEEDBACK
Last Sculpture
:
Garden Decor Bronze Deer Statue from Factory Supply BOK1-012
Next Sculpture: