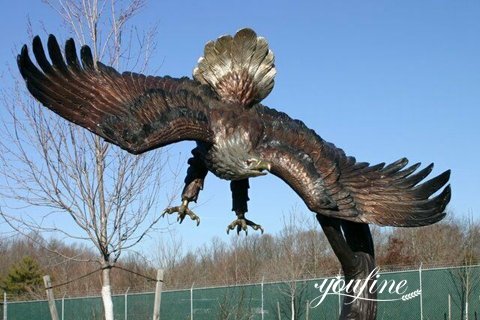 Large Antique Brass Eagle Statue for Garden Wholesale
This giant antique brass eagle statue presents a flying posture on the branch. Provide a large number of fashion trend large bronze eagle sculptures, contact us.
Size:Any Size You Want
Material: Bronze
Technique:Lost Wax Process
MOQ:1 Piece
Production Time:40-45 Days
Delivery Time:15-30 Days
Insurance: Cover all the risk
Advantage: Factory Direct;Door to Door Delivery
Get Price
Contact US
Antique Brass Eagle Statue Details:
This giant antique brass eagle statue presents a flying posture on the branch. This large eagle sculpture is flying magnificently, as if whirling at low altitude, catching prey on the ground. This large tree stump connected with the eagle sculpture to form a magnificent outdoor bronze artwork. Placed in the garden or forest, it will be an immortal sculpture. YouFine can design according to your preferences, we also have some hot styles of eagle statues, please feel free to contact us!
Realistic Details:
This giant brass eagle statue is the queen of birds. Human beings are always attracted by her majestic flight. So she also symbolizes freedom, nobility, courage and strength. As if all beautiful depictions would describe a majestic eagle. This eagle spreading wings sculpture is an antique bronze sculpture decorated with deep brown. It is also a perfect gift for nature lovers and an ornament for any occasion. Moreover, this majestic eagle statue can stand the time test, no matter where to put it, it will look very beautiful.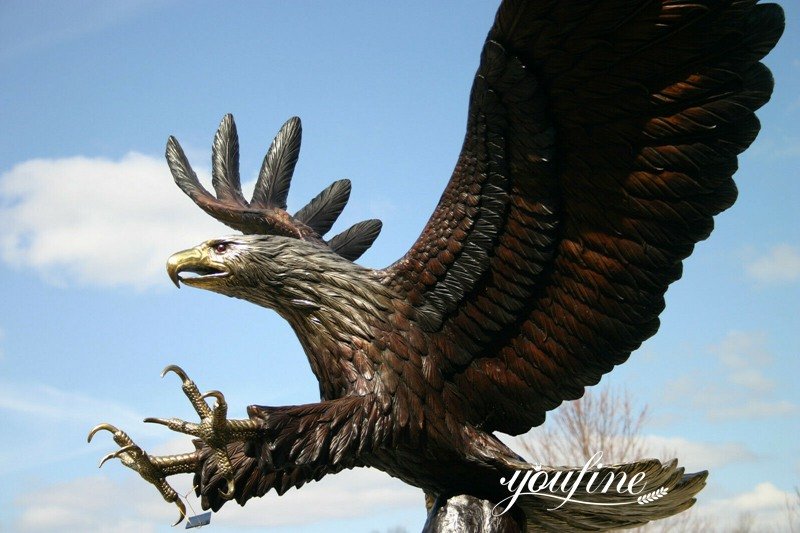 More Bronze Animal Statues:
As we all know, this impressive large outdoor bald eagle statues is widely regarded as the symbol of American. So the bronze eagle statue is deeply loved by our American friends. Besides, there is various type of eagle statues for customers to choose from. More than that, different animals like bronze deer, bear, rabbit, horse, etc are also available. Contact us to customize your favorite animal!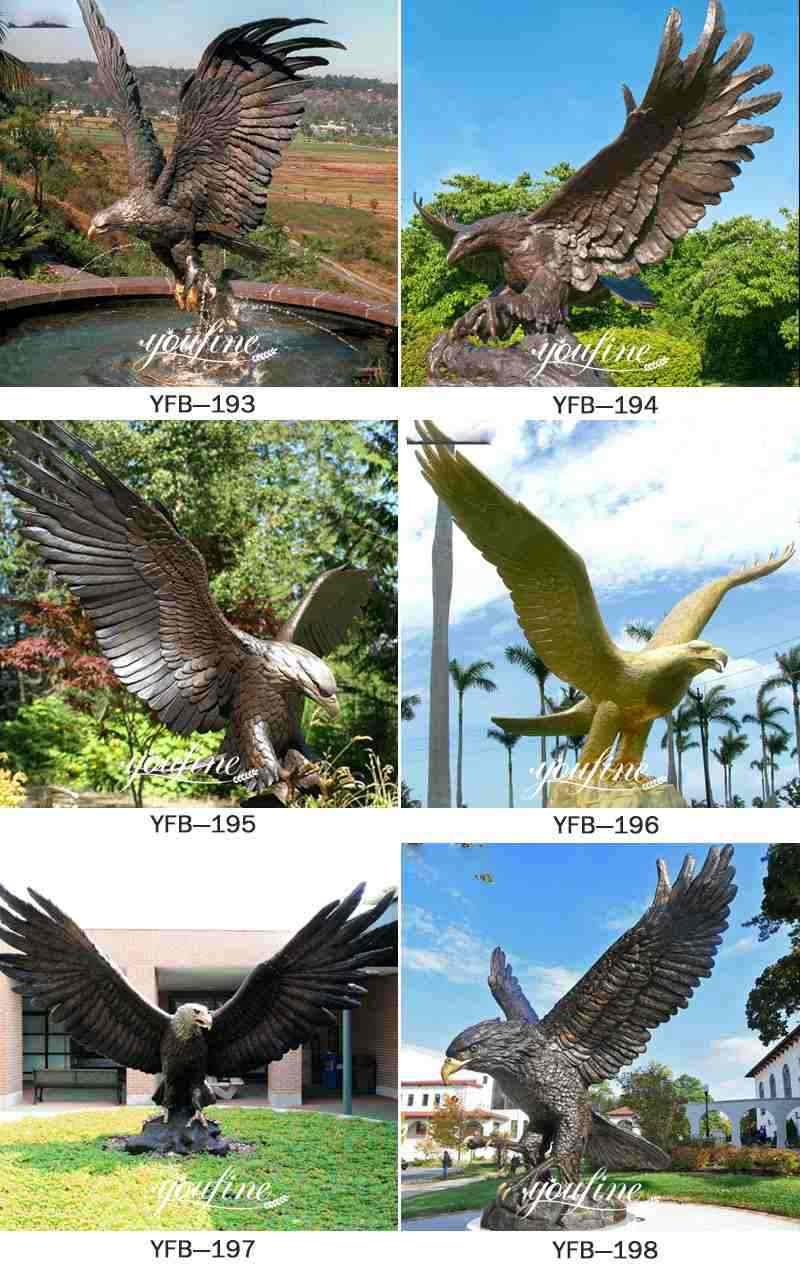 Quality Bronze Castings:
This giant antique brass eagle garden statue is made of high-quality bronze and brass. All of our bronze animal sculptures have a high copper content, so even a very small sculpture can have a heavy quality. The surface thickness of part of the sculpture can reach 8 mm. It is made by the traditional lost wax method, which can ensure that each sculpture product has high details.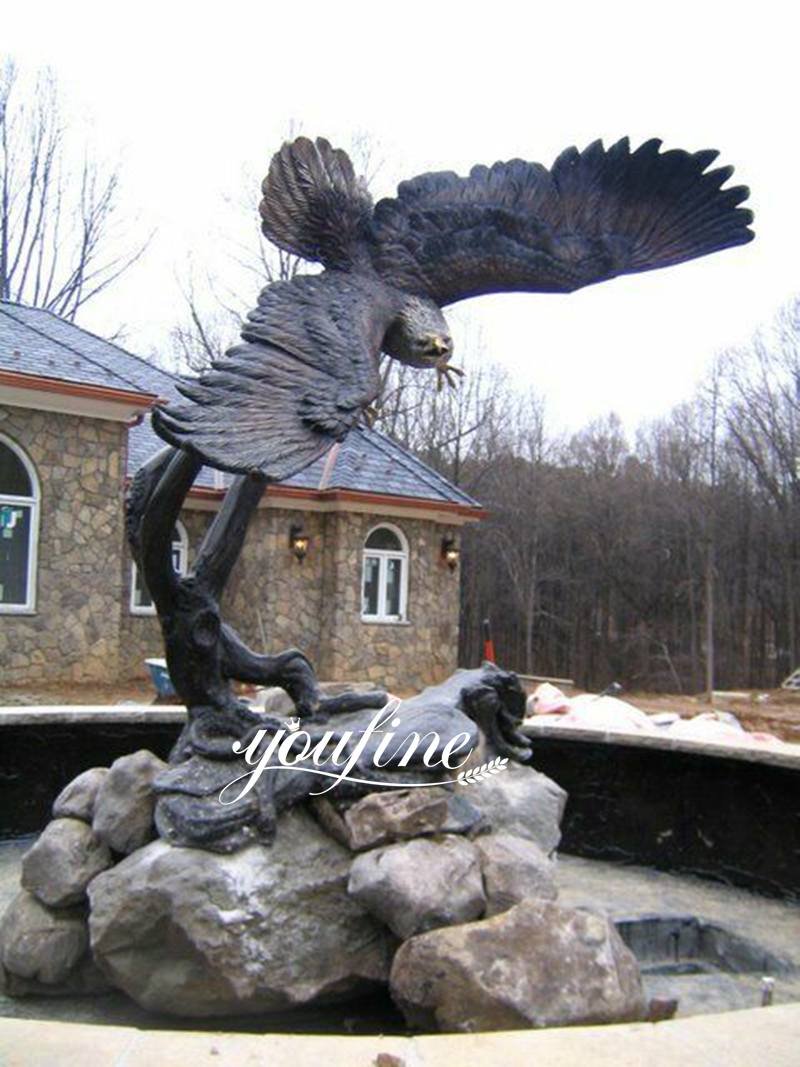 Provide a large number of fashion trend large bronze eagle sculptures, contact us.
FEEDBACK
Last Sculpture
:
Large Antique Bronze Lion Statue Front Porch Decor for Sale
Next Sculpture: